Why is one of the world's biggest non-fiction brands moving into scripted original content? Courteney Monroe (top photo), CEO of National Geographic Global Networks, explained at a MIPCOM keynote session that included some of the talent working with the company.
Nat Geo is bringing new dramas including The State, The Long Road Home and Genius to MIPCOM 2017, as part of its wider slate of content. Meanwhile, hybrid series MARS, which blends drama and factual content, is into its second season.
Monroe began with her keynote speech, explaining the two-year journey for Nat Geo in both scripted and factual drama, citing the example of a new documentary on conservationist Jane Goodall, which was premiered at the Hollywood Bowl venue.
"The television business continues to dramatically transform. The landscape beneath our feet is shifting at breakneck speed… There is simply no way to survive without being exceptional. So at Nat Geo we are shaking things up: radically so," she said. "More isn't always better. Instead, better is better. For us that means fewer, bigger, bolder programmes that are distinctive, exceptional, and that are worth paying for."
Monroe also talked about Nat Geo's reach on digital platforms. "We are the number one most-followed brand in social, and the number one non-celebrity account on Instagram. Watch out Kim Kardashian! I am coming after you…" And on TV, she added, "we reach a global audience of nearly three quarters of a billion people every single month… providing them with a deeper understanding of the world we share, and their role within it."
Why is National Geographic moving into scripted, when there is such a glut in TV drama in 2017? "We have zero ambitions to become a fully-scripted network. Exactly the opposite, in fact," she promised. "But as we transform ourselves into one of the world's leading destinations for premium content, fully-scripted programmes can and should play a role on our network."
She added that NatGeo is taking a careful curatorial approach to its scripted shows. "We have a very specific filter in mind: we are looking for drama that is distinctive, and premium, and globally appealing… drama that is resonant, muscular and urgent, and from the very best creative minds working in entertainment today," she said. "And finally, and most importantly, drama that is fact-based and authentic… You will never see dragons on a National Geographic channel, because they don't exist! But I will happily take the success that HBO have had with their dragons."
Monroe highlighted Genius, The State and The Long Road Home. "If you want to play the long road, you've got to chase the big bets," she said, noting that Genius, based on a top-selling biography of Albert Einstein, was "a completely new way of doing business for us". The show snagged 10 Emmy nominations, and became the most-watched series in NatGeo history, including becoming its best-performing show ever in terms of nonlinear viewing, while generating 567m impressions and 92m video views on social platforms. The show's second season will see Antonio Banderas playing the role of Pablo Picasso.
The State is a fictional story based on four young British men and women who've left their lives behind to join Isis in Syria. "It is not a story anyone but Peter could do justice to, and we were honoured to partner with him," she said of writer/director Peter Kosminsky. Meanwhile, The Long Road Home premieres globally next month: an eight-hour series telling the true story of 'Black Sunday', when a small platoon of army soldiers were ambushed in Baghdad, taking heavy casualties.
"When it comes to scripted drama specifically, we have found our voice in the landscape, with authentic, entertaining and powerful stories that resonate globally, and that live up to the promise and expectations of the National Geographic brand," concluded Monroe, before the session moved into a panel moderated by journalist Martha Raddatz, author of The Long Road Home book.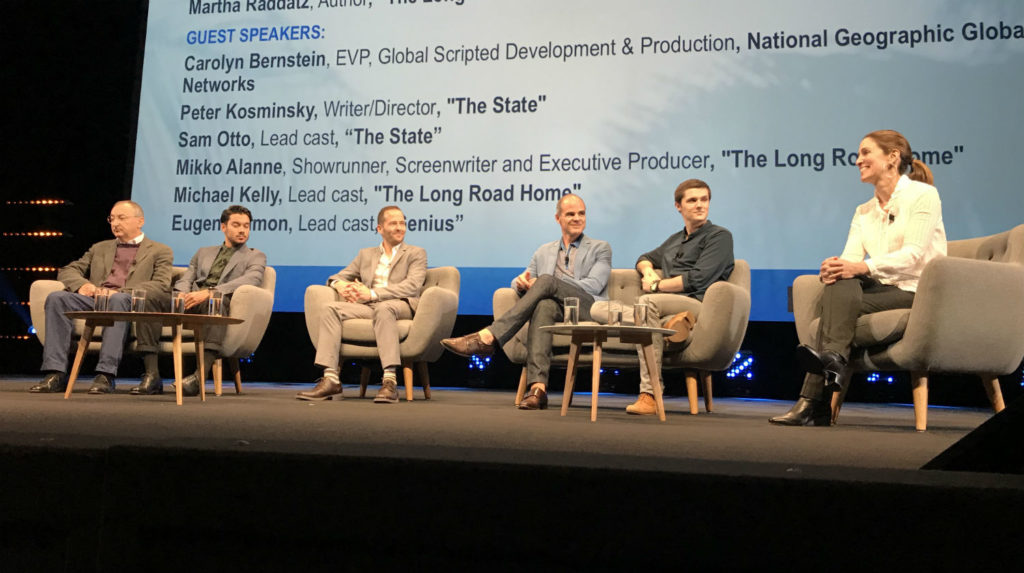 Panelists included Carolyn Bernstein, EVP of global scripted development and production at National Geographic Global Networks; Mikko Alanne, showrunner, screenwriter and executive producer of The Long Road Home; Actor Michael Kelly from The Long Road Home; Peter Kosminsky, writer/director of The State; Actor Sam Otto from The State;  and actor Eugene Simon from Genius.
Kosminsky and Alanne spoke first about The Long Road Home. "I don't think anyone's ever accused me of being entertaining! The difficulty is when you've got a vast amount of research and you've got to distil it into something that people are prepared to watch," said Kosminsky. "The expectation that the audience has is that everything they're going to see is true," agreed Alanne. "Where we can't maybe literally capture what happened, it needs to be literally and dramatically true to the experience."
Kelly talked about his experience playing lieutenant general Gary J. Volesky. "For me the toughest part was these are people who are still alive. I met a lot of his men who served under him. And the first time they met me they looked at me with disdain… They were like 'Hmm. Good luck buddy…'. You've got a great responsibility to do this man justice."
Simon talked about his role on Genius playing Albert Einstein's son, whose view of his father was very different to the rest of the world. "He saw him as something of a monster!" he said. "I felt a huge sense of responsibility, because he has such an intimate relation to the underlying emotions of a man like Albert Einstein." Here too, he felt a strong responsibility to deliver authenticity.
Otto related his experience on The State, where he wasn't playing a specific person, but rather a composite character. "I did feel a huge responsibility, totally. Representing a group of people and a sub-group of people in such a sensitive story… I had to make sure the preparation was really intensely studied, so that when we came to the shoot we thought we were part of telling a really important story."
Nat Geo's Bernstein talked about the way many of the network's scripted dramas are based on big, authoritative non-fiction books, but also called attention to the fact that these stories are globally relevant, and have "some urgency to them" shining a light onto the world. "We're always looking for stories where the truth is stranger, and more extraordinary and fascinating than fiction," she said.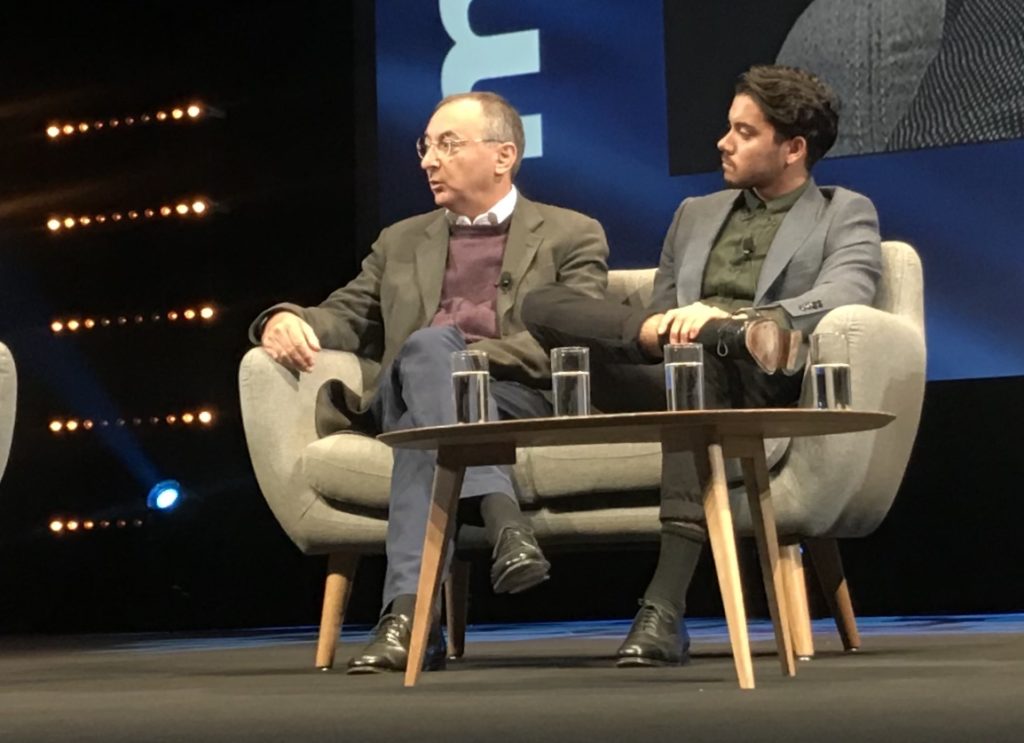 Kosminsky talked about the composite characters in The State. "Every incident depicted in the four hours of the show is true. I didn't make up any event. And the characters are only fictional in that they are composites of real people…We are setting out to make it as realistic as we can within the limitations of the medium," he said.
"Television is an intrinsically trivialising medium: think about what you can write in a broadsheet newspaper [as a comparison]. We struggle to deal with complex ideas, but at the same time we have this enormous reach: millions and millions of people watching, often simultaneously. That still has an incredible power even in this multi-channel universe. So you have to use it responsibly, and make sure the impression you're creating isn't misleading."
He added that the project was very hard to get finance, before securing funding from Channel 4 in the UK and then National Geographic. "It was turned down almost everywhere, so we owe a huge debt, just in terms of freedom of speech, to National Geographic for funding something that is not obviously commercial… I'll always be grateful for that."
Alanne talked about The Long Road Home. "I wanted our cast to really give a complete picture of what different soldiers went through… We wanted people to understand not just what happened, but why it happened," he said. "One of the storylines we told was that the Americans and Iraqis were trapped in a circumstance that they hadn't made, and started to recognise the humanity of those on the other side."
Kelly (below) praised the real-life soldiers who helped the production to be as authentic as possible. "From something as simple, okay I know how to hold a rifle, how to fire a rifle… but oh man, how do I get in the Humvee with this? And to have those guys there they were just so willing to give that information to us, and to give that experience to us and the stories they had. All you wanted to do was to make it as authentic as possible to represent these men, who go out there and put their lives on the line on a daily basis, so I can go out there and play cops and robbers as an actor… You wanna do them right."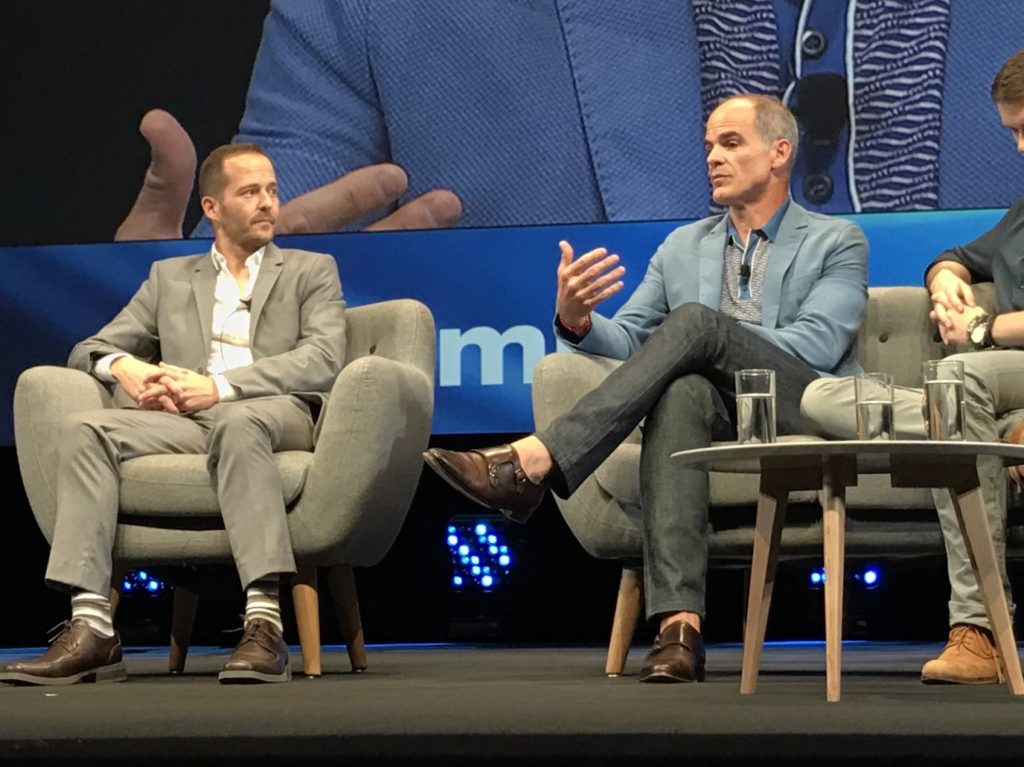 The session continued with Eugene Simon talking again about Genius. "You think their personal life would be so revealed because they are such well-known figures," he said. "One of the things that I feel so strongly about: whether you're performing as a character or watching as a viewer, the level of authenticity as a form of storytelling that as a network National Geographic really gives is extraordinary."
Bernstein concluded, noting that Genius was originally created with an anthology approach in mind: a different central character for each season. Why Picasso for the second series? "He really fits into a similar model to Einstein as someone we all know a little bit about… but no one has yet dramatised the complete picture. And you can't do it justice in two hours. We're doing it across 10 hours as we did for Einstein. It was a full, rich, complicated life," she said.
"We're trying to get to the heart of the question of what conditions needed to be present to make his genius really fully flower? And the answer in the case of Picasso had a lot to do with his romantic relationships… A rich, complicated personal life like what Einstein had, and true genius in terms of him teaching all of us how to see the world differently than anyone else had seen it before."