We were spoiled this morning at MIPJunior, with two rich Fireside Chats, featuring Cartoon Network and the BBC, both represented by members of MIP Markets' Kids TV Advisory Board.
First up, Adina Pitt, VP-Content Acquisitions and Co-Productions, Cartoon Network & Boomerang, addressed how Cartoon Network is responding to evolution in the kids market. The session was moderated by Sarah Baynes, director of The Creative Garden. (They appear above, with Baynes on the left and Pitt at right; and a virtual fireside in the middle!)
"Supply and demand is tricky as a buyer," Pitt acknowledged. "There's so many more platforms. People aggregate content with such frequency that we can't make it as fast as we need it."
Of course, that isn't buying's only problem today. "Economics can be tricky; putting together a show, the financing is hard," she acknowledged. "As a community, we have to work together to create new models, look at creative ways of getting content together faster."
A lot of this has to do with how unrealistic supply expectations have become when compared to how long it takes to create content in the first place. "The moment we say yes to something, we could be looking at an 18-month to two-year window before that series becomes available," Pitt pointed out. "Think about how long it takes to take delivery of 20 episodes"—a figure she called the "minimum to do a proper strip."
"It takes a long time," Pitt went on. "The moment we say yes to something and that's a go, we're already looking for the next thing to pick up. We live in several lanes." Or as she'd later put it, "We are constant curators. We're looking all the time."
Which is why collaboration is more important than ever. "People need to partner—with us, with each other, to build, so when you come to us we can accelerate faster," Pitt emphasised.
She also provided advice for people looking to sell their content this week: "Is it big enough, and can it travel?" Pitt asked. "Those are the questions we're going to ask you, because we're being asked those questions."
Also, "Think where you want your property to go," she counselled. If you decide to execute on YouTube first, as Adventure Time did, ask: "How does that affect ancillary revenue? Are you going to get a toy deal off of that? How do you measure consumers? You might get a million hits, but do they come back?"
Pitt summarised, "Think about it as a really long tail—not a one-and-done."
Lastly in advice, "Get over yourselves," she said. "Don't work alone. Partner, partner, partner."
In Q&A, Pitt took the opportunity to respond to something Fred Seibert said yesterday—that little has changed in kids TV in 20 years, and you wouldn't even know that Minecraft — an online building game and apparently the most searched-for term among young children — existed from the shows.
"We can talk about this for days, but I actually believe in the circle," Pitt replied. "There's an element of sameness amidst all this newness. We're still mining content for kids and that process is still the same. How you deploy it, and what it is, is what's changing. I don't think kids are gonna stop watching animation; they might just want it served another way."
Perhaps with that in mind, asked by Baynes what's coming up on the Cartoon Network pipeline, Pitt demurred from sharing anything concrete … but nonetheless tossed a hint our way. "I use the word 'immersive', and that's an important word. Kids want to experience their content the way they want to experience it. They live that property."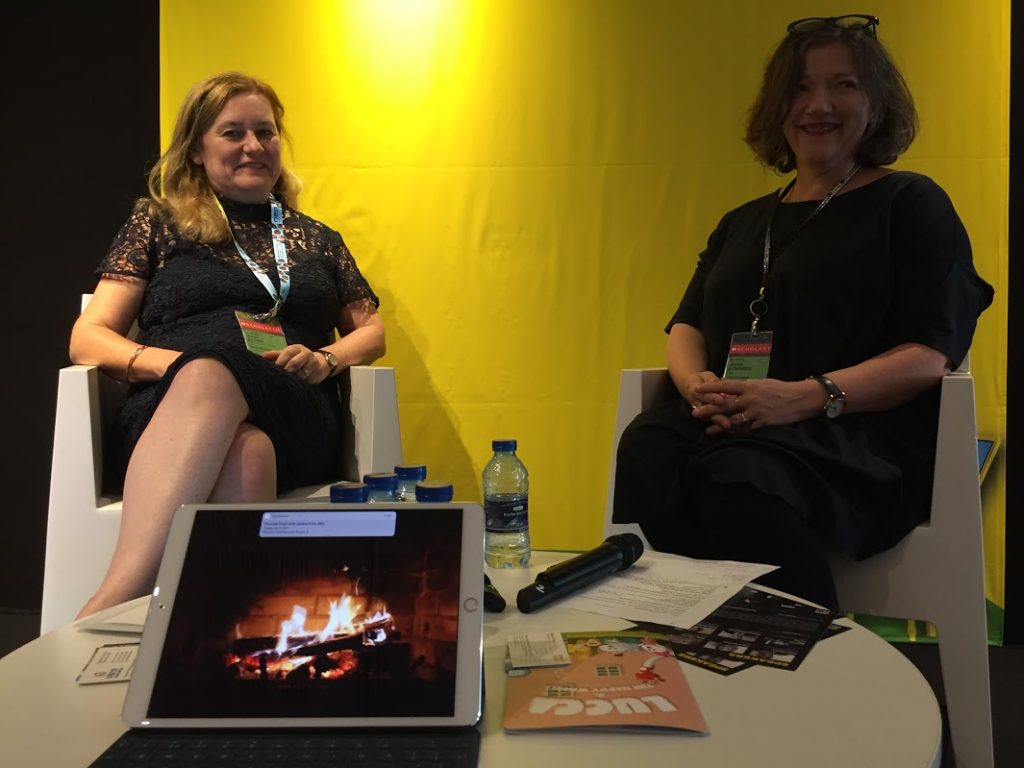 Next up, Baynes interviewed Jackie Edwards, head of BBC Children's Acquisitions and Independent Animation. There they are above, warming up by the fire.
Edwards kicked off by explaining what's changed at BBC over the summer: BBC Children has not only retained funding, but will also have an extra £34m coming over the next three years.
"A lot of that funding was for us to get through the new digital world," said Edwards, adding that BBC's existing structure was designed with linear broadcast in mind. Now the focus is digital features, with more happening across different platforms.
"We've got to be where the audience is," Edwards went on. "Our new strategy is about ensuring we've got all our content where our audience are."
The result is that, a CBBC, more opportunities exist for extending brands across different platforms. In terms of commissioning, "We're having conversations with producers about where we can do great brand extensions, where we can supersize those brands." Flexibility is also key, so BBC isn't picky about form length.
"Ultimately, if your brand comes to the BBC, it will sit on pretty much every platform we have," Edwards said.
She cautions, "There's lots of IP out there and lots of competition. With lots of broadcasters, there are fewer opportunities a year, so your idea has to really stand out from the crowd. Big ideas punch through" — so deliver that sizzle!
One such example is My Petsaurus, a simple idea in which a child's experience with their first pet is explored … except that this first pet is a triceratops. "It makes me laugh," Edwards said.
And next week, CBBC will launch Pablo, the story about a boy on the autism spectrum. When a distressing event occurs, Pablo draws himself into an art world and invents friends, who develop coping strategies to help him.
"It's a simple premise but beautifully done," Edwards said. "What I love about it is the freshness of the writing and the approach to the process. All the stories were sourced from children and young adults on the spectrum; the majority of scripts were written by young adults on the spectrum, and all the voices are kids on the spectrum. It's the most joyful work i've been part of for a long time."
Edwards also provided concrete information about what she's looking for, and how best to pitch BBC.
"We see so many propositions every year," she said, advising people to keep their pitches short. "We're happy to have a quick conversation, but a very short pitch idea. What's the headline? What's the big idea?"
The headline alone will tell buyers whether there's any overlap with what BBC already has in the pipeline. "Help us understand why we need [your content]on the channel, what it does for our audience that we're not doing already. Sometimes you don't know what you haven't got," Edwards added.
"Opportunities are very limited, and competition is very large. Be succinct."
Onto the fun stuff, though. Here's Edwards' shopping list this week:
For CBeebies: "We try not to be too prescriptive," she said. "We pre-buy animation. If you've got a great, fantastic, big idea for preschool animation, that's what we're looking for. We love to laugh, so comedy is big." Consider Hey Dougie if you're searching for inspiration.
But comedy isn't all CBeebies gets—Edwards said they're also looking for philosophical ideas, too. "We've got a show about astrophysics for preschoolers in development," she revealed. "It goes back to relevance to audience. Is it helping them take those first small steps into big ideas? Is it nourishing them?"
As for CBBC? Think sitcoms, live-action, comedy dramas for 9-12-year-olds. "It's all about the LOLs!" she declared. But specifically, she's currently seeking a girl-led ensemble piece.
"No pink princeses may apply," she said. "Smart, funny girls. We want to see some of those."