HBO is the world's most successful pay-TV service, reaching more than 134 million subscribers in more than 60 countries, while its shows are distributed in more than 150 markets worldwide. Chairman and CEO Richard Plepler is the recipient of this year's Variety Vanguard award, and a Media Mastermind keynoter at MIPCOM. The moderator for his session was Cynthia Littleton, Managing Editor for Television at Variety.
Five years in to being CEO of HBO, Plepler looked back at a dynamic period of change for the network. "We asked a couple of interesting questions at the end of 2012: our penetration in the basic cable universe was somewhere around 30%. I had a hunch that we were almost so in love with ourselves as a brand, we assumed that everybody out there knew what HBO was, and that they understood the range of our library," he said.
"We asked a couple of simple questions through some research: if in fact you understood what the value proposition inside this brand was, were you likely to go from an undecided voter, in political terminology, to a persuadable voter… if we could talk to you directly?" he said.
At the end of 2012 and beginning of 2013, there were 5 million broadband-only homes in the US. "Could we, if we explained better to that group move into deeper penetration, and could we motivate our current partners to package and promote us more efficiently, if they understood that there was gold in the hills that they were leaving unattended?"
Plepler said that the research showed that there were 15m-20m homes that could be moved into HBO's customer base if its value proposition was properly explained to them, but that it also showed the potential for launching a direct-to-consumer service.
"As we sit here today we've got 19 million broadband-only homes in the United States. That's an exciting market to approach… We always believed it was not going to be cannibalistic of our core business. We always believed it was going to be additive," he added. "We made the right bet… What really has happened is we've looked at an expanded pie, and we've been able to develop deeper penetration in the United States, and quite frankly deeper penetration all over the world."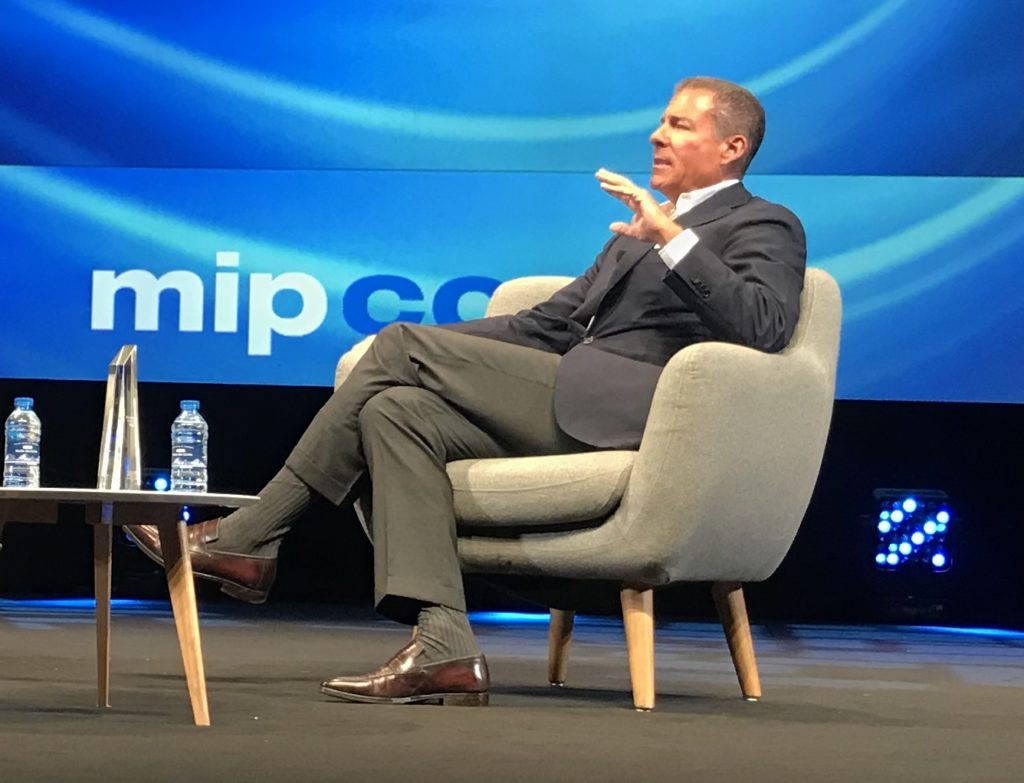 HBO Nordic played a role in that: a direct-to-consumer play launched in Scandinavia, partly as a learning exercise. "We learned a lot about marketing, we learned a lot about technology, and we learned a lot about direct-to-consumer," said Plepler. "Our growth in the Nordics has been fantastic… What's exciting for us internationally, just as we're running a multilateral strategy in the United States, we're running a multilateral strategy around the globe." So HBO prizes its partners abroad as well as the opportunities to go direct to viewers.
"We will be ready at some point in the middle of next year with one global [OTT] platform," he added, while stressing that HBO isn't tearing up its existing distribution deals. "We have terrific licensing deals which are very very high-margin, low-risk revenue businesses. They are businesses that have performed very well for us… So those are wonderful deals for us, they go out a number of years. We wanted to build the kind of flexibility so that we can do whatever we decide to do down the road," he added. "We'll decide market by market… Where we have built OTT businesses, we've seen a lot of progress."
HBO has also been investing in original programming around the world, and has plans to take those shows back to the US. "We're bringing a kind of 'best of' from Europe and from Latin America and from Asia to the United States," he said: an announcement that is being made at MIPCOM today. "We're going to take a couple of shows from each of those regions back to the United States and distribute them on-demand… and we hope to enhance that over the coming years."
What is Plepler expecting from the next five years? "I think the same core ideology that informed our thinking the last decade, which is to define success correctly and to define success for our brand correctly. Our brand is about curated quality, curated excellence, and we believe if we continue to do that, there will continue to be a huge market for that," he said.
"There's a surfeit of programming out there unlike we've ever seen before. You have something like 500 hours of scripted programming… Nobody can keep up with all of this! There's some very good stuff being done, there's some mediocre stuff being done and there's some not-so-good stuff being done. So what will matter even more as we go forward is brands," said Plepler.
"What people understand when they come to HBO: they might not love everything, they might have certain passions or be addicted to certain programmes and not others. But what they understand is inside our network there is superior programming across a range of genres… They understand that the brand stands for quality."
So HBO is making its programming decisions based on whether it elevates its brand. "We're not always right. We miss occasionally, but if you look over the past 12 years, we have a pretty good track record," he said. "We're gallerists, we're trying to get the very best artists to come and hang their paintings in our gallery… The line at our door today is even bigger than it was five years ago… Talent is excited to come and work at HBO."
Plepler added that HBO wants to be available "however, whenever and wherever the consumer wants to get the content" while suggesting that as the TV industry's subscription bundles get 'skinnier', it's good news for HBO, which can market itself as an option for viewers on top of these bundles.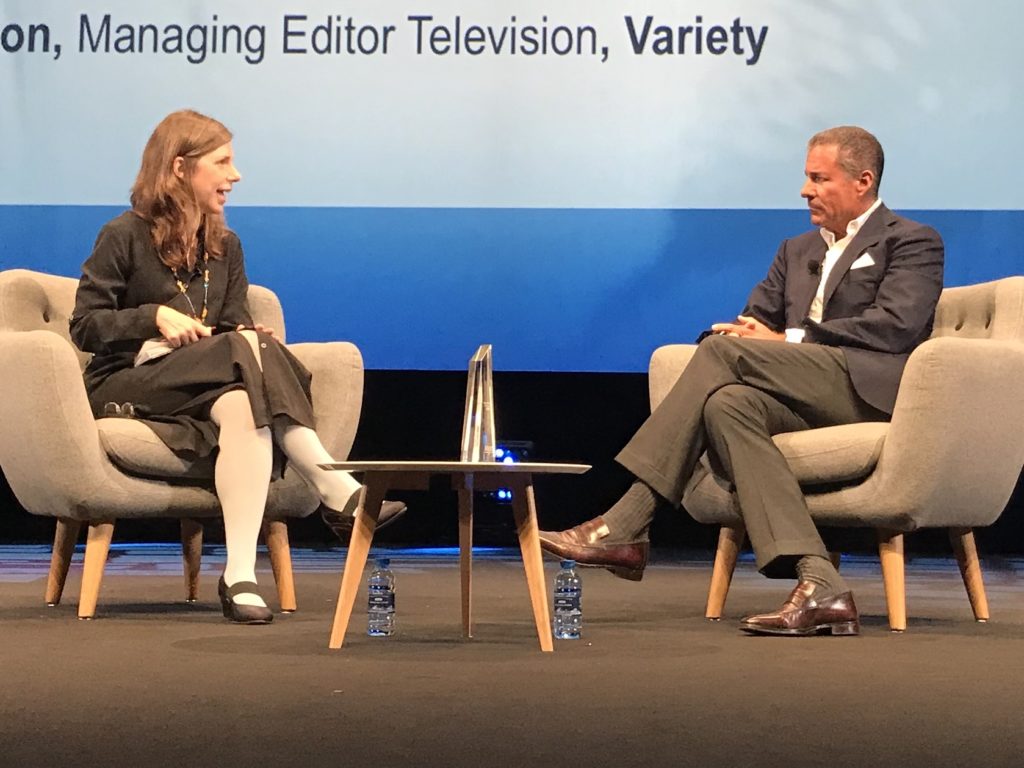 "We've always believed, and we made this case to our partners, that we could help them grow… as their bundles got skinner, we believed we helped those bundles get stickier," he continued. "We have always been a source of growing the cable business, the satellite business, the telco business and the digital business. As all of our different distributors come to understand that we're there to help them grow, that's a win-win."
What does it mean to have competitors like Netflix and now Apple coming in to the market and seeking deals with talent, with big budgets to wield? "The price of content has been going up for a long time, and this is the business we've chosen. As the price of content has gone up, so has our revenue," said Plepler.
"We're not trying to be Netflix. Netflix has grown, we've grown. We over-index in their homes, they over-index in our homes… The reason I think that we over-index in each other's homes is these are entertainment junkies. They love great content. This has never been about them or us. It's about them and us."
Plepler continued: "Our mantra and our maxim is we never want to have to say no to what we want to say yes to, and as we continue to grow, that gives us the opportunity to do exactly that."
The final topic was the in-progress merger with US telco AT&T. What effect will that have on HBO's business and creativity? "Having the kind of data that will come from this merger, which will I think help our ability to talk to consumers, to talk to potential consumers, to help with subscriber acquisition. I can't help but think that is a terrific added advantage to us," said Plepler. "If we have access to that kind of consumer data, I think that helps us market, I think that helps us keep our customers stickier, I think that helps us churn and I think that helps us design our UI and UX for our product."
Could there be a culture clash between the two worlds, of tech and content? Plepler praised AT&T boss Randall Stephenson for his awareness of this challenge.  "He understands that the entertainment culture is its own particular DNA," said Plepler. "The last thing they want to do is mess with winning games, and I don't see that happening."
Finally, Plepler was asked about HBO's plans for new shows set in the world of Game of Thrones after its last series airs in 2018. The network already has teams of writers and creatives working on ideas for new spin-offs, but the chairman and CEO played a straight bat to a question about whether he could share any details.
"No! Other than to say to you that it's a fantastic group of writers and talent, most of whom have lived inside the Thrones ecosystem, so are very, very familiar with its intricacies. None of those groups would do anything just to do it. And of course nor would we," he said.
I think we will find in this embarrassment of riches an exciting property for us to move forward with. We're looking at some things, I've read a couple of early bibles. You never want to say that something's ready before it's ready, but I'm excited about what I've seen."
Plepler had earlier collected his Variety Vanguard award from Littleton and Reed Midem CEO Paul Zilk: