This is the last in a series of posts by the MIPTV News team, summarising the highlights of an action-packed week in Cannes. Check them all out here!
Consumer adoption of UHD displays is at an all-time high — as is the production of content capable of doing justice to the new technology, as well as the number of channels dedicated to airing it. This MIPTV Wrap looks at some of the spectacular 4K UHD programming seen at MIPTV.
Many broadcasters see 2017 as being the tipping point for UHD. Data-crunchers at IHS Markit say that, globally, 32% of all TVs shipped in the pre-Christmas quarter were 4K units — up 18% on the same period a year earlier. Some markets performed even better. North American sales of 4K sets stood at 35%. Western Europe performed even better at 36%. In China, more than half (52%) of all sets shipped were 4K. As Paul Gray, principal analyst for consumer devices at IHS Markit, said: "It's an incredible acceleration of 4K TV uptake. It's clear that a tipping point has been reached. It will soon be unthinkable that large-screen TV sets will not have 4K resolution." According to the latest UHD road map from Japan's Ministry of Internal Affairs and Communications (MIC), next year will see a considerable increase in UHD content available to viewers. Then, in 2020, Japan will embrace 8K in readiness for the Tokyo Olympic Games.
In terms of the sort of content witnessed by delegates in Cannes, trailers from MIPDoc World Premiere Screening Big Pacific (top photo), arguably the most expensive 4K UHD wildlife documentary to date, had the audience at the Germany Embraces Ultra HD session applauding the visual quality and luminous colours powered by HDR (high dynamic range) imaging. The $10m factual show exploring rare underwater life in the Pacific Ocean was made by New Zealand-based NHNZ. But it is Germany's ZDF Enterprises (ZDFE) that is handling worldwide distribution. The first transmission is scheduled to be on the US' PBS network this summer, followed by ARTE in Germany and France later this year. "We're very selective about what we include in our catalogue and we couldn't be more convinced that Big Pacific fits the bill," said Nikolas Huelbusch, director, ZDFE.factual at ZDFE.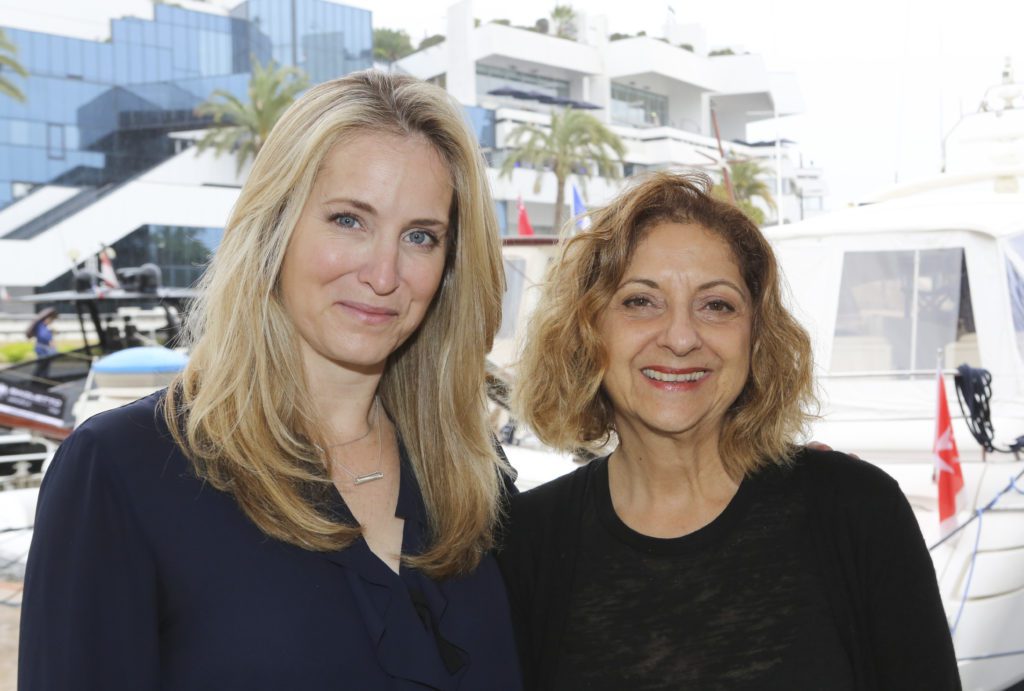 Again in the nature category, Canada's Blue Ant Media, an international content producer/distributor of 4K UHD natural and history content, announced a new exclusive two-year production and distribution agreement with the UK's Blink Films for its Love Nature subscription-funded platform. "We're at a turning point where the next wave of content to be commissioned has to look and feel very different from what is already in the marketplace," said Marcia Martin (right), Love Nature's senior vice-president, original content. Blue Ant Media was in Cannes seeking new co-producers. "We are looking to producers to bring us the next wave of content," added Vanessa Case, Blue Ant Media's executive vice-president, content.
Italian broadcasters, especially public broadcaster RAI and commercial rival Mediaset Group, are making great strides experimenting with 4K enhanced by HDR imaging. Last year, RAI tested the tech with a series of UEFA Champions League football games in digital terrestrial and satellite homes. But it is the Vatican that is at the forefront of UHD development in Italy, according to Benito Mari, head of media business, professional solutions Sony Europe: "The Pontiff showed his appreciation of the 4K system last year after Centro Televisivo Vaticano (CTV), the Vatican City State's channel, and Sony Corporation shot the documentary The Holy Year Of Mercy: Behind The Scenes In 4K. "We met the Pope after this and stayed with him talking technology. He was very open in his views," Mari said. "He told us, 'I believe [4K's] details and colours will encourage people to keep watching and become more involved in what they see.'"
The making of The Holy Year Of Mercy: Behind The Scenes, which covers a key papal ceremony and is scheduled to debut in June, follows the success of CTV's Closing Of The Holy Door, another 4K-transmitted papal event, in 2016.
On the technical side, OTT (over-the-top) streaming technology will enable broadcasters to bypass hurdles currently slowing down the take-up of 4K UHD TV via traditional cable, satellite and terrestrial signals. That was a key message during UHD Super Session: Dramatic Entertainment In Ultra-HD where it was revealed that Insight TV, the pioneering Netherlands-based 4K broadcaster, has launched an online subscription-funded VOD version via OTT.
4K signals are too large for standard broadcast set-top boxes. "There are stumbling blocks against UHD on set-top boxes, including bandwidth problems," said Rian Bester, Insight TV's CEO. Also, although Insight TV has started adding HDR tech to offer even greater colours on its 4K shows, the number of 4K-capable TV homes is not growing fast enough.
Streaming giants Netflix and Amazon Prime Video have proven OTT 4K is a viable alternative to 4K broadcast, encouraging 4K channels like Insight TV to grow their audience by reaching users of connected devices, including smartphones, laptops and smart TV sets.
"We now have our own SVOD offering via an app on digital devices by Samsung, LG, Sony and (Microsoft's) Xbox One console," Bester added.
Alongside nature and the Vatican, MIPTV delegates were treated to spectacular 4K UHD live-events footage during the Music & Culture In Ultra HD session illustrating the future of TV-screen formats. The line-up of clips included shots from Puccini's opera Turandot, Pink Floyd rock superstar David Gilmour in concert, and the filming of The Grand Tour, Amazon's $160m TV motoring series.
The speakers used the excerpts to share what they have learned from using 4K tech. Amos Rozenberg, CEO of France-based Paramax Films, said shooting Turandot taught him the 4K camera lenses required for cinema production might need to be different from the ones used for TV shows. "Cinema lenses give you a different texture. Also, shooting at 25 frames per second (fps) can be better for the eyes watching in the cinema than (the 4K standard) 50 fps," Rozenberg said. Dione Orrom, producer at UK-based Serpent Productions, said that filming Gilmour's stadium concert in 4K brought its own challenges. "You've little control of where you can put the cameras and the lighting, and you cannot alter the show in any way at all," she said.