Left to right: Cannes Series Managing Director Benoit Louvet; event President Fleur Pellerin; David Lisnard, Mayor of Cannes; Paul Zilk, Reed MIDEM; and Maxime Saada, MD of Canal+ Group.
A major TV festival will take place in Cannes next April, in partnership with MIPTV, a press conference announced yesterday. For Cannes Mayor David Lisnard, "TV series have become a major genre, and should now be considered as important works of art. Any new TV event should live up to this importance. That's why creating an event like this has been on my agenda for years."
"Any major festival should respect the dramatic principles of unity of place, time and theme," continued Lisnard, "and integrate itself within Cannes' existing events-focused ecosystem," reminding the audience of Cannes' long experience in "connecting creative people with business people."
Reed MIDEM's b also emphasised the city, and MIPTV's, heritage. "MIPTV has been organised here for the past 52 years. This project's timing is perfect, and makes complete sense," he said. "Global engagement with TV series is better than it's ever been. Over the past 52 years, the industry has changed a lot. Thousands of series have been debuted here, by tens of thousands of TV executives that have come here for that reason. TV has been part of Cannes for the past five decades. So I'm proud MIPTV will be a partner of Cannes Series."
Event President Fleur Pellerin — formerly French Minister of Culture — explained that the event's name had been chosen in order to resonate internationally. "This first edition will be prestigious and artistically demanding, yet also glamorous, and open to the general public." She notably insisted the event "will also speak to millennials who watch web series."
Cannes Series MD Benoit Louvet then outlined the event's main pillars:
– An official selection of around 10 series (including digital ones)
– A grand jury of at least 5 leading TV personalities
– An awards ceremony
…whilst adding that a Coproduction Forum, which would support the finalisation of projects in production, through presentations and professional networking, would represent a crucial bridge between Cannes Series and MIPTV: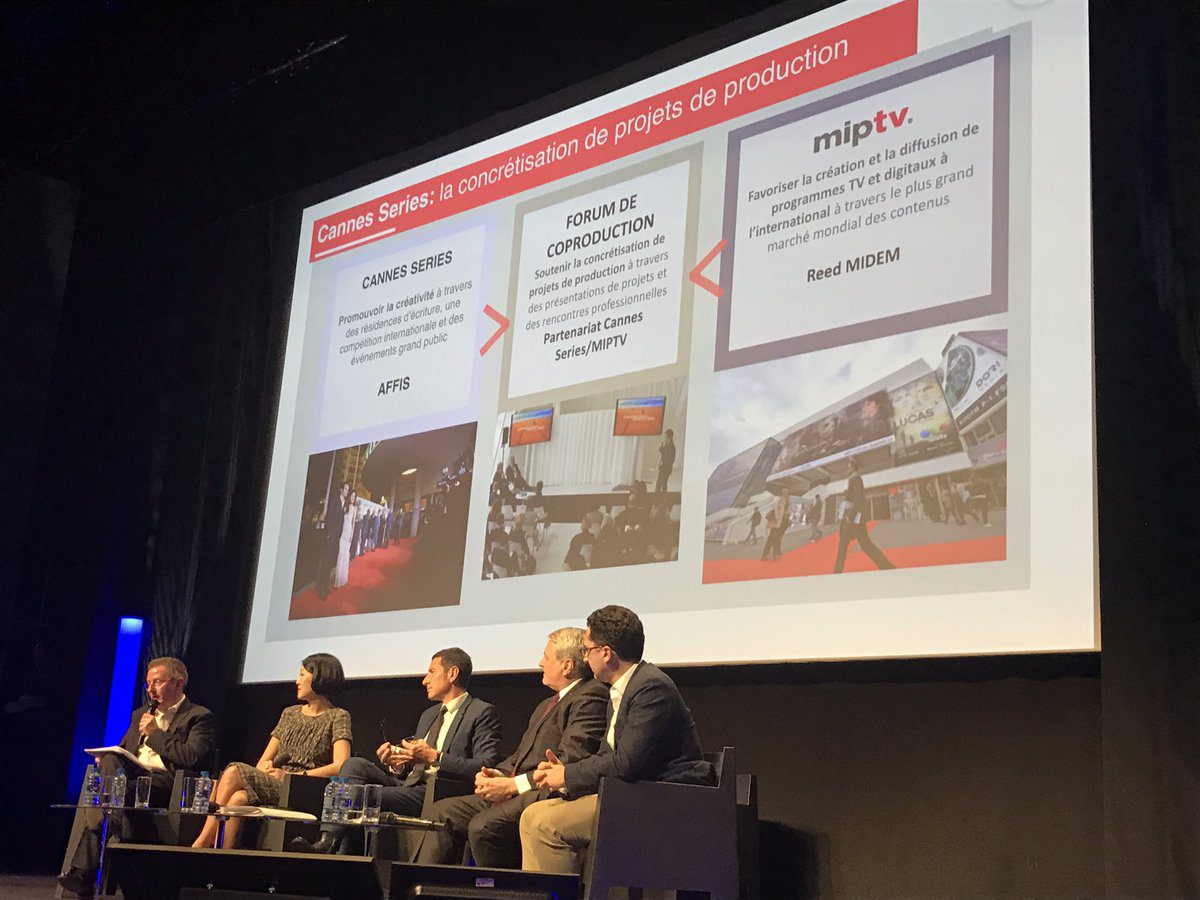 Canal+ Group MD Maxim Saada then insisted that Cannes Series is the only TV festival his company, one of France's most important entertainment firms, will be supporting in 2018.
Watch the press conference in full (in French) on Cannes Series' Facebook page…
The day then closed with a screening of the first episode of season six of Engrenages, the Canal+ series that has been a major hit worldwide, and as such sums up the spirit both of Cannes Series and MIPTV. A bientôt pour la suite!