RThe French Riviera may seem glamorous, but its lustre fades when your husband is killed in a yacht explosion, in the process revealing the dark underbelly of what you thought was a Vanity Fair lifestyle. At least, that's what happens for Julia Stiles' character in Riviera, the new drama being distributed by Sky Vision.
The company hosted a world-premiere screening at MIPTV today, complete with a panel for the talent to talk about the show. Stiles was joined by fellow actors Lena Olin and Adrian Lester, as well as Sky's commissioning editor Cameron Roach and series producer Foz Allan for the discussion. Journalist Ali May interviewed them.
"We approached the characters with mutual respect," said Stiles of the on-screen relationship with Olin. They appear direct rivals: "But there's mutual respect, and sometimes there's an allegiance between them, because they need each other to get what they want."
"The setup is made so it's impossible for them to like each other!" laughed Olin. "As the story goes along, it's impossible for them not to like each other, or need each other, or help each other. And that was really fun for us to work with. They have to hate each other, but they really can't."
Sky's Roach talked about the genesis for the series. "What has been so compelling to watch across the 10 episodes is you're watching this Alice in her fucked up Wonderland make sense of this strange place," he said. "And you have these amazing unputdownable characters that you just want to spend time with. And a world you just want to spend time with."
Lester talked about his role, and the fact that he directed a pair of episodes too. "I was aided by a fantastic crew, an amazing crew, a fantastic group of actors," he said. "And chiefly you can only be as good as the people working with you… We had great scripts, some very difficult days and very difficult things to get through, but we had a great team. And we had the Riviera!"
"He's so laser-focused and so incredibly on the whole time. And then he came in as an actor and it was like another person! He was goofing around… and then you realise the responsibility as a director, I'm married to one, and I had to go home and say 'I realise now the pressure you're under'," said Olin. "You're much more relaxed when you're acting!" said Stiles to Lester. "Especially after you had directed, all of a sudden it was easy-breezy cakewalk for you!"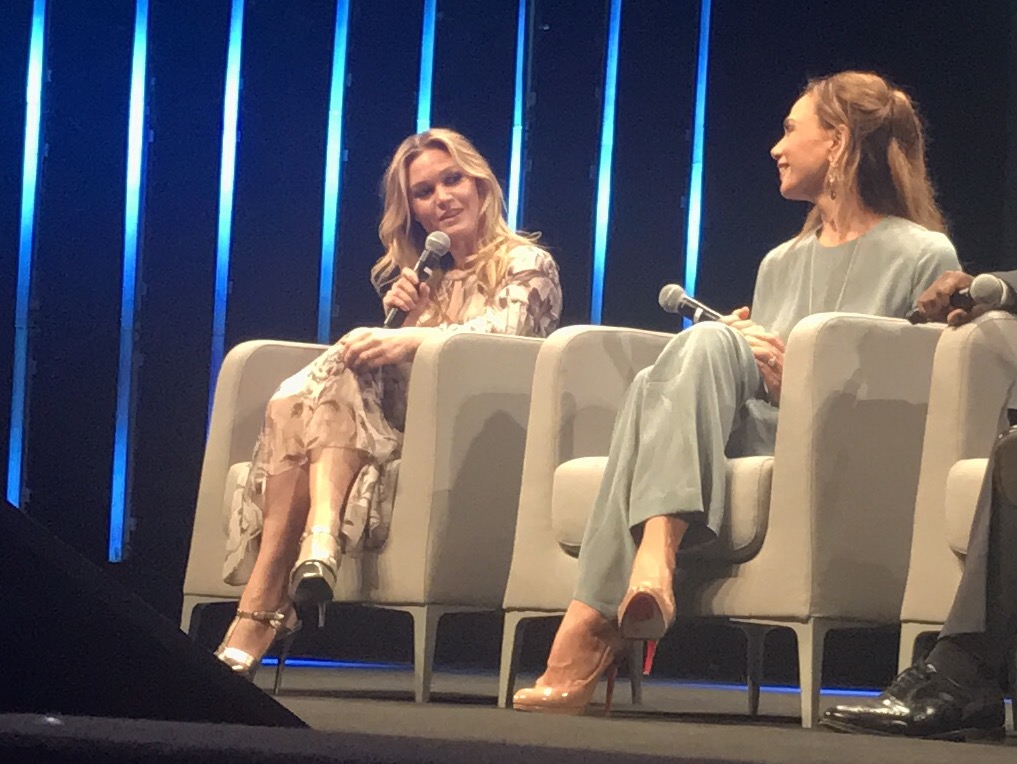 Allan talked about the structure of the production, and stressed that it wasn't like making a film. "There aren't 10-hour films. The structure, the processes, the way you organise things are very different," he said. "You aim to deliver 10 mini-films… and as you plan and work through those, you take bits of everything and hold them together tightly."
Lester noted that the shooting of the first two episodes started to have an impact on the writing of the later episodes, especially for the last four, where the evolution of the drama was guided by how the characters had developed on-screen during the first few.
"For the actors, as painful and sometimes exhausting as it sometimes is not to have the material laid out for you as it is for a movie, looking back it was probably rewarding that we could take from what we'd already done as actors," said Olin. "It was sort of a very living creature, the script. Which was exciting and somewhat exhausting."
Do the actors now prefer TV to film, wondered May. "I loved being able to explore and live a character for what amounts to about 10 hours of storytelling, as opposed to an hour and a half, which would be a movie," said Stiles. "What is great about working on a TV show like this is that it was very very collaborative, in ways that you sometimes don't find on a film."
"It's a little bit of a combination of doing theatre and doing a film," said Olin, of the process of inhabiting the characters. "It gives us more power actually, in a very good sense. And it becomes somewhat of a family, the people you work with." But Lester said he doesn't have a preference between TV, theatre and film: he appreciates each for their specific merits.
"But in terms of performing and how the work feels, the repetition of theatre I feel really crafts an actor… it really works your acting muscles. But on screen the clarity of thought and the precision of thought is paramount."