This post summarises two of today's panels: "Social Media: The New Format Co-Creators" and "Will Digital Save Formats?"
The first panel took on the value of creating format symbiosis with social networks. Moderated by senior VP Alexandre Michelin of Spicee, the session featured RTÉ Television's director of marketing Michelle Spillane, CEO Larry Bass of ShinAwiL and CEO Gavin McGarry of Jumpwire Media.
Michelin began by calling Facebook one of the most advanced experiences in terms of what a platform can offer formats. Building on that, Spillane explained how RTÉ Television created a Facebook Live version of Dancing with the Stars for the Irish market, hosted by James Patrice, a leading influencer in the country.
Produced by ShinAwil, the Facebook Live interpretation of Dancing was broadcast two hours before the live show. It was sparked by the need to renew the format's audience, which was rapidly ageing, and combined live interviews, shot across multiple locations, and short live segments.
The transmission generated some 1.2 million views and was shorter than its TV sister, at 25 minutes long.
"It's the first time we created a proper show as opposed to [using social for]just marketing or PR tools—like behind the scenes, or other access," explained Spillane. "That also creates momentum and noise, but this is the first time it was a true content extension, unique in its own right."
Prompted by Michelin, Spillane also expounded on the social format's goals: "Deliver a really big, strong audience to the slot, and also to win back lapsed viewers and youth audiences," she said. "Also, for us as a public service broadcaster, to reach our audience in new ways with new content, and truly immersive and engaging experiences. We wanted to create a lean-in experience."
"We worked with RTE and BBC Worldwide on a previous format," added Bass, referring to The Voice. When Facebook Live first came out, it initially "allowed any type of live transmission," and the production company seized that opportunity. "We wanted to continue what we were doing with The Voice but bring it up another level, really using Facebook Live and other social media to harvest audience for the show."
Asked by McGarry why they chose to broadcast the Facebook Live version of the show two hours before the broadcast of its TV version, Bass explained it was actually part of a wide constellation of social efforts that addresses people in a completely different way.
"The digital content team and our production team were working on all aspects of the show. But we were also feeding out material on Instagram, Snapchat and Twitter"—not to mention Periscope, as Bass would later add. "This element was one element of a whole digital world on top of a main show."
On top of being shorter than the TV version, Dancing With the Stars on Facebook Live "did keep some format points within the 25-minute show quite soft to allow it to be agile and fluid, and move each week with audience demands and tastes," said Spillane. These included a weekly celebrity interview, a pro challenge (a dance competition), behind-the-scenes sketches and skits, and plays on serial dramas.
"We kept all of that quite loose and allowed interaction, questions and different things from people on Facebook Live to guide that each week," Spillane reiterated.
Meanwhile, the digital team integrated co-creators from Facebook, Instagram and other social networks, Michelin observed.
Spillane and Bass also detailed why they chose Patrice, who hosted the social format. Spillane called it a "very interesting casting process."
"We had very experienced presenters from radio and TV, other social media who went forward for that, and he knocked it out of the park," she said. "He's one of the biggest social influencers in Ireland; he has all of his own platforms."
Patrice has among the highest Snapchat followings in all of Ireland, Bass pointed out. And while the influencer has worked with RTÉ in the past, this is the first time they've used him for what's essentially a social-intended format.
"We're a TV production company, but now we're saying we're a content production company because TV may not be the platform where we make content for the future," Bass said. ShinAwil is currently creating a dating show for Facebook Live.
Asked what he thought of the execution, McGarry replied, "Eight, nine or 10 years ago at Endemol we were all using this stuff." But he conceded, "I think that people are starting to use it more effectively," adding that, in America, people are fond of saying "the riches are in the niches."
Bass advised creators to use TV smarts to account for things rarely considered in the digital realm, which provides an advantage when creating a social format with high production values. Who considers adding good sound into Facebook Live, for example? This has become more critical since, as McGarry astutely observed, Facebook is beginning to shy away from its silent-until-clicked video model and is beginning to introduce sound softly, growing progressively stronger to avoid surprising or interrupting newsfeed trawlers.
McGarry also expressed dismay that RTÉ did not choose to gather sponsors for all this work. Unlike YouTube, Facebook Live doesn't take a cut of monetised content, he said. "Whatever you're spending to build the Live show, it should be covered by sponsors. We think that's the future, depending on your restrictions. In America we're starting to see more of it … I don't know why broadcasters aren't doing more of it. Actually, I do know. They have no idea."
"There is an ambition and appetite among broadcasters to monetise all screens," Spillane rejoindered. "The difference is common currency. How do you assess the value of eyeballs and engagement across screens?"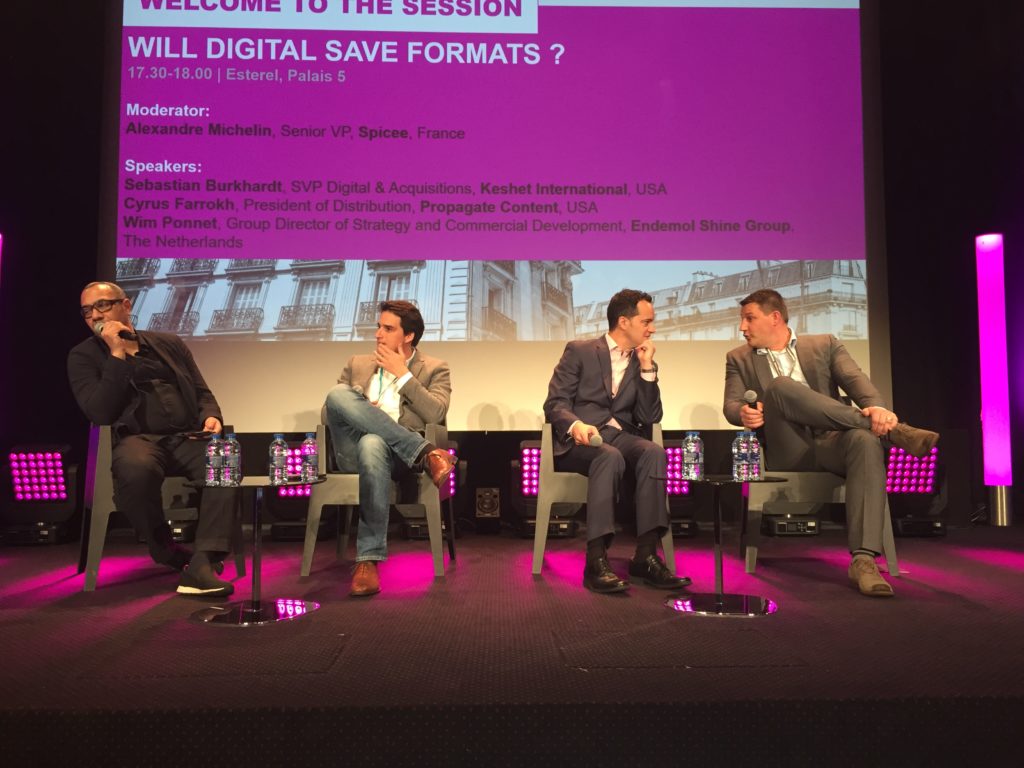 The next session, "Will Digital Save Formats?", again featured moderator Michelin of Spicee, facing panelists Sebastian Burkhardt, SVP digital & acquisitions, Keshet International; Cyrus Farrokh, president of distribution, Propagate Content; and Wim Ponnet, group director of strategy and commercial development, Endemol Shine Group.
Together they covered how digital played a critical role in certain successful commissions.
Farrokh of Propagate introduced "Planet of the Apps," an iTunes-based show where app developers compete to score financing from celebrity supporters and VCs. Successful apps earn featured placement on Apple's App Store.
Previously, Farrokh was at Electus, where he worked on Fashion Star, a fashion design competition show where people could purchase the winning designer's creations. But unlike Fashion Star—where fans must wait a few days for their wares—Planet of the Apps provides instant gratification.
"When the show launches, there'll be 36 apps that'll launch," Farrokh said of Planet. "When you see the episode on whatever device it's available on, you can access the app" you want instantly. "I think it's a great model."
He also had high praise for Apple, both a partner and distributor. "We're all trying to figure out what model's gonna work next. Apple's been a great partner and they're trying to figure out what they're doing. They're only doing three shows; one of them is this one," he said.
Next, Burkhardt shared what's new at Keshet. Keshet has the advantage of operating Israel's leading broadcaster, as well as its leading online video platform, Mako. "We experiment a lot when it comes to convergence, trying to figure out new type of formats to incubate"—be they online assets or TV show concepts, he said.
Its show Touch, launched last year, "works within linear TV, but really originated and incubated through online assets, and started as a mobile game," said Burkhardt. The format went international with help from Buzzfeed in the United States.
In Touch, contestants must review images and guess what's "wrong" with them by touching the Photoshopped inclusion on their screens. Examples can include an image of Dalmatian puppies, where one puppy has a spot shaped like the Apple logo. The grand prize is also hidden within an image, which the potential winner must find within a certain amount of time.
"It started with the second-screen experience—a really simple mobile game we were doing on our online platform, where viewers and users on existing TV shows of ours had to identify what's wrong with a particular scene," Burkhardt said. Touch expanded into a standalone game … then Keshet asked itself what a TV version would look like.
The format promotes itself as an "engagement accelerator" that can adjust to fit platforms' various needs. For Burkhardt, it's an exercise in "trying to leverage online audiences and take them into the broadcast environment."
Asked by Michelin what it was like to work with Buzzfeed, Burkhardt's perspective was as measured and optimistic as Farrokh's in reference to Apple. "Every project is different," he said, and "this is an example of something that sits at the intersection. They're pure digital products."
Pointing to his co-panelist's previous offering, he added, "Planet of the Apps is a great show that shows how to work with new types of broadcasters!"
The Keshet approach, Burkhardt said, is "always to look at one specific piece of IP and how we would exploit that, what promotional windows to use for stickiness and engagement."
Wrapping up, Burkhardt teased the possibility of a broadcast version of Touch in the United States, with help from Buzzfeed. Though the format's roots are digital, "Ultimately a broadcast window is highly beneficial."
Last but not least, Ponnet expounded on what Endemol Shine's been up to lately. "Our formats are in great shape," he began. "We did 700 productions last year in 66 languages on 270 platforms. You can imagine not all of these platforms were traditional broadcasters."
Like the other panelists, he doesn't see new platforms as competitors. "For us they're a new pipeline to fill with amazing content," said Ponnet, adding, "I don't like the word content. A colleague says content is the stuff you fill pillows with. It's entertainment, what we do best. Digital gives us the opportunity to do it. It's true for Propagate and Keshet as well. The experience becomes more complete with a game element for the user at home."
The most natural example for Endemol Shine was Big Brother's online-only spinoff for CBS All Access. "It was on 24/7," Ponnet said.
"The user at home had way more voting rights and influence over how the show shapes up. We think that adds value. It allows us to be more creative and generate things that will reach the audience where they're gonna be. It's no secret to anyone in the room that for the audience, cord-cutting is a real thing."
But for internet and political junkies, Endemol Shine's latest coup isn't a TV-to-online format; instead, it's an online video that played on real-life events:
"America First, The Netherlands Second" scored 50 million views on Facebook in mere hours, and appropriations quickly appeared from other countries, including France, Germany, Denmark and Switzerland. Ponnet cited this as proof of the work's creativity.
"Online platforms," he said, "enable us to have a meaningful conversation with people watching our content. It gives us insights on what they like and don't like. On YouTube, the fact that people share it, view it, do their own version gives you a pretty good indication that they thought it was funny."
Of course, it isn't all flowers and fawning online, either: "When they don't like it, it's even more brutal and indirect," he noted, calling such times a chance to make content that's better.
The session ended on a warmly optimistic note.
Farrokh talked about Propagate's upcoming project, an unscripted series it's sold to Amazon and whose production credits include The Walking Dead's Gale Ann Hurd. "It's gonna be really exciting," he said. "You're getting IP from anywhere. Formats don't need to be saved … You can do anything right now. It's exciting as well if you're ready for the ride."
"I can only echo what Cyrus says," Ponnet added. "One of the outcomes from MIPFormats yesterday and today is that it's not just the UK, or the US" providing high-value formats—"they can come from anywhere."