Will the US conquer the formats world? Four prominent industry executives offered as many answers to this question this afternoon in the MIPFormats keynote series, offering their views on how the formats market is evolving, and the opportunities therein for producers.
Conrad Riggs, head of unscripted at Amazon Originals (top photo), was first to speak. Having produced shows including Survivor and The Apprentice, he's now heading Amazon's unscripted business, including overseeing The Grand Tour, the new series from the former presenters of Top Gear. He was interviewed by Howard Owens, co-CEO of Propagate.
The session started with an announcement worthy of 1 April: a show that would see astronauts exploring « intimacy in space » with Dr Ruth Westheimer, complete with a clip of her donning a space suit (of course, it was an April Fool!). On more serious matters, though, Riggs was bullish.
« I see nothing but opportunity, » said Riggs. « We're just getting started. These are our first shows that we've premiered, and we believe that we have an opportunity to just bring great content to our customers. »
Amazon and Propagate are also turning podcast Lore into a series. « He tells these stories that literally scare you. It's like listening to somebody telling a scary campfire story… but they're all based in truth, » said Riggs, who said there's an « all-star team » working on the unscripted horror show. It combines, video, photos and special effects into « an almost Twilight Zone telling of stories that are insights into ourselves and our culture ».
« I love podcasts. They are interesting because listeners take ownership of them. They're not marketed like a movie or a TV show or a product. There's usually very little PR around them, and they're self-discovered or discovered through word of mouth, » he said. « They voraciously finish, usually, the entire podcast, and they proselytise for it. The great podcasts are from people that are passionate. They're making it for non-commercial reasons. »
Riggs also talked about Amazon's submission process, with the business divided into scripted and unscripted divisions. « I like to be open to anything. I don't want to self-select, self-censor… Most networks were not looking for the hit show that came to them. You have to be open-minded: if you follow the leader, you just become part of the pack, » he said.
How does Amazon handle the challenge of its global audience, with its shows available in more than 200 countries? « We need to deliver content that they care about. It's global yet local. If we have a customer in Iceland, we want them to care about our shows just like a customer in Mexico, » he said. « We look for global ideas, and also local or regional ideas, and we try to find a balance between the two. »
In Japan, Amazon is doing a slate of scripted and unscripted shows, with The Bachelor Japan one of the first examples of the latter. « It's the format that you know and love, but with Japanese contestants, in Japanese language, » he said.
While Amazon does have a feature that links shows with e-commerce, Riggs said this isn't a creative priority for the company. « We don't at the moment produce shoppable TV. We're trying to produce great programming that our customers care about, » he said. « We're really focused on premium storytelling… We just want to deliver value for our customers. »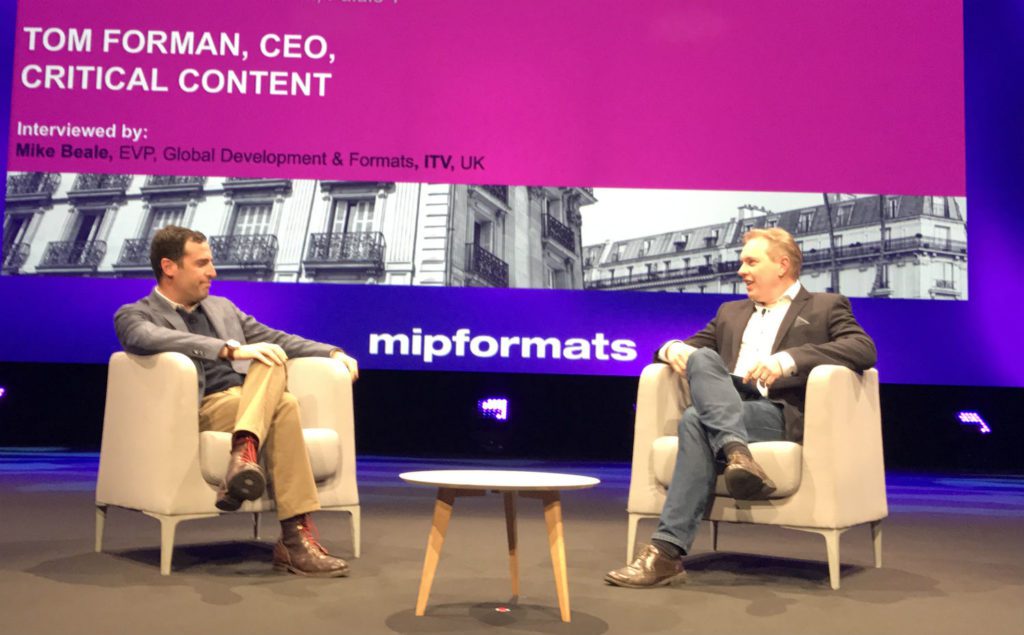 The next keynote featured Tom Forman, CEO of independent studio Critical Content (left above). Having launched in October 2015, it already has more than 60 projects in production for more than 30 networks. Fresh from débuting an incubator program for young unscripted producers, Forman was interviewed on-stage by Mike Beale, EVP of global development and formats at ITV.
« We've been busy! » he said. « Non-scripted is still the engine that powers the company, for the US first and then the world. I think traditionally what works in the United States reverberates around the world. The challenge we've always faced as US producers was getting a show onto the airwaves in the first place. Our customers were risk-averse. »
He continued: « The thing that has changed in the last year or two: the bad news two years ago, I couldn't get away an original format in the US. Now I can, I just can't own it. Networks really desperate to exploit that last unexploited revenue stream are asking for format rights really for the first time in the United States, and getting them. »
Forman warned that the danger here is that broadcasters may not do as good a job as producers of selling those formats around the world, citing Catfish as an example. « I'll say this here because I've said it to their face. Viacom just hasn't exploited that format the way the producer could have, » he said.
Forman added that one of the best developments in the industry over the last six months is that the demand to tie a celebrity to every project is « bullshit… Celebrity talent is still super meaningful, my sense is if they are willing to show up and do the work… beyond that, I think probably not so much. »
« I'm both a quality-control freak and sort-of obsessed with margin, because for US producers that represents the bulk of our profit, » continued Forman. « I'm extraordinarily proud of what we've accomplished in the past 18 months. But we're doing it without a [huge]franchise… That is the new normal. »
Critical Content is in business with the likes of Amazon and Netflix. « Those are meaningful buyers and we think about them first, which is new for me. They're not looking to replace one network: they're looking to challenge television. So when you're thinking about what to bring to them, the answer is everything! »
He suggested that shows « that combine docu and format » will work best on those kinds of services, in the unscripted category. But what's on (or not on) his list. Most of Critical Content's pitches begin with « we've spotted a trend… » he explained. « The things that are selling in my marketplace are tethered to interesting real-world observations, » said Forman.
« The frightening conversation is how big will the next big format be, and will there be another game-changer? » he said. « Maybe a shiny floor but maybe with reality elements. More likely out in the field. Speaking to the way people live as opposed to some crazy idea we cooked up in a conference room. »
Forman concluded. « Will the US take over the world? Probably not. But we're gonna have a moment. I think there really is the chance to cause some trouble and make some noise, especially in the US. And we know that when you do that, it's then easier to do it in the rest of the world, » he said.
Forman ended with a thought about how conferences like MIPFormats could evolve: « I think producers need to speak to producers. These markets have become about producers talking to distributors. If we could hijack that and talk to each other, then go home and sell one another's formats… »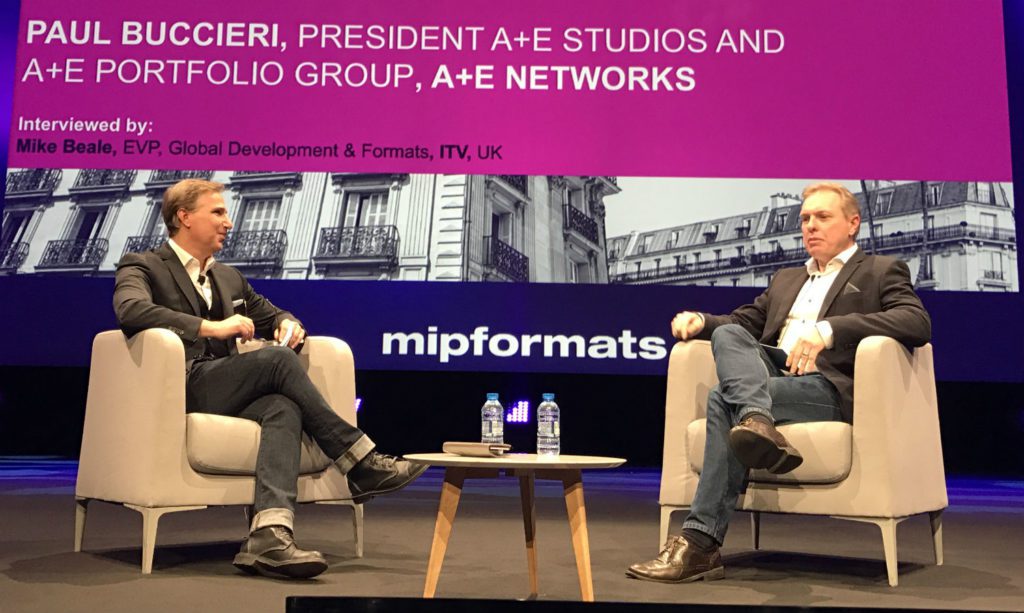 Third to speak was Paul Buccieri, president of A+E Studios and A+E Portfolio Group at A+E Networks, whose career has included senior positions at ITV Studios, 20th Century Fox and Endemol USA. He explained what the network is up to in unscripted programming, and how it sees the market, and was also interviewed by ITV's Beale.
Buccieri talked about A+E's growing focus on selling its formats outside the US. « We feel that of course a good constructed-reality show or any show that's character-driven will work for us, but some of our big driver shows… that deliver a consistent audience are formats, » he said. « We produce across our brands about 1,300 hours of content, and of that about a third are formats. It was time to take those shows and all that data we have, and really get out there and sell the shows around the world. »
He continued: « We come up with a lot of those shows. Our executives come up with a lot of those shows, and have gone out and partnered with people to develop them. And we are looking for people around the world to partner with… I don't think there's one way of doing it. »
What defines an A+E format? « Our sweet spot is these more authentic, sometimes a little gritty shows, » he said. « Everyone says they're new and fresh, but they're only new and fresh against the landscape of the shiny-floor game-shows… Once we're in that world, that environment, we let the characters that we cast take us in all kinds of unexpected directions. And against that backdrop, this does seem fresh… Depending on the market and depending on the show, you can scale down to a market so they work on their price points, or you can blow it up. There's a lot of flexibility in that that a big shiny-floor show doesn't have. »
What sort of things is A+E looking for from producers pitching in their formats? « You just come in with your passion. You might pitch a show to Lifetime, and that's really really great but it actually has some of the tenets we want on A+E. So we're talking to each other as a group, » he said. « The other thing: you have to be relentless. You have to – just have to – keep pushing and pushing. And for us, there's multiple entry points. »
He added that producers should be looking to surprise, rather than simply pitching to the briefs sent out by broadcasters, citing his own experience as a producer. « Every time I brought something in that I felt passionate about: that I loved and felt this speaks to me… I ended up selling some shows. Of course you get some briefs, you need to do some diligence and do the work. But follow your heart, follow your gut. »
Buccieri concluded by talking about what's next for A+E. « We are open for business. And we want to be aggressive talking to producers… we wanna get our name out there and get known for 'look what we've done in two years'. I think there's a lot more upside for us. »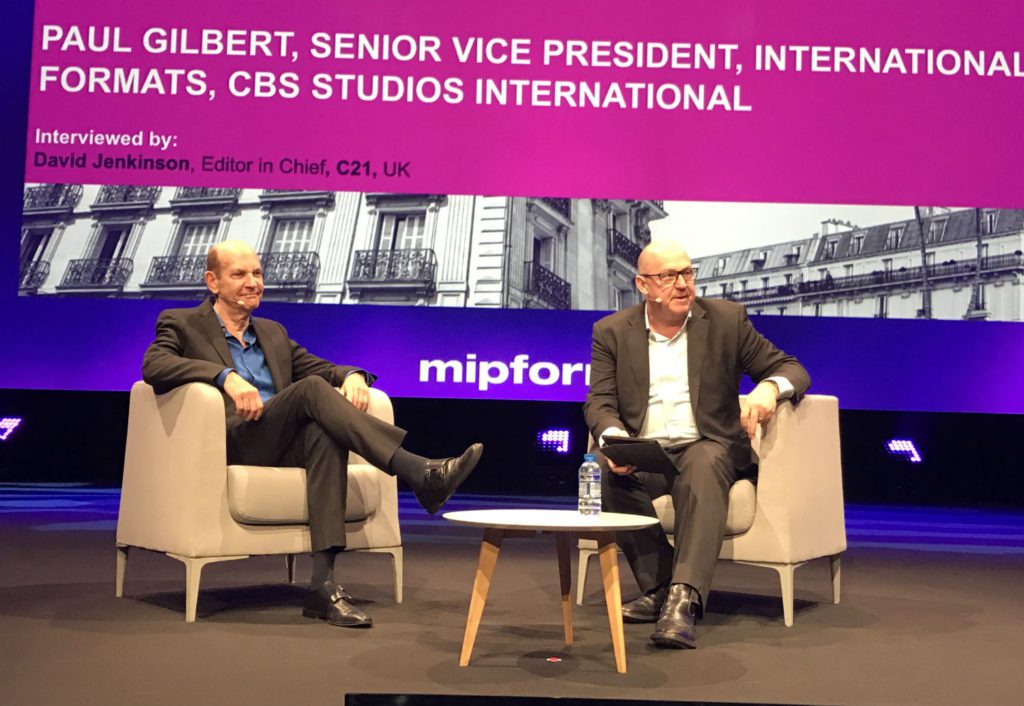 Today's final keynote featured Paul Gilbert, SVP, international formats at CBS Studios International. With a career that has encompassed shows from Wheel of Fortune and Jeopardy! to Carpool Karaoke and Drop The Mic, he talked about how TV formats have evolved. Gilbert was interviewed by C21 editor-in-chief David Jenkinson.
What frustrates him about the formats business, wondered Jenkinson. « It's trying to get buyers to buy an unproven format, » he said, citing the example of a « terrific » game-show in his production days that, because CBS decided not to put it on the air, was then rejected by 15 other broadcasters who'd paid for option fees on it. « Everybody always wants to buy off success, I understand that, » he said, but expressed frustration at a risk-averse culture in the broadcast world.
« You just have to keep beating your head against the wall until somebody says yes! » continued Gilbert, citing a « we don't wanna be the first » culture among some broadcasters.
The conversation moved on to the resurgence for 'classic' shows like Wheel of Fortune and Jeopardy!, with The Gong Show on its way back too. « It's tried and true. If you're looking for a show that's pretty much guaranteed to work, it's one of the classic shows, » he said. « The classics work, and everybody knows it, and they kinda find their way back to the era. »
The pair talked about Wheel of Fortune, and how it's been adapted around the world. « When I watch these other versions, I'm not sure if it's Wheel of Fortune with variety, or if it's a variety show and they throw in Wheel of Fortune! » he said. « Turkey is one example… there's belly-dancing, there's singing, all kinds of stuff. And it works. »
How has digital changed the formats landscape? « Carpool Karaoke is a good example of that, » said Gilbert, noting that it started as a segment in James Corden's late-night show in the US. The Adele version now has almost 155m views on YouTube. « Because those clips were online, it's been developed into a half-hour show that our domestic TV group has sold to Apple Music, and we're in production of 16 episodes. »
How is that kind of show monetised for its producer? « I think that one answer could be what we did with Carpool Karaoke, by selling it to Apple, which is obviously digital. Another example is Drop The Mic which we sold to Turner. That's not digital, obviously, but the clips show up online. It's a good way to showcase segments of your show… Anywhere you can get it in front of people where they can view it, it's a good thing. »
Gilbert talked about shows like I Love Lucy and The Odd Couple, which are still being licensed around the world, and even produced: I Love Lucy got a new version in Latvia two years ago, for example. The Good Wife, which ended on networks last year, is being produced anew in Russia and other countries, as a more modern example.
Gilbert talked about his ambitions for 2017. « People in my position, we have revenue numbers that we have to hit each year, and it's a struggle every year to do it. Half the time we do it and half the time we don't. This year I'm hoping to do it… but there are bumps in the road along the way, » he said. « One of the things we struggle with… is having enough content to distribute. That's always an issue for us. It never seems to be enough. The highly-successful reality shows on CBS, we don't own. Endemol and Fremantlemedia own them… So maybe my answer is I'd like CBS to put a show on that I do own, that we can distribute! »
The keynote ended with Gilbert presented with the Formats Gold Award, presented by C21 Media / EMC and FRAPA, in association with MIPFormats.
CBS Studios' Paul Gilbert accepted the Intl Formats Gold Award from @C21Media, EMC & @FRAPA_org & #MIPFormats after his keynote today. pic.twitter.com/KkZH2SaBSA

— MIP Markets (@mip) April 1, 2017