The upcoming LA Screenings will be a chance for the top studios to showcase their brightest new shows ahead of pilots season. However, for the very first time, MIPTV attendees got some teasers today, courtesy of a pre-Screenings showcase presented by Disney Media Distribution and Lionsgate.
Disney's SVP and general manager of Disney Media Distribution, EMEA Mark Endemano got the ball rolling. « We're working with proven showrunners, the best writers, and an array of great talent both in front of and behind the camera, » he said.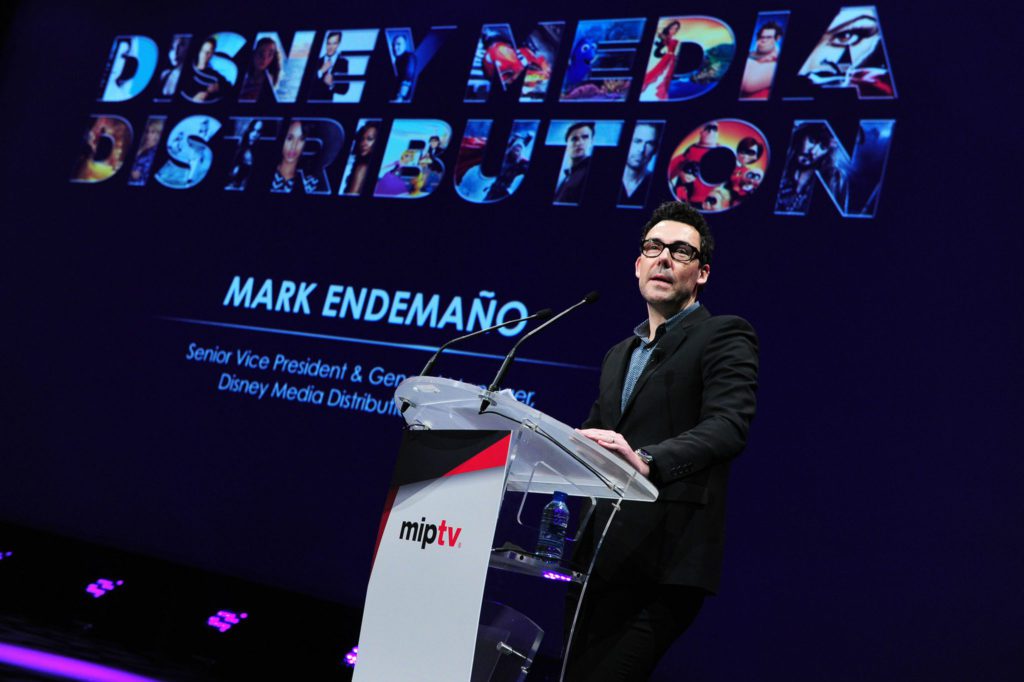 First up was two new series from Marvel. Marvel's Inhumans has already been greenlit and received an eight-episode series order. « I promise you, this is unlike anything you've ever seen before on television. It brings a richness and depth of storytelling, » promised Endemano. The show will focus on Black Bolt and the Royal Family, which were first introduced in Marvel's comics in 1965, and have been 'seeded' in the Marvel's Agents of S.H.I.E.L.D. series. Inhumans is co-produced by Marvel Television, Imax and ABC Studios, with the first two episodes to premiere first in Imax cinemas in the US, ahead of broadcast.
The second Marvel show was Cloak & Dagger, a co-production between Marvel Television and ABC Signature Studios, which has already received a 10-episode order for the Freeform network in the US. « Cloak & Dagger is about character and emotion above all. It tells of a romance between Tandy and Tyrone in a way that we haven't really seen before in a Marvel TV series, » said Endemano. « So think Romeo and Juliet though I can tell you that they won't be dying at the end of the first episode! »
Disney is also hoping to continue its « golden streak » with Shonda Rhimes' ShondaLand productions with a new one-hour legal drama that for now is being described as The Untitled Paul William Davies Project, after its lead writer. Rhimes will executive produce, again partnered by producer Betsy Beers. « This one is set in New York and follows six brand new lawyers working for both the defence and the prosecution, » said Endemano. « This show is exactly what ShondaLand does best: taking really smart and of course sexy characters and putting them together in situations that will test them both personally and professionally. » The show will have a 'case of the week' format complemented by overarching storylines running over each season.
Endemano moved on to The Crossing, which will also air on ABC, and which he suggested « may just fill the gap left for Lost enthusiasts ». The plot focuses on a group of mysterious refugees who wash up in a small American fishing town. The twist: they are from the US too, and the war they're fleeing is from 100 years in the future. « The pilot is already creating a huge amount of buzz, » said Endemano. « The dailies look fantastic, with really big production values. » The director is Rob Bowman, who originally made his mark on The X-Files. Steve Zahn will star as the sheriff of the town, whose peaceful life is up-ended when hundreds of bodies (and dozens of survivors) turn up.
Next came a new project from the creator of Desperate Housewives, Marc Cherry. « Fans of Desperate Housewives will be delighted to see this ABC pilot, which we're currently referring to as The Untitled Marc Cherry Project, written and executive-produced by the man himself. « He's not writing about Wisteria Lane any more, this time it's about the fictional town of Oxblood in Kentucky, where a violent incident at the top of the show changes life there forever, » said Endemano. Reba McEntire will play the town's sheriff, forming an uneasy alliance with FBI agent 'Tag' played by Saamer Usmani. « The script is fantastic and bears all the hallmarks of Marc's work: great characters, dark humour and an intense mystery. »
Finally, Into the Deep, which is being produced for Freeform in the US. « It's a pilot we're fondly referring to internally as Killer Mermaids! » said Endemano. « So move over vampires and werewolves, it's time for something new. » It's a one-hour drama based in a coastal town known for once being home to mermaids. A mysterious girl's arrival proves the folklore is true, but the return of the mermaids isn't good news for the humans whose ancestors slaughtered the mermaid's forebears. « Don't mess with the mermaids! » said Endemano.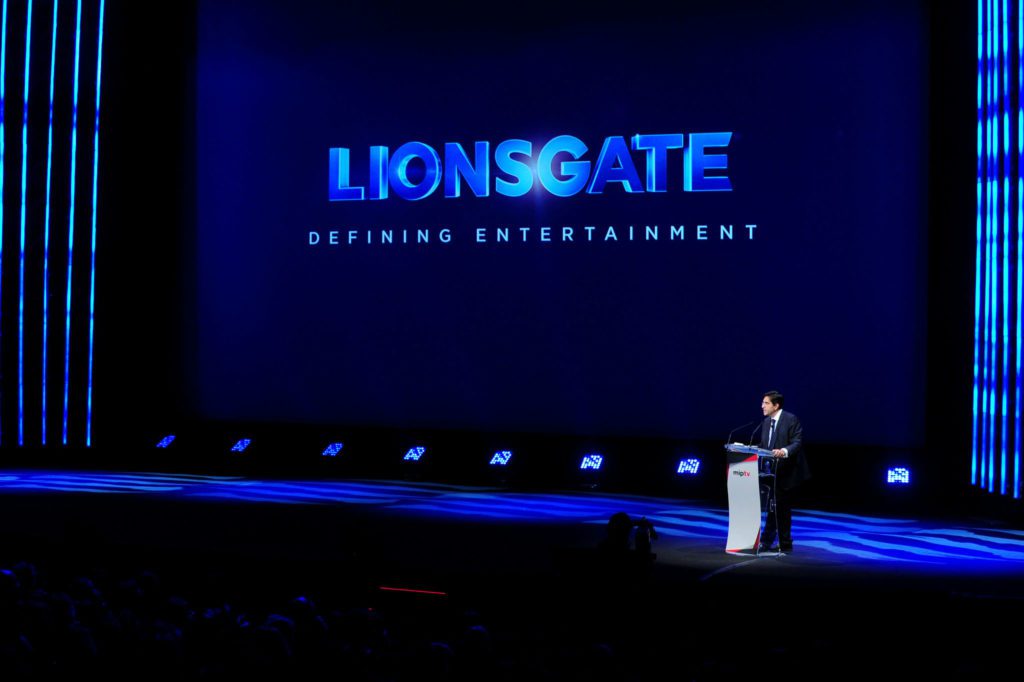 With Disney's showcase concluded, Lionsgate Television's president of international television and digital distribution Peter Iacono took to the stage, for a sneak peek at his company's hottest new shows.
He began by reminding the audience that since MIPCOM last year, Lionsgate has been joined by Starz. « We have doubled in size, and one of the key strategic advantages of this merger is you're going to see not at this LA Screenings, but at subsequent screenings and beyond, having a network is going to allow us to have more productions and retain more rights, » he said. « So we're very very excited about that. »
Back to the shows. « The cornerstone of the LA Screenings for us is going to be Ten Days in the Valley, which we're so excited to present, » said Iacono. It's the first fruits of its co-venture with Skydance Media, which was announced at MIPCOM in 2015. It will premiere on ABC as part of its 2017/2018 lineup.
The show will see actor Kyra Sedgwick return to primetime television in the role of a successful TV showrunner and writer, juggling her job with being a single mother – until her daughter is kidnapped. « Kyra has committed for multiple, multiple seasons, so we're very excited about this and looking to many seasons of Ten Days in the Valley, » said Iacono. The plot will see the boundaries blur between Sedgwick's character's TV cop show and her real life. « Every time you think you know something in the show, there's another secret. Every time you think you understand someone, there's another lie, » promised Iacono. « It's one of the best and most exciting pilots I've seen in a long, long time. »
Next up was White Princess, a historical drama that follows on from Starz hit White Queen, albeit with a new cast. Like the previous show, it's based on Philippa Gregory's series of novels. White Princess will premiere on Starz later this month.
Also new: Dirty Dancing for ABC. « It is a scripted TV event. Sometimes people think that the Dirty Dancing event is like Grease Live or Hairspray Live. Dirty Dancing is a really big scripted event, » said Iacono. It will retell the famous film as a three-hour event premiering on the 24th May, with Abigail Breslin in the 'Baby' role and Colt Prattes playing her dancing beau 'Johnny' role. Debra Messing will play Breslin's mother. « Yes, Debra Messing is now playing moms! Don't let her know, she's going to be too upset that she's been cast as the mother! » quipped Iacono. « But she's at that part of her career, and she does a great, great job. »
Next was a show that wasn't a drama, but which will be presented at the LA Screenings: a competition game-show based on mobile game Candy Crush Saga, which Iacono said has been downloaded more than 4bn times. « We're going to take Candy Crush and we're going to make it a larger-than-life live-action game-show with two game boards, » he said. « Each game board is going to be seven metres across and 10 metres high, and it's going to be physical challenges as well as doing the classic swipes of the game… One challenge is like a Mission Impossible challenge where you're suspended from a high-wire, and your partner's controlling the wires! » The show will air on CBS at 9pm following Big Brother. « It's an amazing time slot, » said Iacono.