What happened in Digital Fronts today? First, Studio 71 hit the stage with Adam Boorstin, Executive VP of Global Digital Distribution, and CEO Reza Izad.
Now part of ProSieben in Germany, Studio 71 boasts 6,5 billion views and 1200 channels, with « a very high view-to-channel ratio, » Izad said. « Those numbers are actually meaningful and highly engaged, and enables us to do interesting things from a marketing perspective. »
That marketing is increasingly interwoven with the interests of TV. « In this world, there's many people you can partner with and we've selected a handful of film and TV stars, » he went on. « The focus is, are they digital native to begin with? »
Alongside The Rock, Studio 71 is producing Lifeline, a YouTube Red science fiction series. « We're really helping [The Rock] and his production company get into the digital environemnt. They're very ambitious and we want to help support those ambitions, » Izad said.
« We're seeing a lot of appetite for premium short-form content in the marketplace, » added Boorstin. Last year, the company distributed 5700 hours of short-form content, off YouTube.
He also touted a freshly-inked partnership with Toutiao, a Chinese AI-powered news app that's already been download 600 billion times.
« We basically package an idea, then produce in-house, using creators' social impact to support content via marketing, » said Boorstin.
Another show it's produced is Logan Paul Vs., now available on Comcast Watchable:
Izad talked at length about Studio 71's activities for ProSieben in Germany, as well as future ambitions. Two years ago, the company chose to merge with the German network, when the audience of 13-34-year-olds was already watching less TV.
« ProSieben was innovative in the sense that they have a lot of culturally relevant brands to this audience, » said Izad. Studio 71 creates short-form versions of those shows to scale « marry with the best of content on the internet, to create an interesting add-on product extension. »
Here's a shot of some of ProSieben's popular youth formats: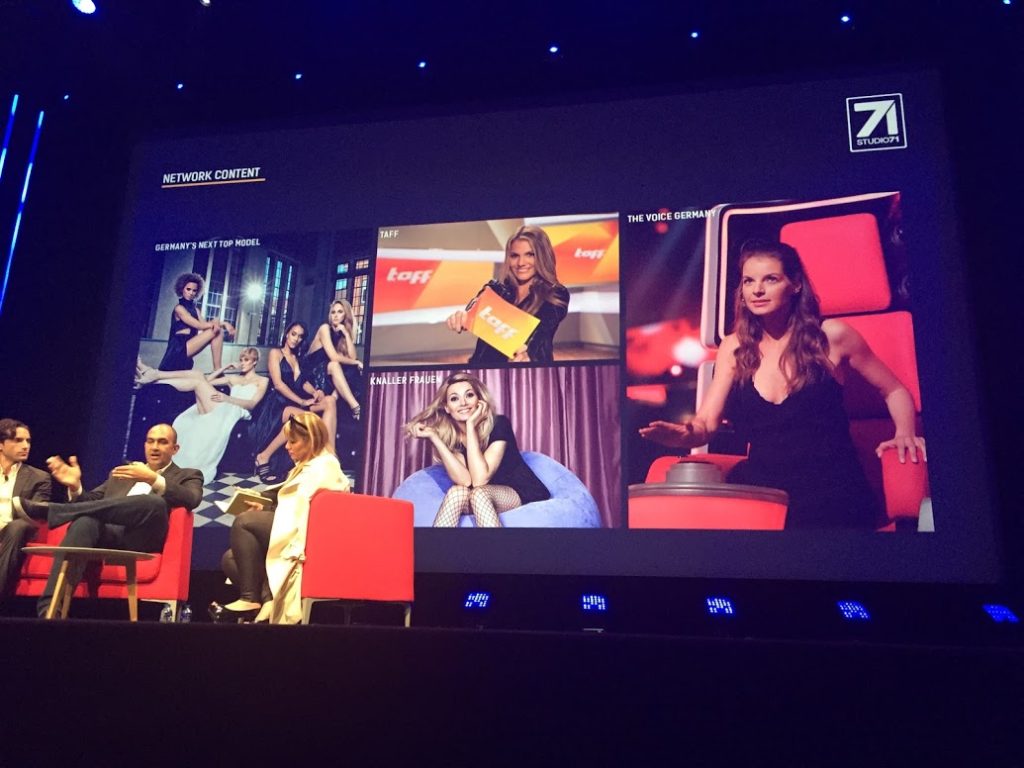 « We've brought on a lot of top influencers on YouTube and Facebook, and work very hard to promote these artists and leverage the reach of ProSieben to make them more relevant in their market, and we marry this in a very brand-safe environment, » Izad said.
It's a strategy that pays. According to Izad, « The average YouTuber sitting on Adsense is earning about 1€ per thousand views. We're earning about 4 times that. »
He later added, « This is not long-tail at all. This is about organising the best of the web. »
Next up for Studio 71: Taking the ProSieben model to other broadcasters. TF1 in France and Mediaset in Italy are initial partners, for whom they'll create short-form versions of TV content, working with sales teams to build appropriate ad units.
« We hope to be the leader, like we are in Germany, in local talent, » said Izad, who expressed ambitions to expand into UK and LatAm next. « We want to be a leader in Spanish-speaking content. »
« It's not just about TV; it's about tv and the marriage of the best digital native creation, » Izad said, concluding, « In the world of infinity, if you can cut through the clutter with brands and hits, there's a real opportunity to create value. »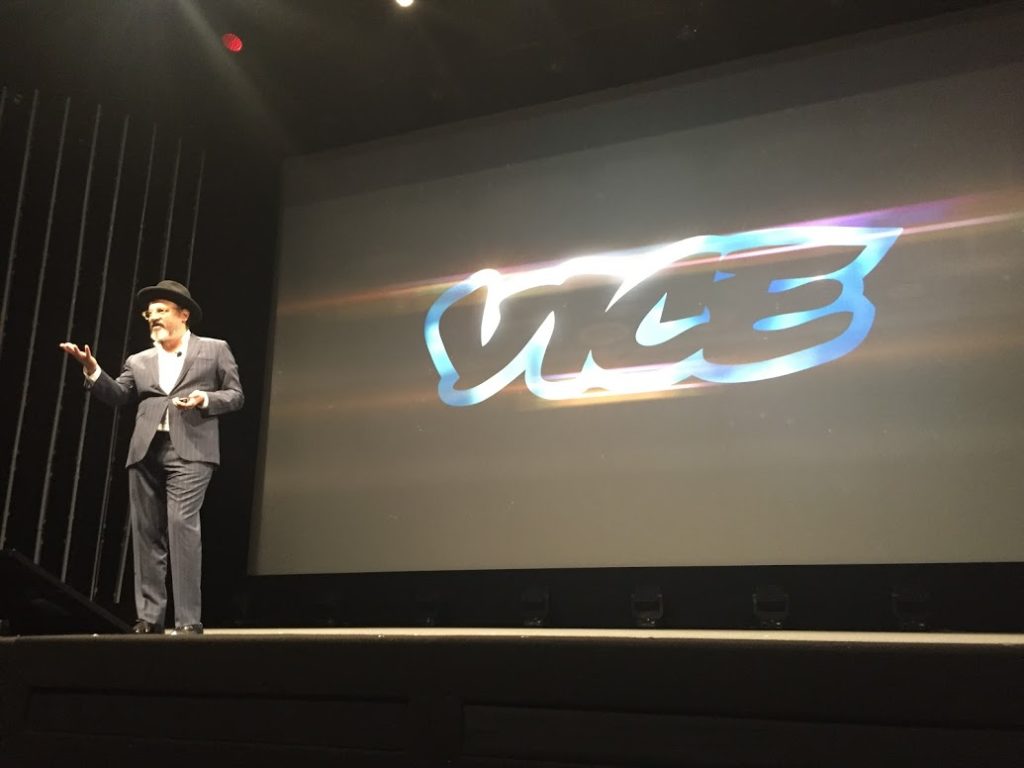 Next, Eddy Moretti, Chief Creative Officer of Vice Media and Co-President of Viceland, appeared onstage to talk about what the disruptive company has next for TV.
« Ths is a digital front? I'm not gonna talk about digital, » Moretti began, promising no jargon. « I'm gonna talk about TV and what we've been doing in TV. »
That's exactly what he did, and then some.
Last year, Vice launched a French channel in partnership with Canal+ … but that was just the tip of the iceberg. Here are all the other places where Viceland's launched on TV since: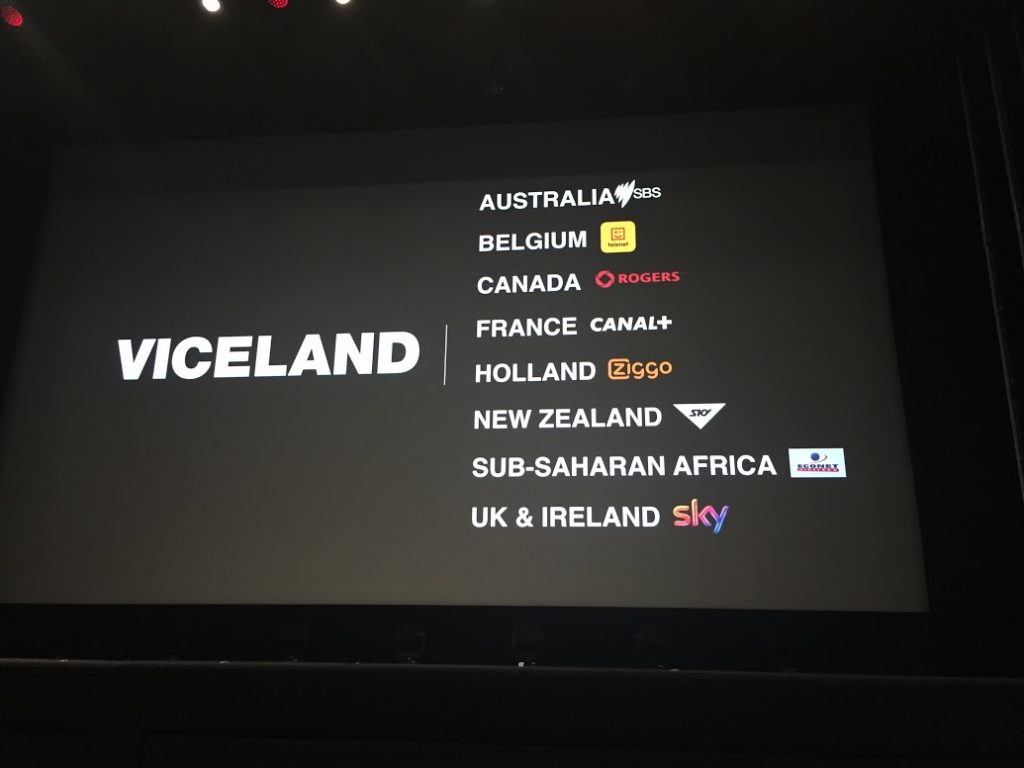 The next channel to launch will be in India, in partnership with The Times of India. It will go live this summer.
What's next? Even more channels. These are all the markets Viceland is eyeing next (and for which it's likely scoping for partners). Look out, LatAm!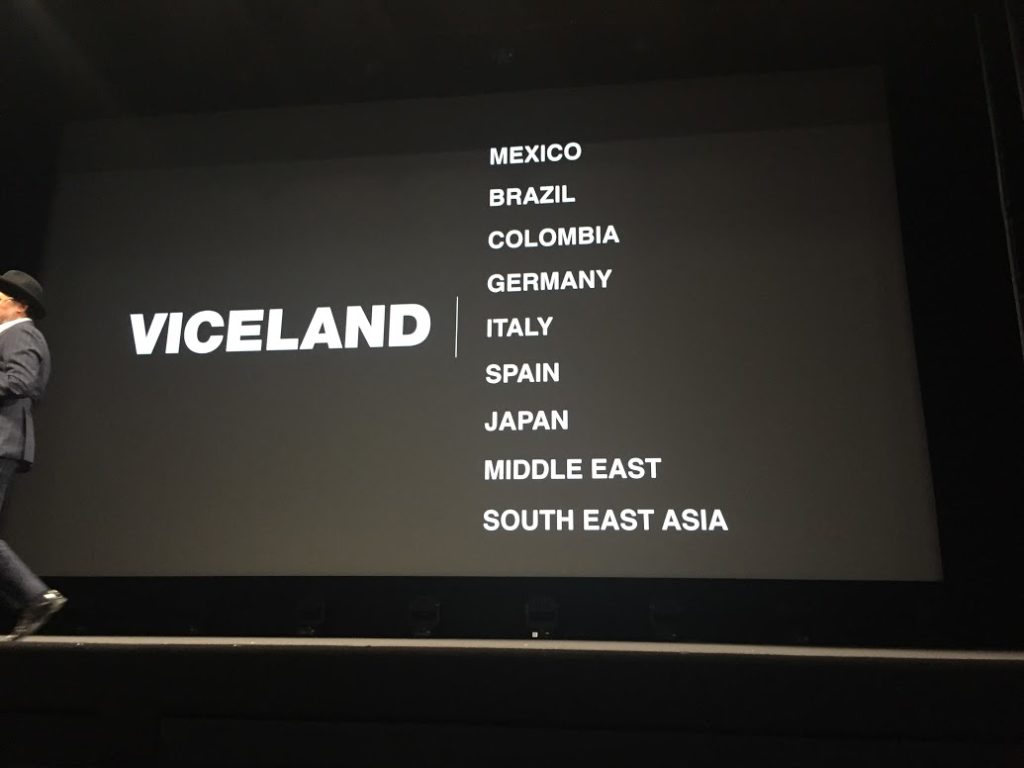 Moretti said Vice's goal is to reach 200 million households. The new channels will bring Vice over the edge of that figure.
« What does this mean? It means we like TV, » he said. « It's been an incredible engine of change in the company. »
He also talked about Vice News Tonight, touting it as « the next version of nightly news »—offering us a graphic view, free of news desks and rich with imagery from around the world, stitched together in Vice's New York office.
« For five years now, we've been making a weekly magazine show called Vice on HBO. We won an Emmy in our first year and it's been the standard-bearer for our news documentaries around the world, » said Moretti.
« Last year, we launched a companion programme to that weekly show called Vice News Tonight … It's been incredible trying to put together a half-hour show every night and results have been fantastic. »
Vice News Tonight airs every evening on HBO at 7:30pm, and is now available on Viceland channels outside the US.
What's next for Vice? Hold your breath: Scripted entertainment, including TV and films!
« We've been developing dozens of scripted shows, and the first two are ready to pop on Viceland, » Moretti proclaimed. Others won't necessarily debut on Viceland, heralding Vice's ambitions to take on traditional production and content licensing.
The first show, nirvana the band the show, has an indy feel and follows a band. Here are a few furtive shots of the exclusive trailer we viewed today: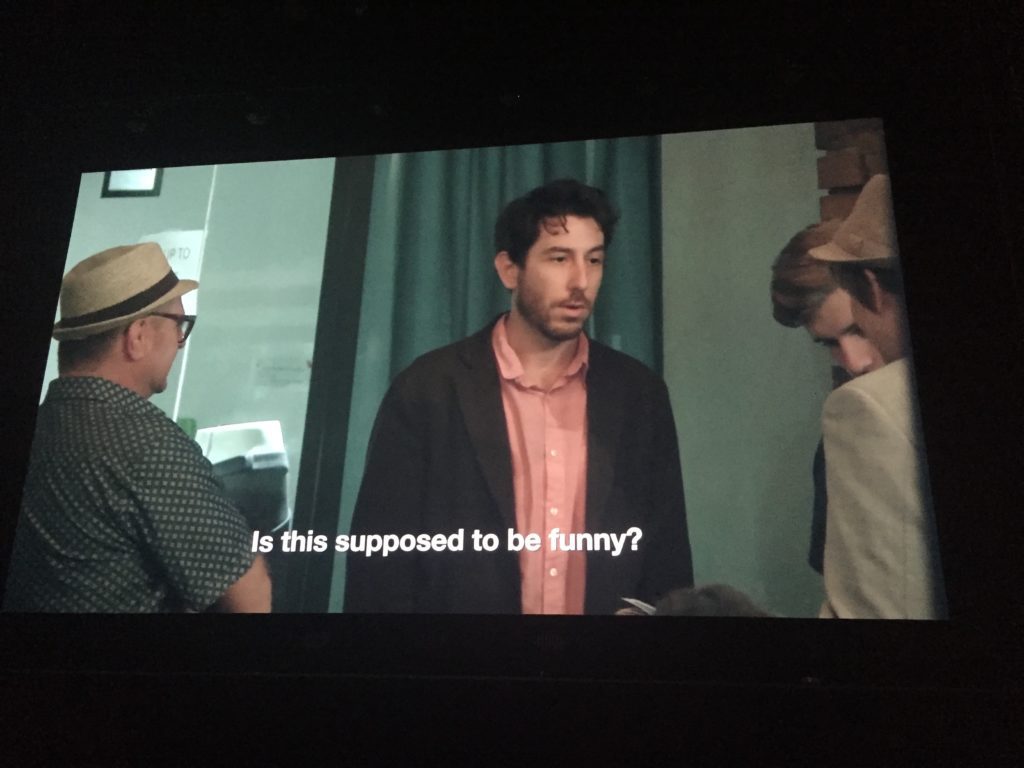 The second show, also musically-themed, is about Diplo … but it walks a strange line between fiction and reality. In What Would Diplo Do?, the deejay is shadowed in real-life by actor James Van Der Beek, himself a huge Diplo fan. But instead of shooting Diplo as Diplo, Van Der Beek is shot playing Diplo in his place and Diplo is ignored almost entirely, adding a meta comedy angle to the offering.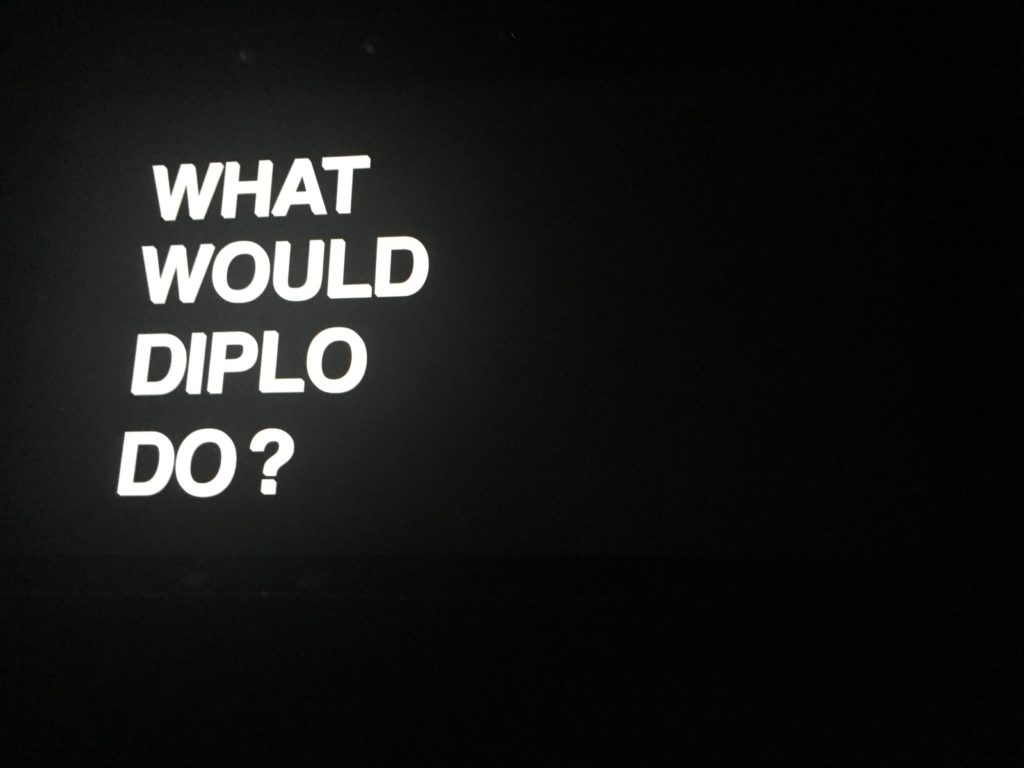 « That scene where [Van Der Beek's] deejaying is at a real Diplo show, » Moretti revealed. « He pretended to be Diplo and pretended to deejay and the kids didn't realise! »
Next for Vice: Films, of course. Its first feature, The Bad Batch, won a Gold Lion in Venice last year and comes out in June. Created by Ana Lily Amirpour, who made A Girl Walks Home at Night, Moretti called it « A dystopian cannibal love story with great music. »
Next up, Colossal, directed by Nacho Vigalondo and starring Anne Hathaway. « Anne does some freaky shit, » Moretti promised. See for yourself in theatres this April.
Last but not least, Lords of Chaos, directed by Jonas Åkerlund, tells a true story about a band called Mayhem that started burning churches in Norway.
Moretti closed with a sincere thank-you to the audience. « I love coming here, » he said, and departed.