We may be living in an era of "peak TV," according to FX's John Landgraf, but we are also approaching "peak platform." Led by the major players—Netflix, Hulu and Amazon Video—hundreds of other SVOD platforms are popping up all around the world. While many new platforms focus on distributing existing content, others, such as NBC's Seeso and Vivendi's mobile-only Studio+, aim to attract subscribers by offering exclusive, original series. Successes such as Netflix's Orange is the New Black and Amazon's Transparent prove that digital originals can be as popular and critically-acclaimed as anything on linear television.
However, direct comparisons between linear TV shows and digital originals are difficult. It may seem like everyone's talking about Master of None, for example, but because Netflix does not release its viewership data, no one knows how Master of None stacks up against, say, Modern Family in the United Kingdom.
To address this issue, Parrot Analytics measures audience demand for content across an array of digital platforms (including video streaming, social media, blogs, wikis and file-sharing) to create the industry's first and only global cross-platform audience demand measurement system. In this way, audiences demand for any title, linear or digital, can be unveiled and compared in any market.
By understanding audience demand, we can answer previously difficult questions, such as: what are the most popular digital original series in Europe? To answer this question, we averaged the demand for over 100 shows in 44 European markets over the month of April 2016. The digital originals were then ranked in each market by their average Demand Expressions™ – the absolute measure of demand within a market — in order to determine the top digital original show in each market as well as the number of markets in which it holds the top spot over the month April.
Though many digital originals have high demand, only eight different titles consistently rank first across all 44 markets: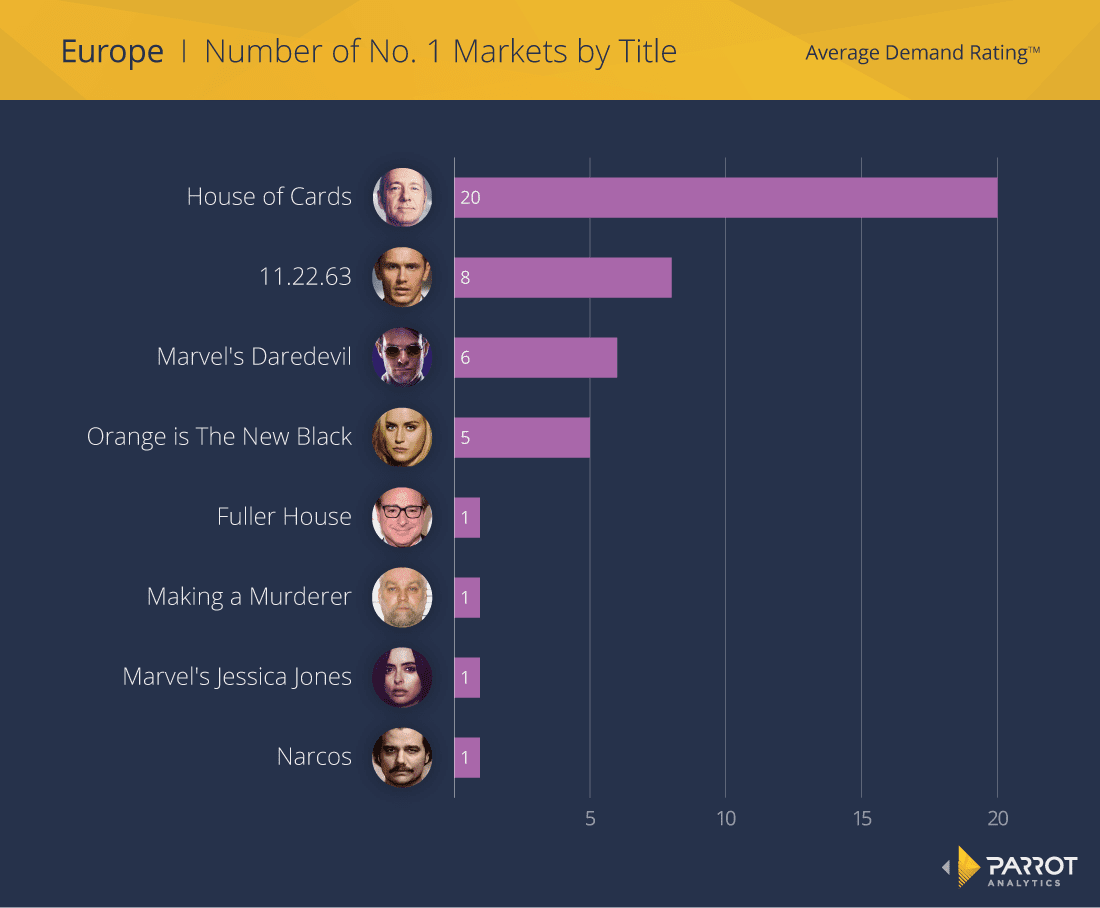 House of Cards, perhaps because of its season release in early March, tops the list in 20 markets. Hulu's 11.22.63, the only non-Netflix title on this list, was the most in-demand title in eight markets, followed by Marvel's Daredevil (another recent release) with six markets and Orange is the New Black with five.
Four countries prefer unique titles: Spain with Narcos, Malta with Marvel's Jessica Jones, Ireland with Making a Murderer and Latvia with Fuller House. Since Netflix is the only platform available in all these markets, it makes sense that most of the top titles are released on that platform.
To determine if different regions of Europe prefer different titles, the average Demand Rating™—a measure of demand used to compare titles across markets—was found for each show in each region. The top five shows by average Demand Rating™ were ranked: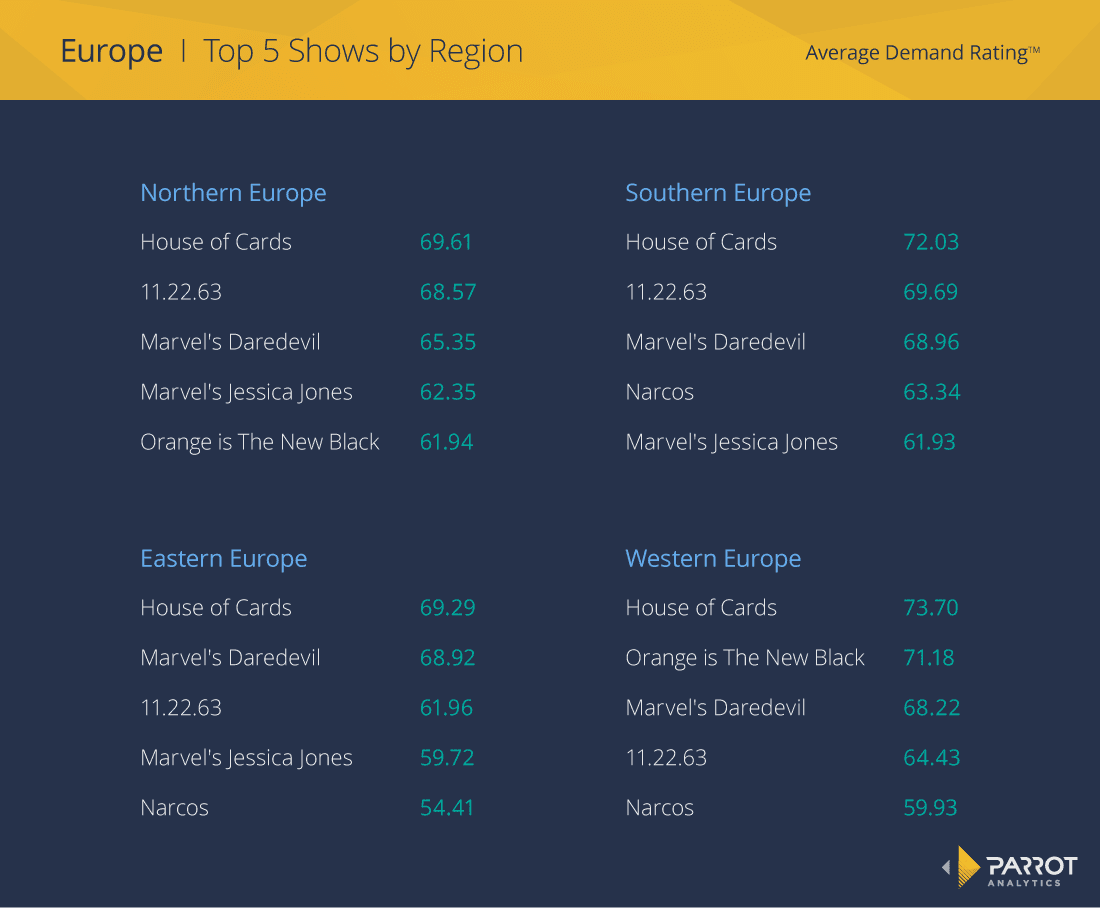 Between regions, preferences for digital originals do not change much. Three shows — House of Cards, 11.22.63 and Daredevil — are in the top five in all four regions, while Jessica Jones and Narcos are present in three out of four.
The titles that were the most popular series in the greatest number of markets turn out to be popular everywhere, especially House of Cards which is the number one show in all four regions. When it comes to digital original series, Europe is united in its love for these recently-released dramas.
With House of Cards, 11.22.63 and Marvel's Daredevil established as the most popular digital original series in Europe, we lastly examine how this demand changed over the course of the month. The average Demand Rating™ for these three titles across all European markets was found for each day in April and the results plotted.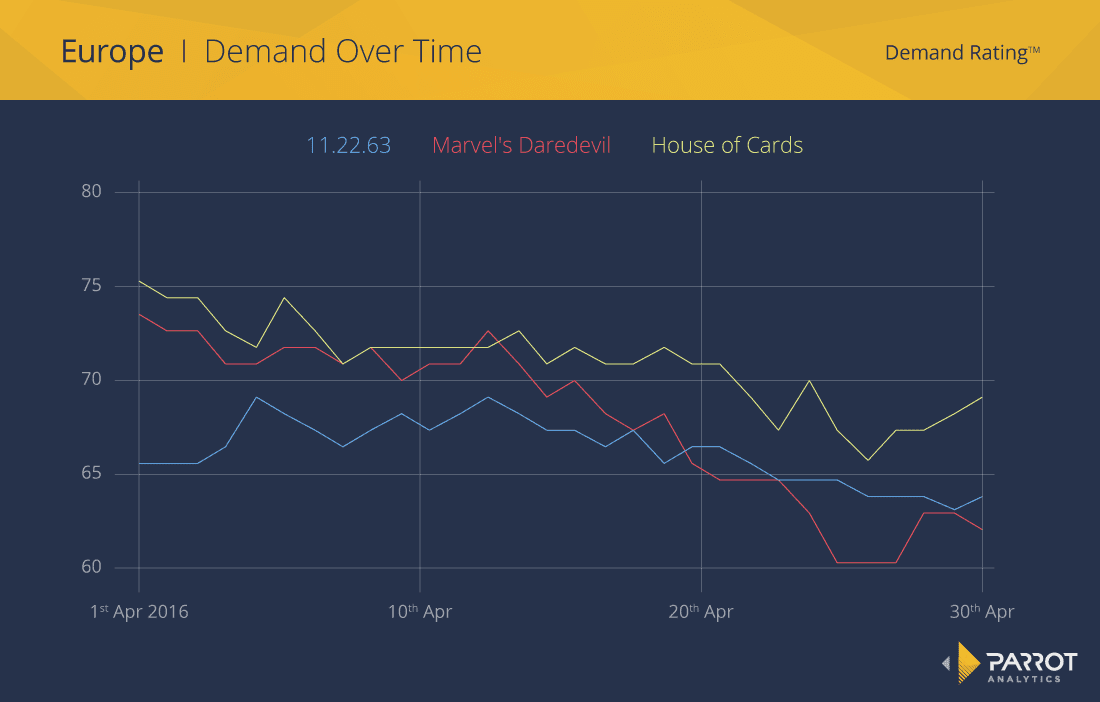 All three shows aired new episodes in March so they start the month of April with high audience demand for them, which then decreases over the course of the month as people watch all the new episodes and slowly lose interest.
11.22.63 started at a lower level of demand, but the last episode aired on April 4th which caused its demand to increase to be at the same level as the other two shows. In fact, it finishes April with a higher average demand than Daredevil.
House of Cards has the most demand throughout the month except for April 13th, when Daredevil has an average of 72.84 Demand Rating™ to House of Cards' 71.91 Demand Rating™. However, since all three are decreasing in demand, it seems likely that new digital originals will overtake them in popularity in subsequent months.
Knowledge of audience demand for digital originals opens the door for many types of analyses. Comparison of digital original series and linear shows can strengthen negotiations for distributors licensing their content to SVOD platforms. The popularity of an original series, like Hulu's 11.22.63, can reveal potential expansion markets for platforms. Armed with the same information available for linear and digital original series, making comparisons between these types of content will become easier and will enable key stakeholders to stand out in today's TV landscape.
Top photo © Netflix
Parrot Analytics (http://www.parrotanalytics.com) is a data science company that empowers media & entertainment companies, brands and agencies to understand global, cross-platform, audience demand for television content.