Dominique Delport, this morning's keynote, is a member of the supervisory board of French media and telecoms giant Vivendi, and was named Vivendi Content's President in September 2015, tasked with discovering talent and investing in new forms of video and music content for different brands (including Canal+, Universal Music Group, and Dailymotion).
Delport is also Global Managing Director for the Havas Media Group, where he oversees brands, clients and commercial activities. Since his appointment, he's set up multiple agency initiatives in response to developments in technology, data, content and media. A former TV journalist, Delport won an International Interactive Emmy Award for his work on the show "CULT".
Most notably in his super-fast, highly informative keynote, he announced the launch of Studio+, the first-ever mobile only premium content studio. More on that in a minute!
Delport built his argument toward Studio+ by going from a macro vision of the current world to a micro vision that suddenly felt scarily relevant. Let's start with some stats:
12bn hours are viewed on SVOD each month
2bn hours of FTA (free to air) viewed per day
Binge-watching is still huge; the average binge-watcher will consume 2-5 episodes per night. 54% of users binge-watched House of Cards in less than 6 days!
SVOD viewing time vs TTV: 20% in the US, but it only brings in only 4,7% of revenues (in the EU, it's 2,3%). "Yes, economics matter. The TV business and the pay TV business are still very different from SVOD," said Delport.
And as the world moves toward this less lucrative viewing model, content remains prohibitively expensive. Sports rights remain wildly inflated: Full main US leagues can cost $10bn, and $2bn for the Euro Cup. One episode of House of Cards costs $5m; Game of Thrones is $10m each. "This is a movie in the European industry!" Delport proclaimed.
Talent costs, too: The stars of The Big Bang Theory each cost $1m per episode; compare that to headliner Jennifer Aniston, who as cast favourite Rachel cost $0,6m per episode in the halcyon days of Friends.
"The pay TV cable business is $100bn in the US. Ads are $70bn, and SVOD is still $5bn," said Delport, who called SVOD "a perfect vehicle for global content connoisseurs, and a new way of discovering and sharing content at scale."
Advertising remains a $500bn industry, and for good reason: "A lot of people on earth can't afford to pay for their content. Advertising is one way to deliver, entertain, inform and educate. As Don Draper would say, advertising matters."
And it's fueled by the fact that every brand wants what Delport calls "their Lego moment," which Havas is dedicated to facilitating. "Havas enables that dialogue and conversation between content owners and brands. They have to change the way they talk; Adblock is just the beginning of the wave."
2020 will mark a major shift: The end of analogue TV. "Every digital player will become a broadcaster," said Delport, calling distribution "queen" (to content's "king," we gather). "Every content is a file, no degradation. And of course, people will start making playlists!" He pointed to Spotify and insinuated that it could easily go into TV tomorrow, a path perhaps presaged by the aggressive efforts of what he calls GAFA (Google, Apple, Facebook and Apazon) to own content distribution channels.
"We spend 50% of our digital time with these four usual suspects. They represent 1,5 trillion dollars in market capitalisation," Delport revealed. "Do you know what a 'trillion' looks like?"
This is about what half of one looks like—Google, compared to other media companies:
And here's how Apple compares with luxury brands: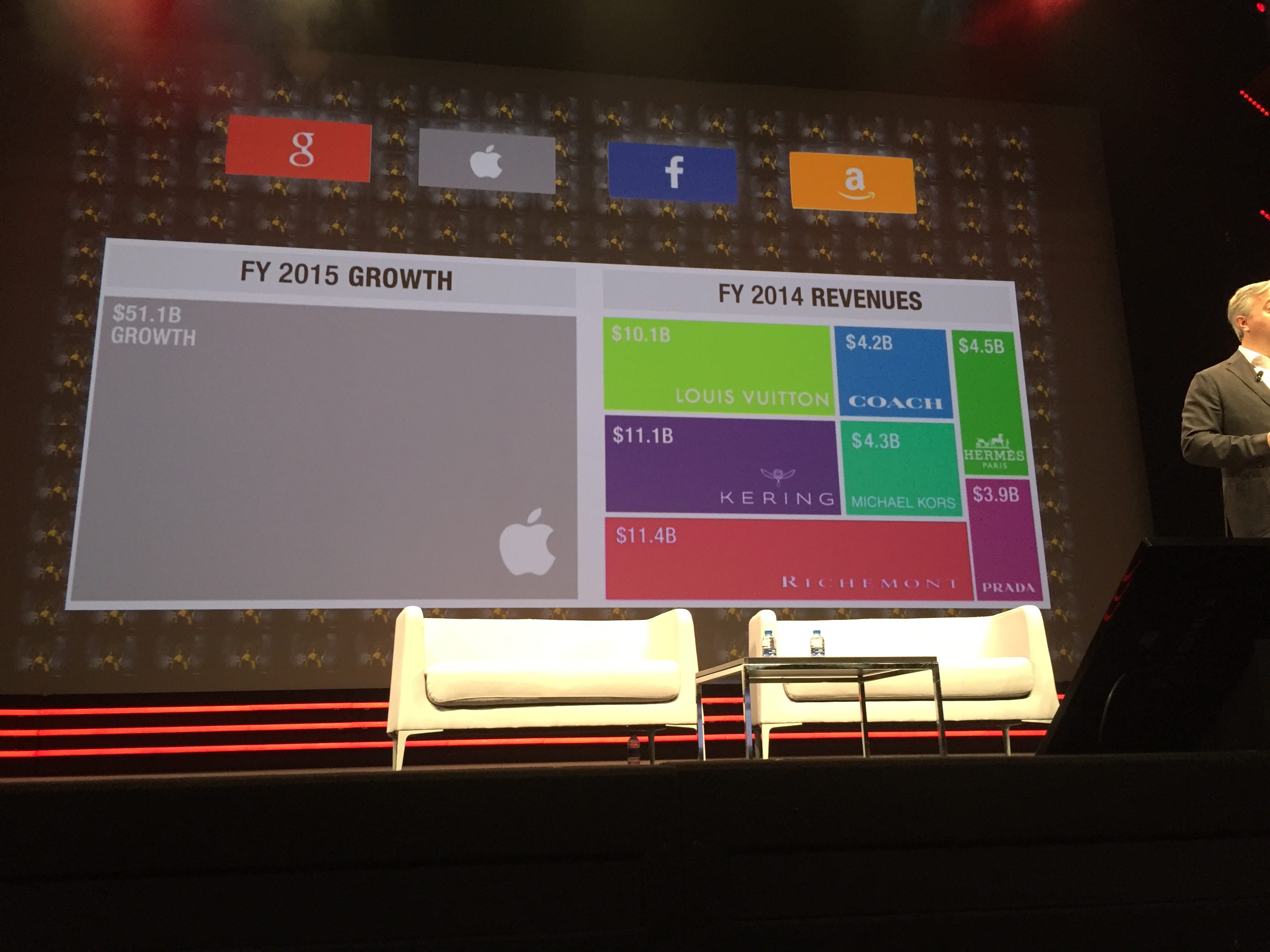 "Will apps replace TV channels?" Delport went on. "Tim Cook (of Apple) thinks so. Will voice replace remote controls? Hello, Alexa (the name of the voice powering Amazon's Echo product). And 70m Chromecast dongles have been sold all over the world. Will YouTube be the new SVOD platform for pay content? YouTubers and PewDiePie think so. Can Messenger become a new SVOD platform? Yes. Next week, in Menlo Park, Facebook will announce integration of services with Messenger."
To illustrate how serious a player Messenger could be come, consider that active messaging app use is growing more quickly than any other social network … and four of the top five (everyone excluding WeChat) are owned by Facebook: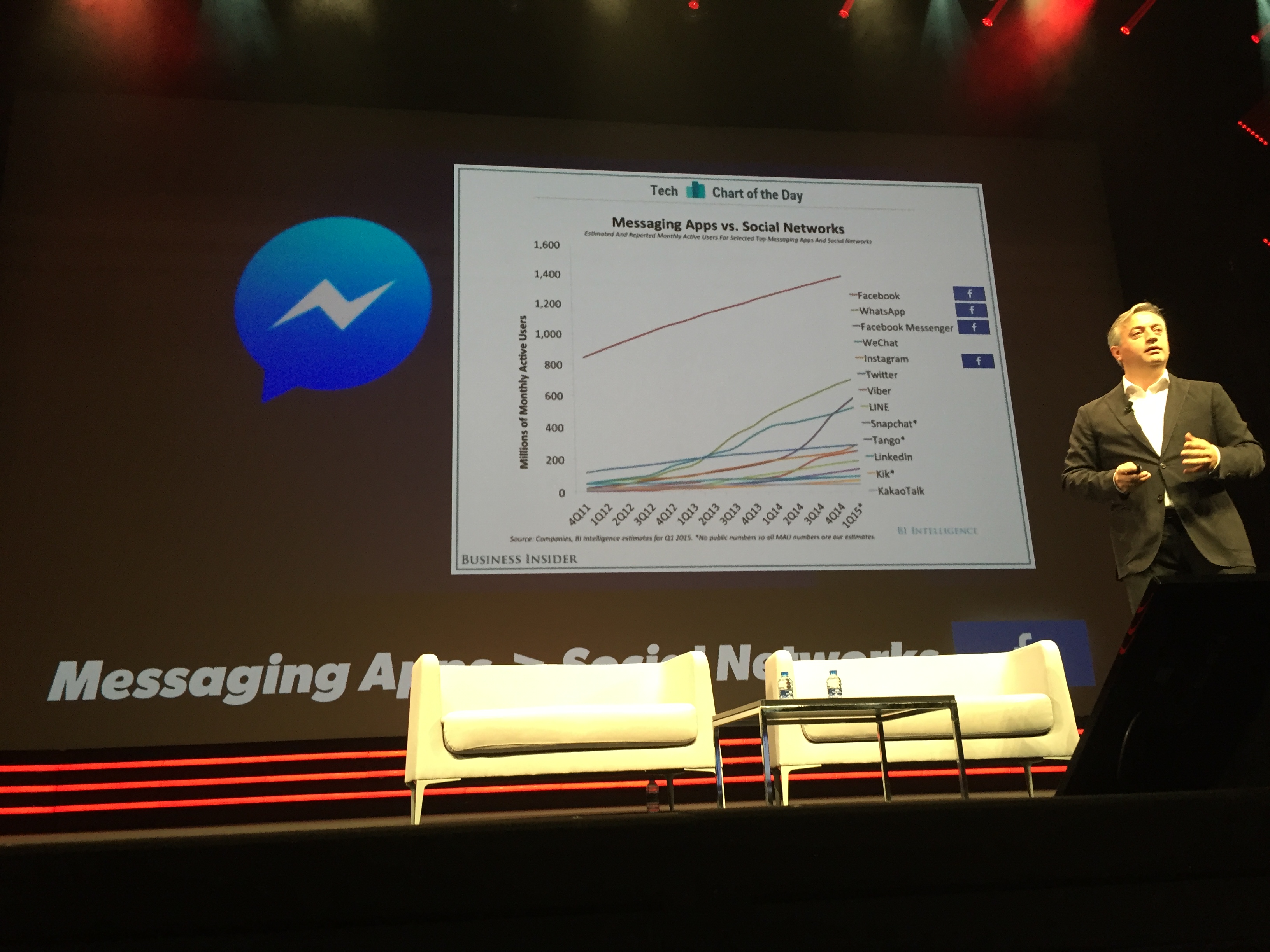 And while the idea seems abstract today, messaging apps can be powerful vehicles for delivering content. China's use of WeChat has become so intense that it surpasses all other social network use and has even "replaced" email. The launch of Under the Dome generated 200m views in three days … and 41% of that traffic came from WeChat!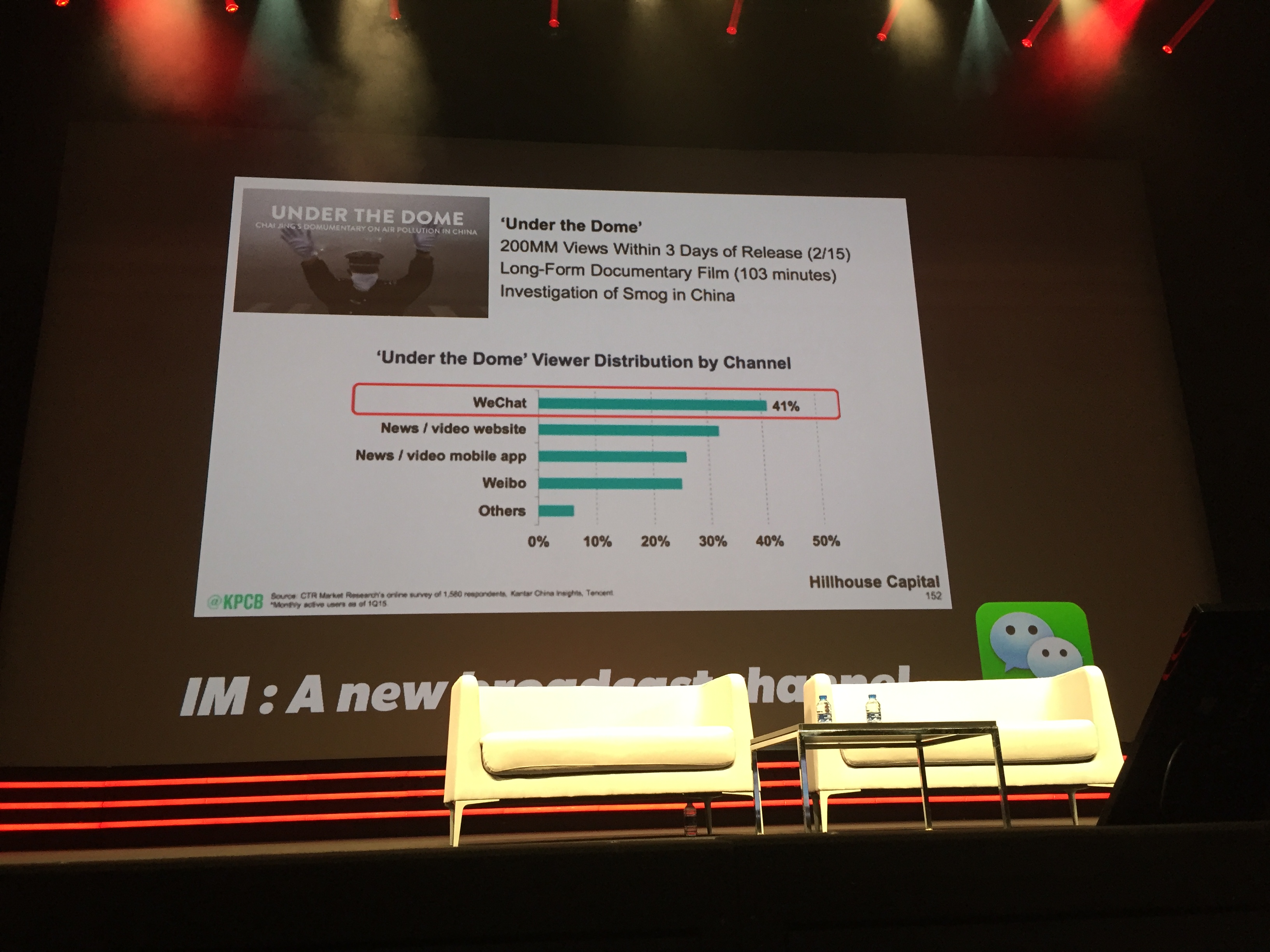 All of this points to a problem that is largely one of cultural dominance. Delport highlighted a slide of the top 20 internet companies in the world: 11 are American and 9 are Asian.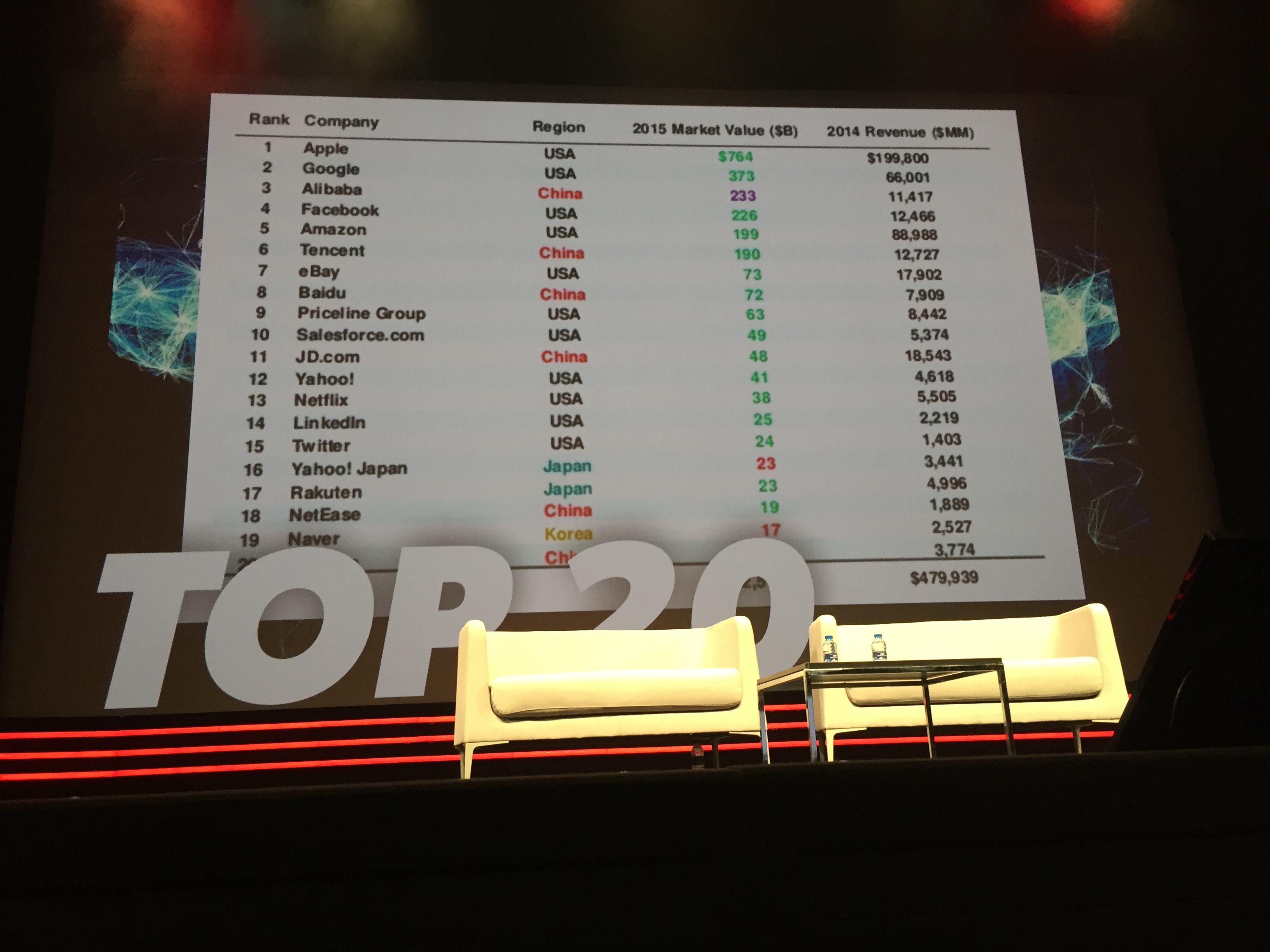 "Europe has been completely disrupted by the internet," he warned. "Same for LatAm, the Middle East, and Africa."
For Delport, all this represents a strategic need to support and promote European and Latin content platforms. "This is what Vivendi did by acquiring Dailymotion, the second global video platform, last year," he said. "But it's also what any European broadcaster is doing. We want to be part of that playground. This is important for Europe, for diversity, cultural relevancy."
It was also the driving idea behind the launch of the Global Music Data Alliance, propped up by Universal and Havas and created "to extract more value from fans, artists and labels."
The next and final piece of this puzzle—which is all still leading to Studio+—is mobile. It rules the world.
"I can live without a TV, I can't live without my mobile. Mobile is already the first screen," said Delport.
50% of video consumption takes place on mobile, despite this, there is little to no mobile-friendly premium content feeding that market (though Snapchat may beg to differ). "Premium short entertainment content is a big opportunity to create value on mobile networks," said Delport. "And yes—mobile networks matter. In an organic world, the telecom operator has a key role, and we at Vivendi want to be their preferred partner worldwide."
Drumroll, please! Introducing Studio+: A mobile first, mobile only service for short, premium content. It'll kick off in September in six languages: Spanish, Italian, Portuguese, French, English and Russian in a pilot of 20 countries, with about 600m consumers. Expect to find one series launch per week in a 10×10 format.
Studio+: le parie sur le développement des séries sur mobile !https://t.co/E29iYg2bpm #MIPTV #studioplus #MIPTV2016 pic.twitter.com/2MpE0HL1zh

— Bigger Than Fiction (@BggrThnFctn) April 6, 2016
"The focus is on European sensibilities and Latin culture," said Delport, adding that the presence of Studio+ in developing countries will be a major priority—making this a kind of soft colonisation vehicle. "60 series are currently in development, and 25 have been produced in over 18 shooting locations."
To fuel that development, 750 projects were screened in just nine months. And in partnership with Snapchat, the team went to Monaco to shoot the first-ever premium series in vertical video and with immersive audio technology: Deep Diving.
"We invested $1m per series, the level of investment we think is needed to get premium content for a mobile on-the-go experience," said Delport, and resources for this powerful vehicle are staying "in the family," to to speak: Dailymotion will be used for the trailer and promotional campaigns, and Universal Music Group will produce the soundracks.
The service was designed with telecom partners, who, per Delport, needs the millennial audience to continue growing their subscription bases.
Later, in an interview with journalist Kate Bulkley, Delport was vague on whether advertising would be present on the platform. "It must be brand friendly without having any kind of impact on the user experience," he said. "User experience will make this success." He also hastened to emphasise that Studio+'s offerings are not branded entertainment; it is all original content—"brilliantly local, with global impact."
And while no deal has currently been inked with the likes of Verizon and AOL, Delport said Vivendi is "interested in discussing it, and it's our objective to strike a deal before end of the year in the US," which he called a "competitive market." To sweeten the pie, the deal, of course, would be exclusive. "It's a differentiation product," he said.
"We want to be sure that Europe and the Latin culture develops its own (entertainment) culture," Delport concluded. "This isn't just about entertainment; it's about culture, it's about education." And he reiterated the importance of eventually being in markets that are developing, and not predominantly European or Latin.