After a brief and cheerful introduction from host Amber J. Lawson, kicking off this year's MIP Digital Fronts, CEO Chad Gutstein of Machinima hit the stage for a provocative talk about the changing faces of fandom and engagement in the millennial generation … and why gaming plays such a critical role among them.
"Fandom has always been measured by consumption—how many pairs of Air Jordans do you own, how many Lil' Wayne concerts are you going to? But for fandom and gaming, it's more than an affinity for pop culture," Gutstein began. "It's a unique cultural shift that uniquely connects the millennial generation. Our consumers measure their engagement—not by consumption, but by creation; not by like, but by love."
Channeling the legendary band aids in the film Almost Famous, Gutstein continued, "Fandom is about being so into something, so passionate that you get up off your ass and do something. You create something. You play that game, make a Let's Play video, and you upload and share it with the world. Gaming and fandom are the most engaging forms of pop culture, especially for millennials. Welcome to the new pop culture."
It is no longer sufficient to make a TV show and think you'll capture hearts and minds, he continued. Whatever you produce must be cross platform, meaningful and specific—which is why Machinima natively develops across platforms.
Below are a few of Machinima's passion platforms, and the content it's producing for the people who live in them.
Street Fighter launched in 1987 and has 30 years of brand equity. It's sold over 37 million units and, just last month, sold another 2m more since the launch of its latest edition, Street Fighter V. Its IP includes two live action films, countless series, mangas, and card games, and 3bn views of Street Fighter gameplay and related content.
"Machinima leverages the passion platform of Street Fighter to series," said Gutstein. Say hello to Street Fighter Resurrection, which takes place 10 years after the Assassin's Fist storyline and follows the continuing adventures of Ken and Ryu. It is available worldwide in two formats: four episodes of nine minutes, or one of 30 minutes. It also includes four hours of companion content.
First Person Shooters are the next passion platform. The top 20 FPS games have sold 726m units, and 18m FPS videos have been created, enjoying 56bn views. For FPS fans, Machina launched BFFs, its longest-running, most-watched scripted series. Now in its sixth season, it's generated 188m views and is the no. 1 animated series in gaming. Gutstein calls it a "very atypical dysfunctional family comedy."
BFFs is available worldwide in multiple formats, including short form and long form. 
Next is Minecraft. "If you don't know what Minecraft is, you don't have kids," Gutstein said. The game has sold 77m copies, and 42m Minecraft videos have been created on YouTube alone. He notably stated that Minecraft accounts for 10% of all video watched on YouTube, no less!
For this audience, Machinima created The Bacca Chronicles. "Bacca is a dog. He's also the most beloved character created by JeromeASF, one of the most followed Minecraft players in the world." Follow our hero as he teams up with server admins and uncovers a nefarious plot that threatens their entire existence.
The Bacca Chronicles is available worldwide, and is also seeking co-production partners for a 13-episode first cycle.
Next, eSports, or professional video gaming, now a well-established spectator sport. Its global appeal puts it on par to take over American football and basketball: eSports' 2015 global audience of 300m nearly matches the combined audience of 400m for the latter two traditional sports. ESports also enjoys a 17% estimated CAGR from 2012-17.
"We know the eSports audience. It's a cultural tsunami, driven by high levels of participation and engagement from millennials who aren't being reached through traditional sports programming," said Gutstein.
For this audience, Machinima's prepared docuseries Chasing the Cup, an inside look at the hero's journey of some of the world's top professional e-thletes. It covered League of Legends (LoL) in its first and second seasons, and has teamed up with The CW for the third season to cover Mortal Kombat X. It has already seen 19m total VOD views and 725,000 live+SD broadcast views, not to mention 110m social impressions and a total of 180m minutes viewed. Chasing the Cup marks the first time in history that eSports appeared on broadcast TV. 
All three seasons are available for license in multiple formats, and Machinima is seeking licensers for future formats, based on some of biggest eSports games in the world. Here's its first-ever episode from 2014:
Next passion platform: Robocop, $500m global box office. Machinima is currently seeking partners for its in-progress project, Robocops, which takes place some years in 2045, cybernetic officers are standard issue for police forces worldwide, and the world's top programming (meta!) is a docuseries police ride-along show called Robocops. Follow officer Ryan Freer and cybernetic partner RC as they patrol the streets.
Lastly but not leastly is passion platform Transformers, which you undoubtedly recognise if you were ever a child. There's 10bn views of Transformers content on YouTube, not to mention four theatrical films, which saw $3.7bn in global revenues.
Machinima's contribution to the canon, Transformers Combiner Wars, is 40 years removed from previous events. It's a time of peace. Cybertron is ruled by a triumvirate … but an ancient technology has emerged, enabling a new threat to take the stage. As in the case of Robocops, there is no trailer we can share for this, but it was worked on by "some of the world's leading creative minds": Eric Calderon, FJ Desanto, and George Krstic. It is directed by Kenji Nakamura. License partners are welcome.
Here is some glorious artwork. This is the planet Cybertron, in which you get a sense of the filmlike cinematography ("This is not a children's cartoon!" exclaimed Gutstein).
Next, meet the heroine Windblade, who has the power to talk to the Titans: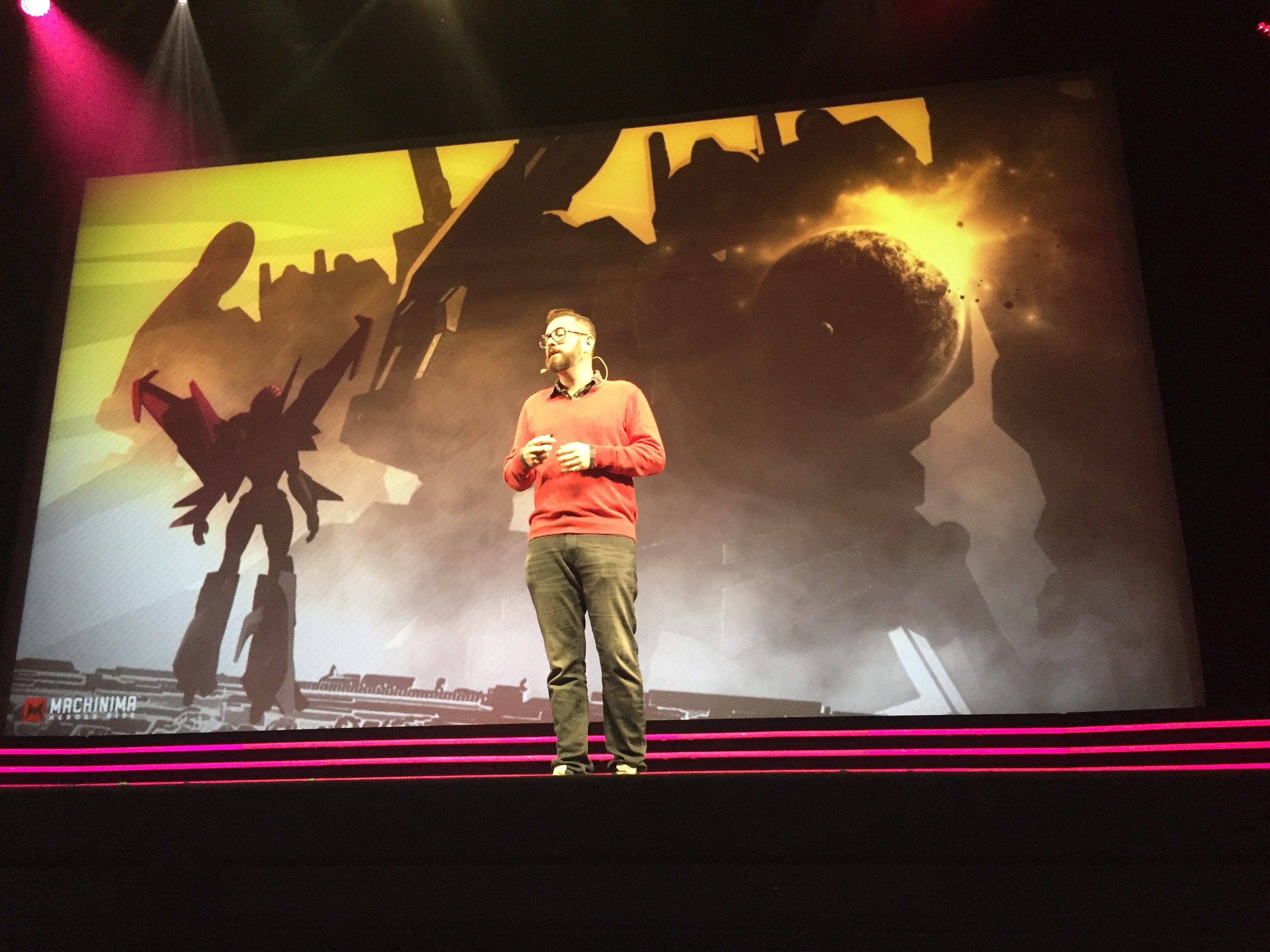 "We're looking for partners to rise up and join us on our quest to bring the very best gaming and fan content to millennial audiences around the world," Gutstein concluded.
Next up for Digital Formats was FremantleMedia, for whom Shotglass Media managing director, Kat Hebden, presented its latest project, The Football Republic (affectionately dubbed TFR).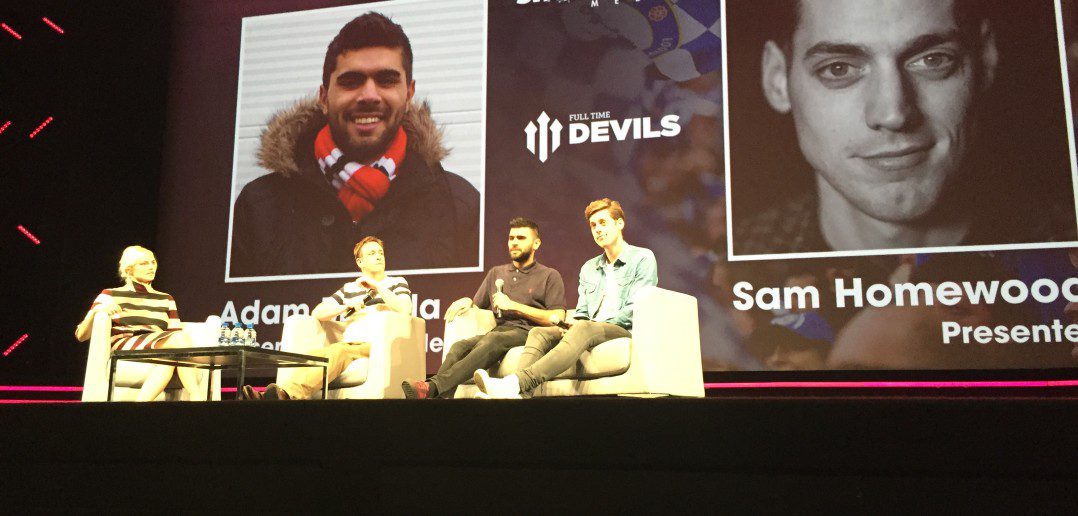 Hebden was joined by head of sport Neil Smythe of Shotglass. With 19 years of experience in football production, he is also heading up TFR, a unique multi-platform network of social media channels created by—and for—football fans. It currently consists of seven channels, six of which are club-specific (Manchester United, Real Madrid, etc.). Still later, they were joined by Adam McKola and Sam Homewood, both presenters for the Man U channel (all shown above in order of mention).
The channel consists of daily interactive formats, including a weekly live show, giving fans a platform to discuss football's hottest topics and biggest games as they happen. Produced by Shotglass Media, TFR likes to bill itself "85% 16-34s, 96% male and 100% football."
"Fremantle spotted a gap in the market," Smythe explained. "Four years ago, football fans on Youtube had nothing but illegal highlights of goals. There wasn't any original content to speak of. Then Kick TV came along, and suddenly the landscape shifted. But what was missing was a channel for fans of a specific club."
Asked by Hebden how TFR measures success, the response is relatively simple. "It was really important to show scale, so we counted views," said Smythe. "Subscriptions were a difficult metric because a Liverpool fan might watch content but not subscribe. Initially we were YouTube-only; in the last year we've shifted to a multi-platform strategy" consisting of YouTube, Facebook, Twitter and some Snapchat.
"Vanity metrics are fine so far. They prove we've achieved something," he admitted. "The more mature we get, we're looking more at engagement metrics—globally, daily." Those metrics are further drilled down by channel and club.
He also dismissed the idea that millennials don't like long-form content. "Gamers have shown that, on Youtube specifically, you can get away with longer-form content if it's right," he pointed out.
And there's plenty of opportunity for brands to jump in, particularly those seeking 18-34-year old passionate male sports fans. "We can create specific, bespoke, branded content and badge existing content. We're working on interesting branded strategies at the moment," said Smythe. "We know our audience is most engaged around a match day, so we build our content strategy around that match day."
For his part, McKola is the guy on the ground on match day, which means full social media coverage: He wakes up to Snapchat, then "we continuously post on Facebook, Instagram and Twitter as well, to keep fans feeling close to something they maybe can never get to." He also livestreams an hour before kickoff.
"So many Man U fans complain about watching Sky Sports and being told what to think by an ex-Liverpool player," said McKola. "We give them a voice."
Homewood built on this sentiment to describe why TFR resonates with fans. "My dad isn't interested in listening to someone who's an ex-professional, friends with half the players, telling you this is why this happened, when everybody knows there is no one correct philosophy in football," he said. "There is no right way. None of us try to present the right way. If you watch the Sky Sports news, people will tell you what's going to happen. And as a fan you might say 'No, you're wrong!' Adam speaks to hundreds of fans throughout the season, comments get hundreds of opinions, and people debate with each other."
"Football fans want to do one thing: Talk. And watch football," Smythe said, not without a certain degree of satisfaction.
Authenticity is critical to making TFR work, and also differentiates it from classic broadcasts. Homewood, for example, was doing at show for ITV at the same time he started working at The Football Republic. "The ITV show is tightly scripted and reshot until it's done right," said Homewood. "But for this, all that matters is that Adam is himself, and that people get in touch—it's just honest. If I'm doing stuff for TV, we're planning in advance."
But all in all, it's good fun. "We get to play football with our mates and put it on the internet so people can tell us just how bad we are in the comments, but it's something people want to see," Homewood elaborated. "When Adam does match days, Snapchatting as he's getting out of bed, people want to see that. And it's nice that we're providing something that ultimately is football."
He concluded, "In the age of the selfie, people like the opportunity to get in front of the camera and give their opinion."
If the reputation of The Football Republic as a disruptor is in question, Hebden quieted that with her parting words. "The world's largest producer of original football content doesn't own any football rights," she said flatly, which puts it right in line with other acknowledged disruptors. They wrapped with the slide below. Food for thought…