This morning's MIPFormats International Pitch contest saw five new non-scripted entertainment formats pitched to the Grand Auditorium audience, as well as a panel of expert judges. The contest was backed for the second time by distributor all3media International, with a €5k cash prize and €15k of help to develop the format into something ready for pitching to broadcasters.
Studio Lambert's Stephen Lambert was president of the jury, which included Lion Television CEO Tony Tackaberry; Hunan Broadcasting Systems senior advisor for strategy and development Ying Lei; TV 2 Danmark's head of acquisitions and formats Anette Rømer; and all3media International's SVP of international format productions Nick Smith. C21 Media's David Jenkinson played host.
Hero or Zero is a format from Tani Productions & TV in Israel, presented by president Gili Golan. It's a studio-based game-show with six contestants standing in a structure made from one '1' digit and six '0' digits – $1,000,000 – with the contestant standing inside the '1' having to beat the others and collect their zeros to win $1m by answering trivia questions. Besides the contestants, one '0' is occupied by a general knowledge "Genius" who is the last barrier between the final player and the prize.
The jury asked how Tani will make the Genius stage a fair battle? "We thought about it and said we don't want to give a million dollars just like that!" said Golan. "It will be very very fair if somebody beat all the zeroes, and in order to win the one million, he has to have a superior knowledge and to prove that he can win this battle in front of somebody that is titled as a Genius… And if you are good, you can be the Genius in the next show."
Interactive features are also a possibility for Hero or Zero, via an app that viewers download to use at home. And Golan added that there's potential for a physical element within the show. "Maybe if somebody fails, to pull him out of the studio… or we've thought about rotating, spinning him around. We are thinking about something physical here, just for the audience to feel more fun."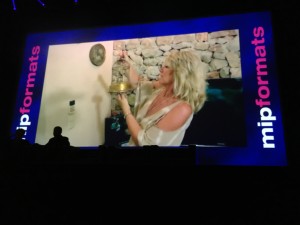 Keep Up With the Neighbours is a format from Pernel Media in France, presented by president Samuel Kissous. It sees a household competing in a neighbour's house with a series of price estimation tests, winning the neighbours' belongings if they guess the prices right. If they don't, the neighbours cash in – and they are also watching the process from afar.
"It plays on the rivalry between the neighbours, it allows the viewers to look into someone's house, there's a shocking hook… the gameplay is very efficient, based on price-guessing, and you can have a variety and diversity of challenges and rooms to play in. And the viewers can play along," said Kissous. The jury wondered how the producers will make sure the programme doesn't feel mean, if the neighbours lose their possessions. "I think it's okay to be a little bit mean from time to time!" said Kissous, before stressing the kinder side.
"The way we look at it, whoever opens their house for the game, they need to have some strong incentives to do it. If they actually lose their possessions, we'll compensate them for the current market value of whatever they're giving away."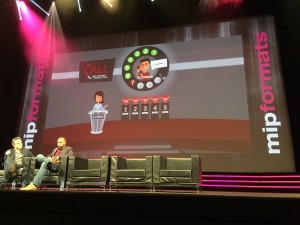 The Call is a format from Phonebox Productions in the UK, presented by creative director Johny Rickard. It's a game-show based around phone calls: one contestant has five friends and family members who they can call for help when answering questions – those people are locked into soundproof phone boxes. The key is whether they make "the right call" each time. "What if there was a game-show that wasn't about general knowledge, but was about judgement?" said Rickard. There are 10 questions; the contestant can't use the same friend for two consecutive questions; and if the friend gets one wrong, they can't be called again.
The show will spawn apps, a Facebook game and merchandise of all kinds, hopes its creator – including an app for playing along with the show live, interacting with their own friends. "We've experimented with something called callback: if you're down to the last question and have only one person left… you can use your callback and bring somebody else back and swap them," said Rickard. He was asked about the dramatic escalation in the format. "The contestant has no idea for a lot of questions whether they're going to know the answer – it's like Russian Roulette, except with a phone instead of a gun!"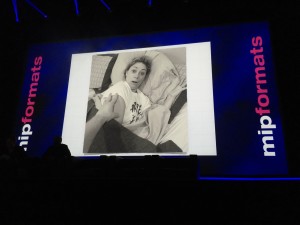 Toss & Turn is a format from The Concept Collective in the US, presented by co-founders Shannon Onstot and Aaron Wells. It involves people pranking their partners with a camera crew bursting in to their house in the middle of the night while they're asleep. The drowsy contestant then has to answer trivia questions and complete brain games, in order to win a cash prize of $25k. "Wobbles and quirks of the relationship" – their disagreements – will be used to design the rounds, meaning the show will be an original set of challenges every time.
"It's cheap to produce: there are very few budget risks. It's a two-camera operation," said Onstot. "You have the potential for viral moments. If you had a bigger budget, you could add in a celebrity guest-host, where they're doing the waking up." She stressed that "we're not going to go mean… you're going to play basketball with your dirty socks in the middle of the night and win some money!" But what happens if the partner being woke up says 'No'? "I would think the partner nominating them would know them well enough to know they'd wanna be on," said Onstot. "We'll do our background research to make sure we're not waking someone up who's sleeping on top of a weapon!"
What about contestants who sleep nude, or who might have a heart attack? "That's the beauty of having the partner participate in the nomination!" said Onstot, on a selection process that will hopefully weed out these kinds of issues. "As far as the nude, we would probably prefer that, just so we have the biggest surprise. We would blur that out of course," grinned Wells.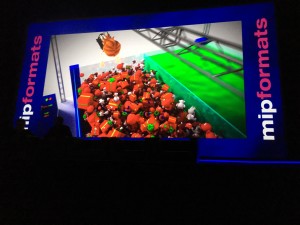 XYZ is a format from Liraz Casting and Y Circus in Israel, presented by Liraz Mia Shagrir and Yaniv Swissa, who both own leading circus companies in Israel. This is a game-show based on the fairground claw-machines where you have to grab stuffed animals. Except here, the claw is a celebrity being manipulated to get prizes – money hidden inside big stuffed animals – by the contestants, who are the celebrity's friends, answering personal questions about them during the game. And there's also a tank of "green disgusting slime" that they can be dropped into.
Why could celebrities participate in this? "First of all, they get a chance to reveal their friends… Second, they get a vacation [as a prize]… and we don't talk about celebrities like Tom Cruise. We speak about reality stars!" The jury were sceptical that celebrities would sign up, but Lambert suggested the format could work with ordinary people and their friends/families.
And the winner is…
The jury retreated to discuss the five pitches and choose a winner. The MIPFormats audience voted for XYZ as the People's Choice Award, but when the jury returned to deliver their verdict, this year's MIPFormats International Pitch winner was… also XYZ! Liraz Mia Shagrir and Yaniv Swissa accepted the prize from all3media International's Nick Smith (left in top photo) and MIPFormats director Lucy Smith (right).