MIPDoc 2016 ended with a bang today, with back-to-back sessions exploring two of the most talked-about documentaries of the market. First, Amazon talked about its first original documentary series, The New Yorker Presents. Then, Fox and National Geographic discussed Morgan Freeman's The Story of God.
The New Yorker Presents was a partnership between Amazon and American magazine The New Yorker. Amazon's head of half-hours Joe Lewis explained how the project broke boundaries, interviewed on-stage by Diego Buñuel, head of documentaries and factual entertainment at Canal Group.
Lewis started with a definition of Amazon Studios. "We like to think of it as the most customer-centric television network out there that there is," he said. "We're focused on bringing the best shows to customers that they want. And we are a television network in that we are huge believers in shows that are related to one another, and that there is a network effect… The goal is to really own a specific piece of television… And the platform really informs the product."
Lewis said that Amazon wants to tell a story differently. "We look for worlds that people haven't really seen before," he said. "The interesting thing about streaming is there isn't a lot of flipping around, like there might have been before." Which in turn encourages Amazon to explore worlds like gender identify, classical music or a magazine like the New Yorker, while worrying less about whether people might flick over to something else.
Lewis explained how the project came about. Condé Nast had pitched an idea to Amazon that wasn't right, but then Lewis asked about doing something with the New Yorker instead. The show turns New Yorker stories into videos, opening up the magazine's archives to the show's production team. "The most exciting part for me: you see a lot of clips here from just top, top filmmakers making these individual centrepiece docs," said Lewis, after screening the trailer.
How is Amazon using its big-data reserves to commission shows. It doesn't go as deep as to target certain territories with certain shows. Instead, it thinks more about the demographics of customers – and groups that over-index with the company's Amazon Prime membership. "But when you're trying to do things that haven't been done before… there's no piece of data saying 'classical music shows do well in Germany therefore we should make one'," Lewis explained. "We're looking for those ideas that are just ahead of the curve."
Is this a new way for publishing to exist beyond its pages? "Technology allows brands to transcend any one particular medium. So to say 'what is the New Yorker?' – what I'm guessing it's not first is 70-100 printed pages given to you. It's a style of writing, it's a particular kind of story… It's a way to scale a brand rather than to create an extension of the magazine. Because the one thing the show is not is an extension of the magazine, from a marketing point of view."
What will Amazon's ongoing factual strategy be? Lewis said that on the half-hour TV side Amazon is looking for "prestigious, ambitious, risk-taking, smart cinematic ideas that you haven't seen before. While that sounds broad, the 'stuff you haven't seen before' is harder to find than you think." He said that thinking of a series as a five-hour-long movie, with cinematic scope, is an interesting starting point for a documentary. "These things have to have these higher ideals of images, and concepts," he said.
"We think about what you do when the story is given to you. What you do when you're given 10 chapters at once?.. Is there a world where we give you batches of episodes throughout the year? What are the new formats we can come up with?" Is Amazon looking for singles, six-part series or longer series in its half-hour division? "The home run for us is the ongoing series that you can come back to, but we're open for everything," he said.
How are people watching Amazon's shows, and is binge-viewing as big as the industry thinks it is? "People always start with episode one and they watch it all the way through. People do binge a ton," said Lewis. "I think a majority of people with Transparent had watched almost the entire show in the first ten days. People do really watch straight through," he said.
He noted that the best shows pick up traction over time, too, citing British comedy Catastrophe as a good example of a show where more and more people started watching, as the buzz built around its quality. Amazon has learned not to judge a show on its first-week views, accordingly.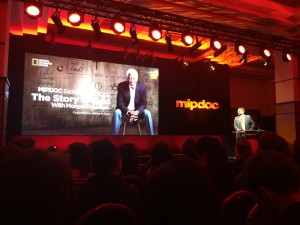 The following session saw National Geographic's president of original programming and production Tim Pastore introduce a screening of the first episode of the six-part series The Story of God, which debuts in the US tonight (3 April) and around the world in the coming month. The session was presented by Fox, the sales division of National Geographic Channel.
The Story of God sees Morgan Freeman – who also executive produced – exploring the five great world religions. "At National Geographic, we believe in the power of storytelling to change the world," said Pastore, while admitting that religion can be a "hot-button topic" that is at the centre of many geo-political conflicts around the world. But the series looks for the similarities between the world's main faiths, even those that seem most opposed.
"We left no stone unturned," he continued. "The Story of God truly harnesses the power of the National Geographic brand and our unparalleled global reach."
The first episode moved smoothly between ancient Egypt, sacred Christian spots in Jerusalem, Hindu cremations on the banks of the Ganges, and even attempts to help humans live on through artificial-intelligence. Afterwards, attendees discussed the weighty topics at a cocktail party thrown by Fox.