Michelle Phan onstage, talking content, queens and ICON for Endemol's Shine Beyond brand.
Today's exciting MIP Digital Fronts, hosted by a galvanisingly enthusiastic Amber J. Lawson, kicked off with Endemol Shine Beyond. Group director of strategy and commercial development Wim Ponnet gave us a brief introduction of the digital production and distribution studio before passing the baton.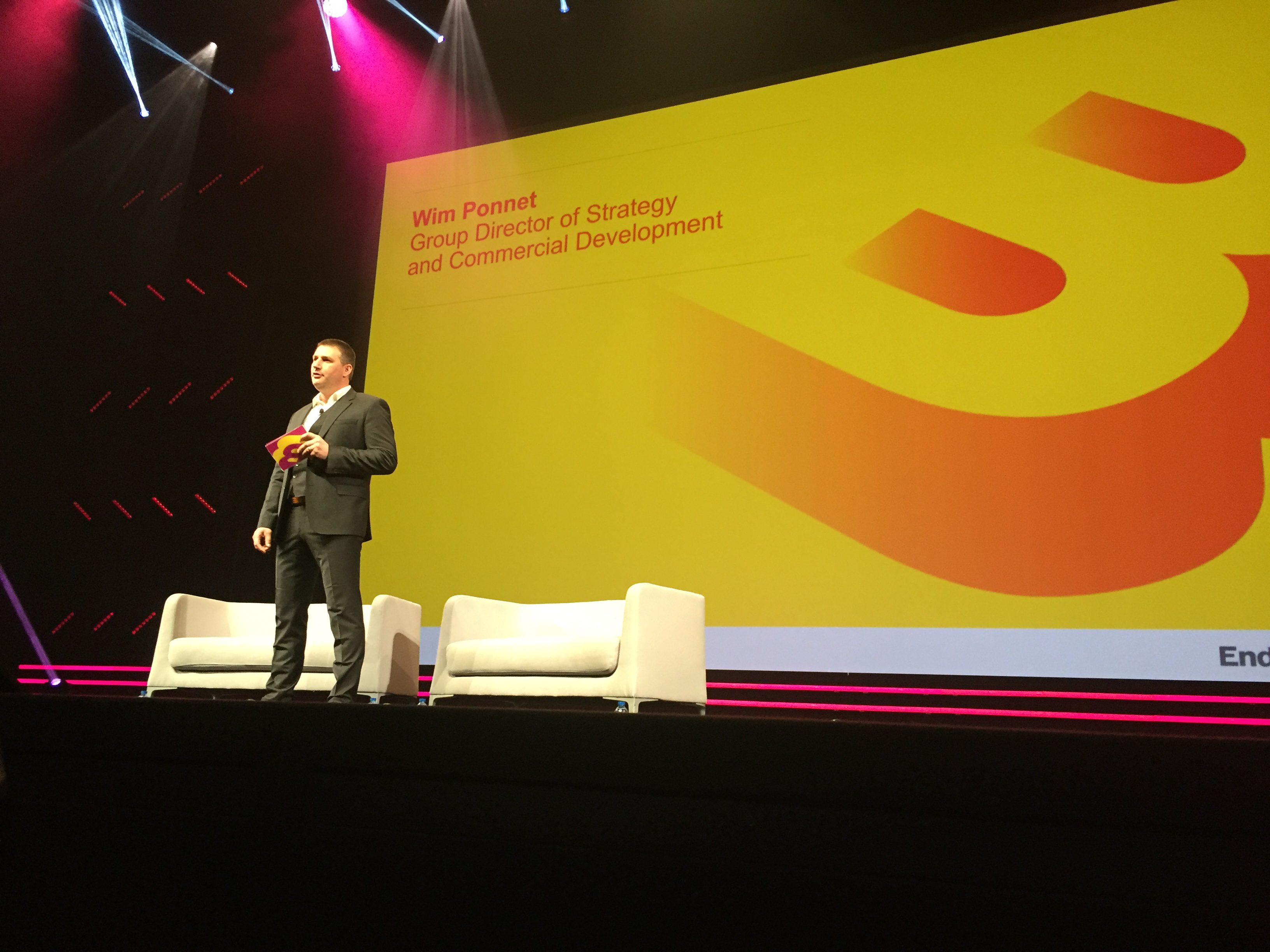 Endemol Shine Beyond specialises in premium online content, brand integrations and global talent partnerships. Its current goal is to help advertisers and brands engage millennial audiences, with formats that include Legends of Gaming, Rule'm Sports and lifestyle brand ICON, featuring Michelle Phan. It now has nine production hubs worldwide: In the US, UK, Germany, France, Italy, Brazil, the Netherlands, Asia and Spain.
"We're not an MCN. We have 150 original channels and work with creators worldwide. We focus on what we do best: Create high quality content and work with some of the best talent in the industry," said Ponnet.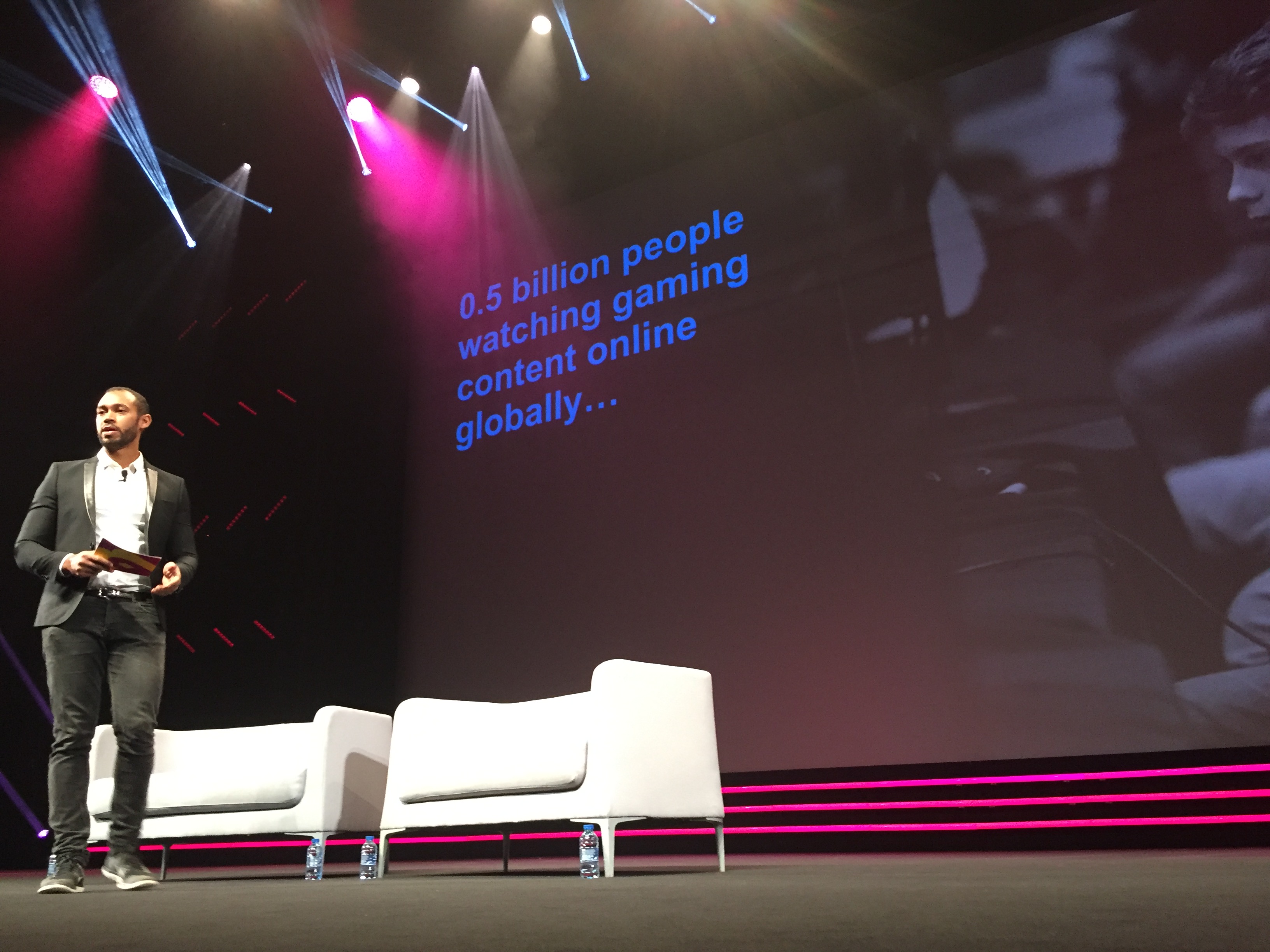 After that, director of content and strategy Bryan Randel briefly traversed the stage to talk about Legends of Gaming.
"Five billion people watch gaming content online globally," said Randel, citing Superdata's 2015 figures, which values the gaming industry at $3.8bn.
Women under 25 are the fastest growing consumers of gaming content on YouTube, and the average gamer sits at around 35 years old. "We launched Legends of Gaming to get in on the action in a diversifying space," Randel added.
The web format unites "the biggest gaming superstars on the platform on one stage where they can go head to head," Randel went on. It supports 750k subscribers, and hopes to deliver 150m views by year's end.
Its fanbase is super engaged and brand-loyal. "It's not an eSports tournament. It's a tournament about the entertainment, spectacle and charisma that comes from our talent," Randel went on, announcing as well that they've just renewed their partnership with Playstation for the second season in the UK, as well as in the US, with brand partner Pizza Hut.
"We want to build on our ability to create these formats and travel them across the globe," he concluded. "Legends of Gaming has already launched in five key markets: the US, Germany, France, Brazil and Chile are in on the action.
Next up, digital pioneer and creative leader Michelle Phan (shown at the top of this post) appeared to talk about ICON, which she described as "a millennial facing platform for fashion, food and more." She was interviewed by Radio 1 deejay Matt Edmondson.
Asked why she chose to work with Endemol Beyond, Phan explained, "They have production capabilities everywhere in the world. Production is my world; if I can't produce a video, I can't talk to my audience."
The content of ICON varies based on the market: "They call it the 'worldwide web' for a reason: it's global, there's creators everywhere, there's viewers everywhere, but the content won't be the same everywhere. Local markets have different cultures and different ways of speaking."
Last year, Phan added, Fast Company observed that 87% of millennials get their product recommendations from Youtube and Instagram. "We think that this year it'll increase," she said. "That's why L'Oréal and ASOS were smart enough to approach us and work on how they could create authentic, genuine content. Our creators genuinely shop at ASOS and use L'Oréal products, so it's a genuine integration."
Below, a L'Oréal Paris tutorial created in partnership with ICON:
In terms of what to expect next, "Content will always be king… or I like to call it queen," said Phan. "I think it's important to always be where our audience is, but most importantly be platform reactive. In the next few years, who knows what platform will pop up? 10 years ago, YouTube was the only video player at the time."
In the meantime, ICON "will continue making great premium content for those who want to watch it."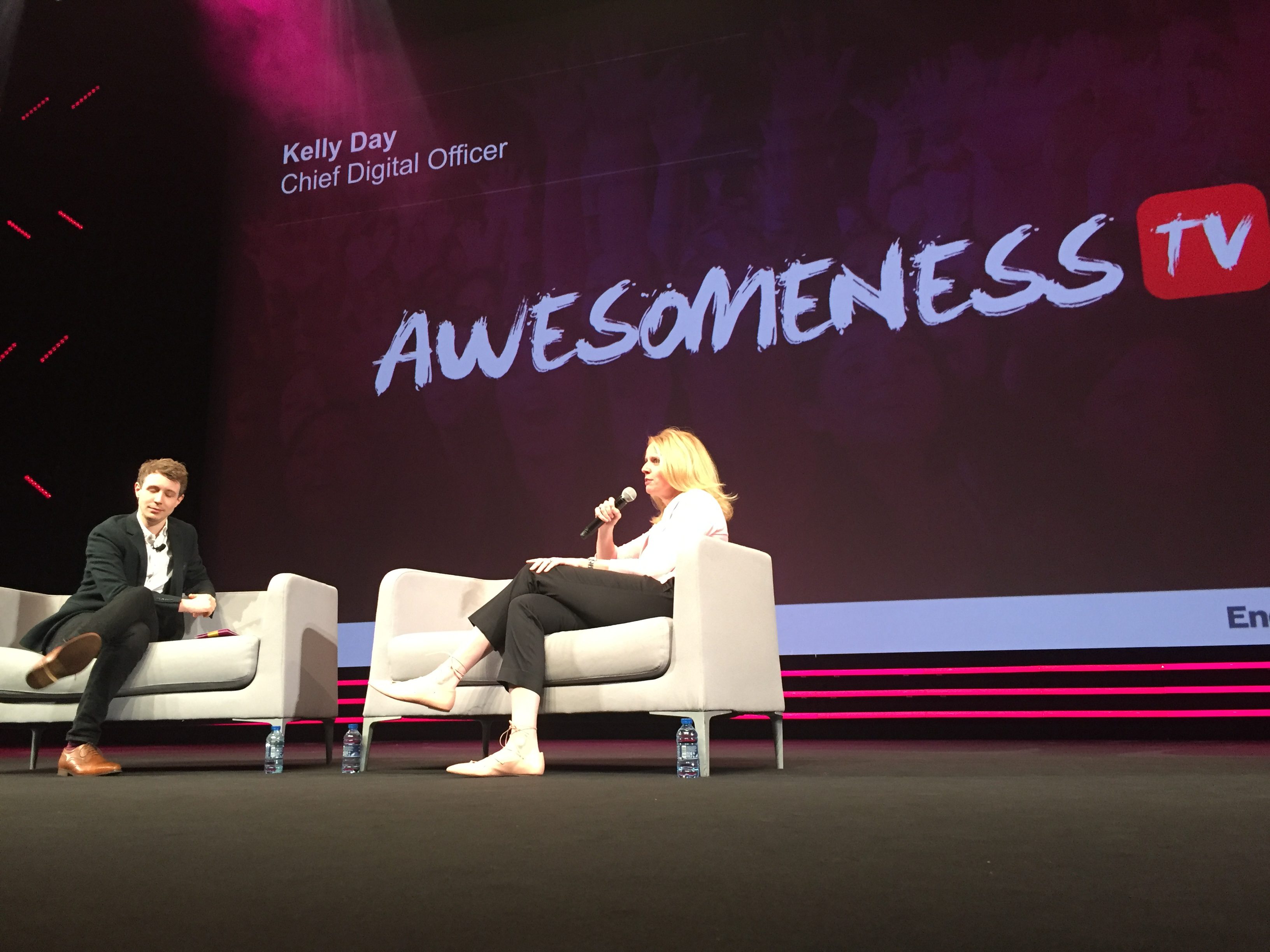 Next up, chief digital officer Kelly Day appeared to present AwesomenessTV, a totally Gen-Z focused online network.
"We don't consider ourselves an MCN. We're a digital studio, and a new brand for teens and young adults," Day began.
AwesomenessTV focuses on short form, long form, and feature films, distributed on social platforms, in SVOD and even on traditional TV like the Family Channel. Last year, it launched a partnership with the goal of launching something groundbreaking in key international markets. "We've already launched all five channels," Day proclaimed. "In the UK, France, Germany, Spain and Brazil, AwesomenessTV is now live there." The channel has 700k subscribers who've yielded 3m views across all of its originally produced content.
The content strategy is straightforward: AwesomenessTV sometimes takes successful US formats—such as IMO (shown below) or Celebstagram—and casts them with Youtube stars from local markets to make new hits. In other cases, it develops completely original formats, like Workaholly in Spain.
"Our intention is to use digital channels to incubate formats and create IP," said Day. "We're really excited to do that with Beyond."
Before signing off, Ponnet returned to the stage to announce a new Shine Beyond project in collaboration with gamer KSI: The Crispy Cock.
"Unlike anyone else in industry, we'll work with talents to tell their stories in any imaginable way, across all available channels," Ponnet concluded. 
Next up, CEO Reza Izad hit the stage to talk with Lawson about the projects of Studio 71, which last year merged with ProSiebenSat. Studio71 generates over 4bn monthly views across 1.000+ premium YouTube channels. The company produces original IP with creators from feature films to digital-first series.
Per Izad, Studio 71 is focused on three things, which other distributors and content creators can note for their own strategies:
Partner with people with proven audiences and track records. "You're dealing with stars who aren't tomorrow's stars; they're today's stars for a certain demographic," said Izad.
Social push/organic reach. When you partner with influencer based content, you have tremendous spend efficiency. "When influencers give a CTA, the conversion's actually pretty profound," said Izad.
Targeted media buy. "We're able to pinpoint people who've already engaged, so we're not buying billboards," Izad clarified. "It's not a crazy spend, but we can very efficiently convert people into your funnel. That's why influencer based content has real staying power in this ecosystem. It converts."
Existing successes include Cyanide & Happiness, "the most successful, most popular animated series on the web," Izad beamed. Studio 71 worked with NBC's OTT platform Seeso to take its content off YouTube, window it and remove all the third-party affiliation, then put it in an exclusive environment with 10 longer episodes. Today there are 30.
The marketing strategy is a prime example of how a targeted media buy and influencers can yield incredible conversion rates. "We released the video on Facebook to announce it was coming," he said. "It had less than a million views but the conversion was ridiculous: 300k clicks in the first week, 500k clicks in the second, and 6m views in aggregate all driving into this funnel."
Early this year, Cyanide & Happiness launched a Kickstarter campaign to create a playing card-based board game. The results were as follows: Across 30 days, it yielded $3.2m. "Tremendous conversion!" Izad exclaimed.
"We had multiple $100k days, with a mix of social media and highly targeted media spend," said Izad. "We targeted fans and their friends. That's it. We spent $50k and had a 9x return" with high click-through.
"That's what's great about these auction-based systems: The more clicks you get, the cheaper they get. This combination of premium content, strong fanbase, social media, and leveraging social (which is free) and targeted media—that stack is what we think drives value around this content."
Building on that, EVP of Studio 71's global digital distribution Adam Boorstin presented some other projects they're working on. These include The Coolest Thing I've Ever Made and Russian Hitman, which he describes as "a new digital series in the vein of Borat or Bad Grandpa." Below, a slide and a clip: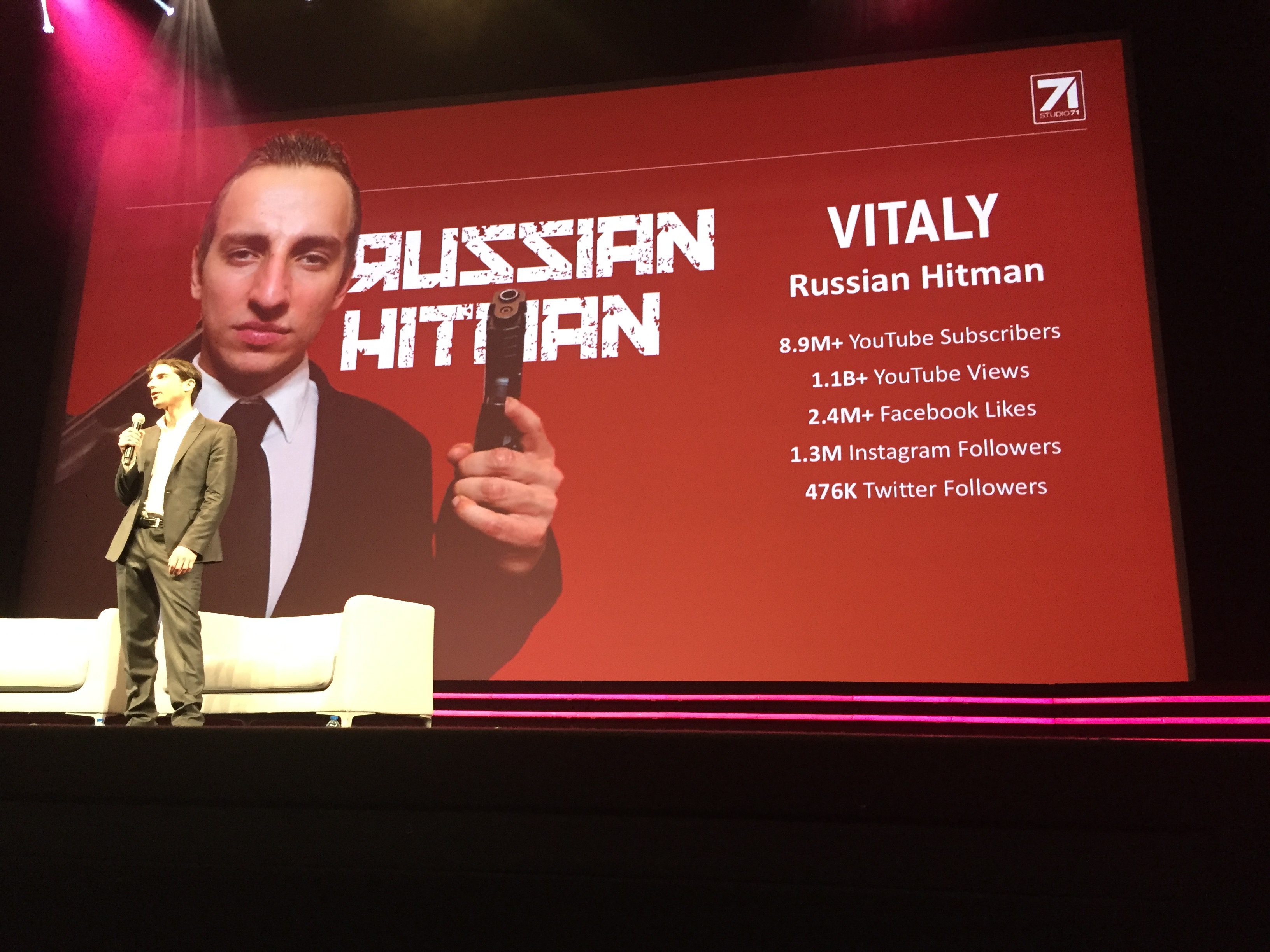 Others include Shaycation, featuring influencer Shay Mitchell, described as "a millennial Anthony Bourdain for the world of shopping":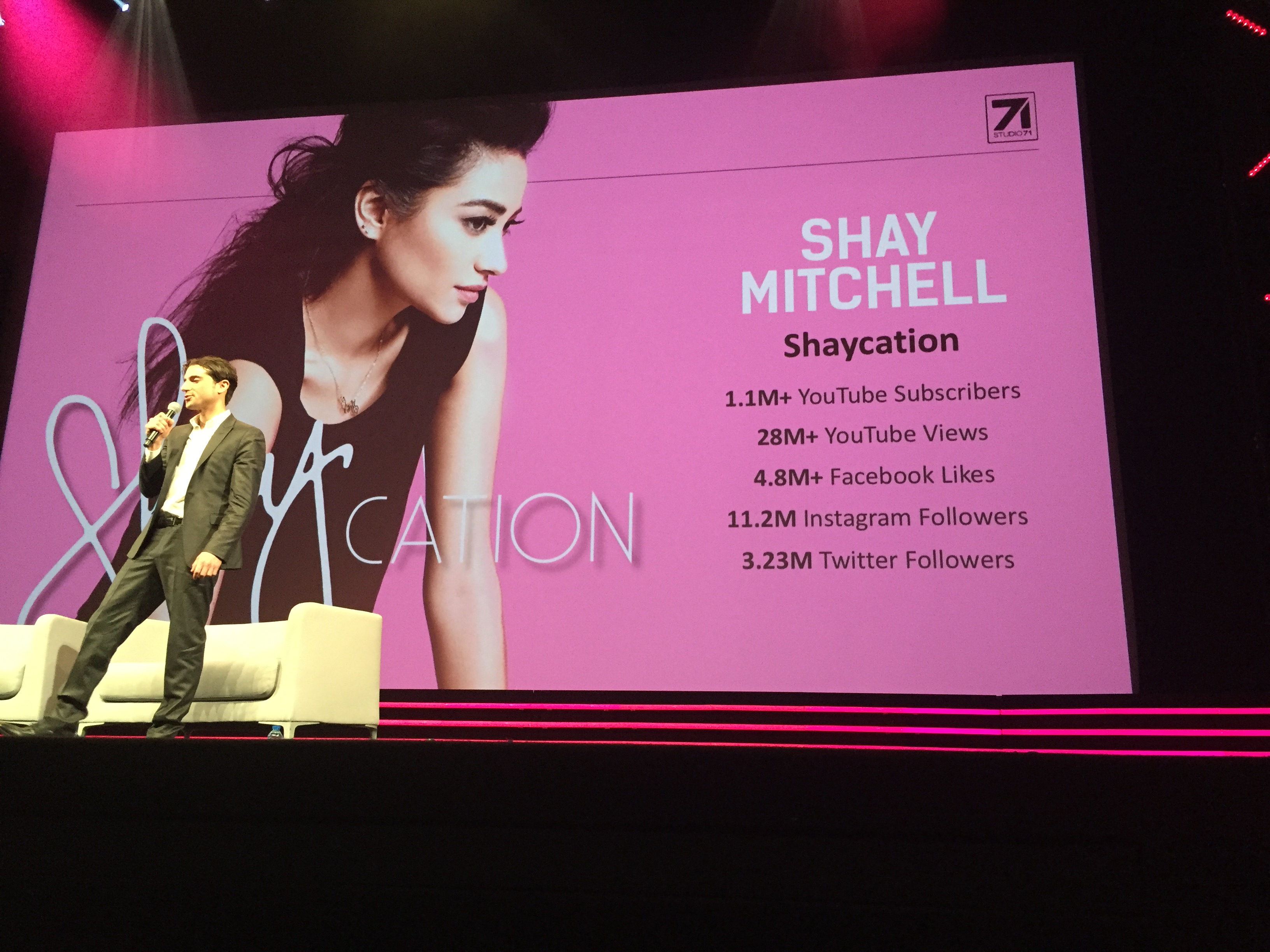 Family Fun Day, made with the Family Fun Pack team: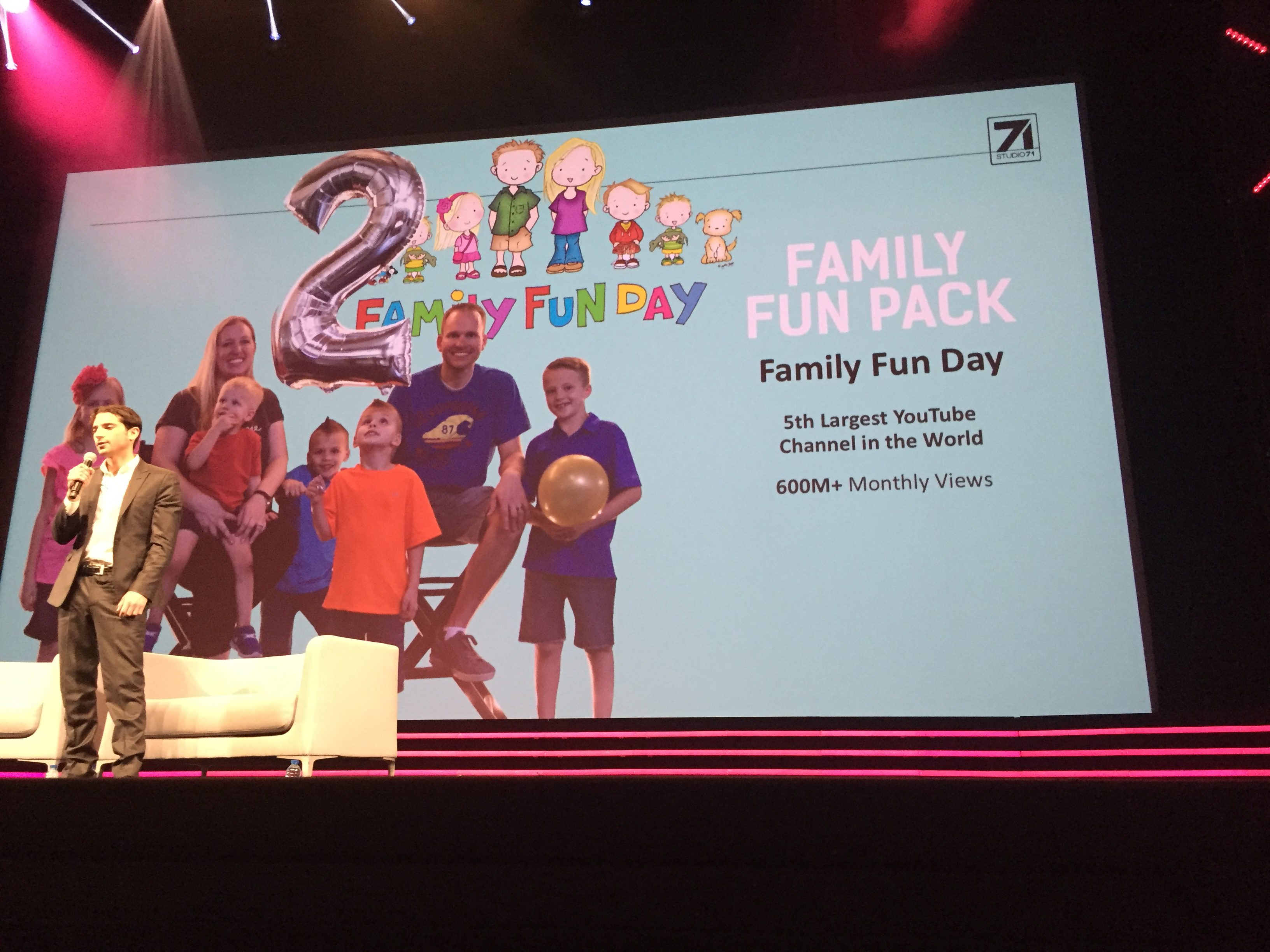 Text Committee with Matthew Espinosa, who is essentially featured "saving the world one text at a time" and teaching you how to do nifty things like use the octopus emoji properly.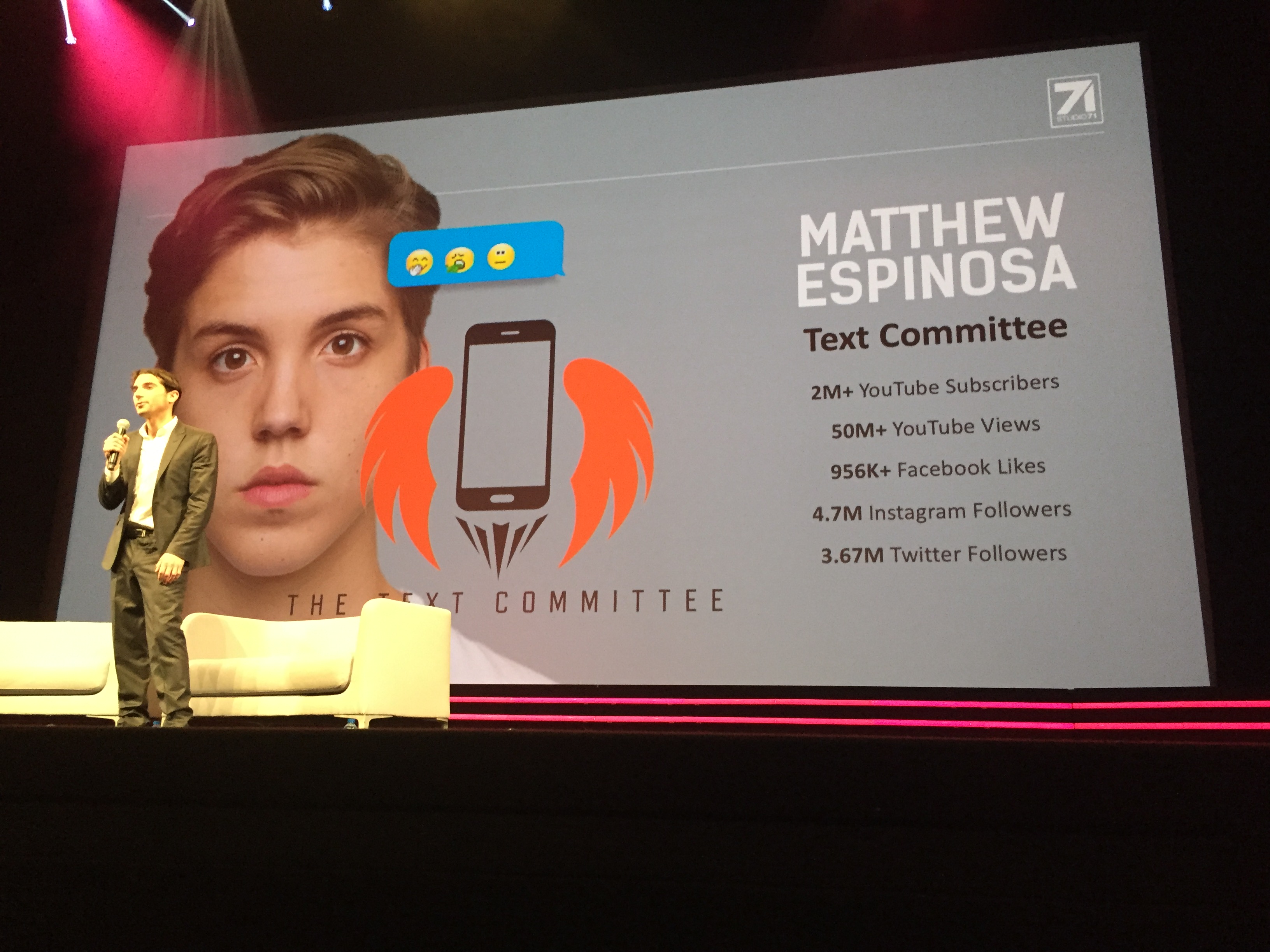 Webedia appeared next, presented by journalist Robbie Nock, who quickly interviewed a handful of its global online stars, including Andy of Andy Raconte (France), Nilce and Leon of Coisa de Nerd (Brazil), and the team from PietSmiet (Germany), all shown below: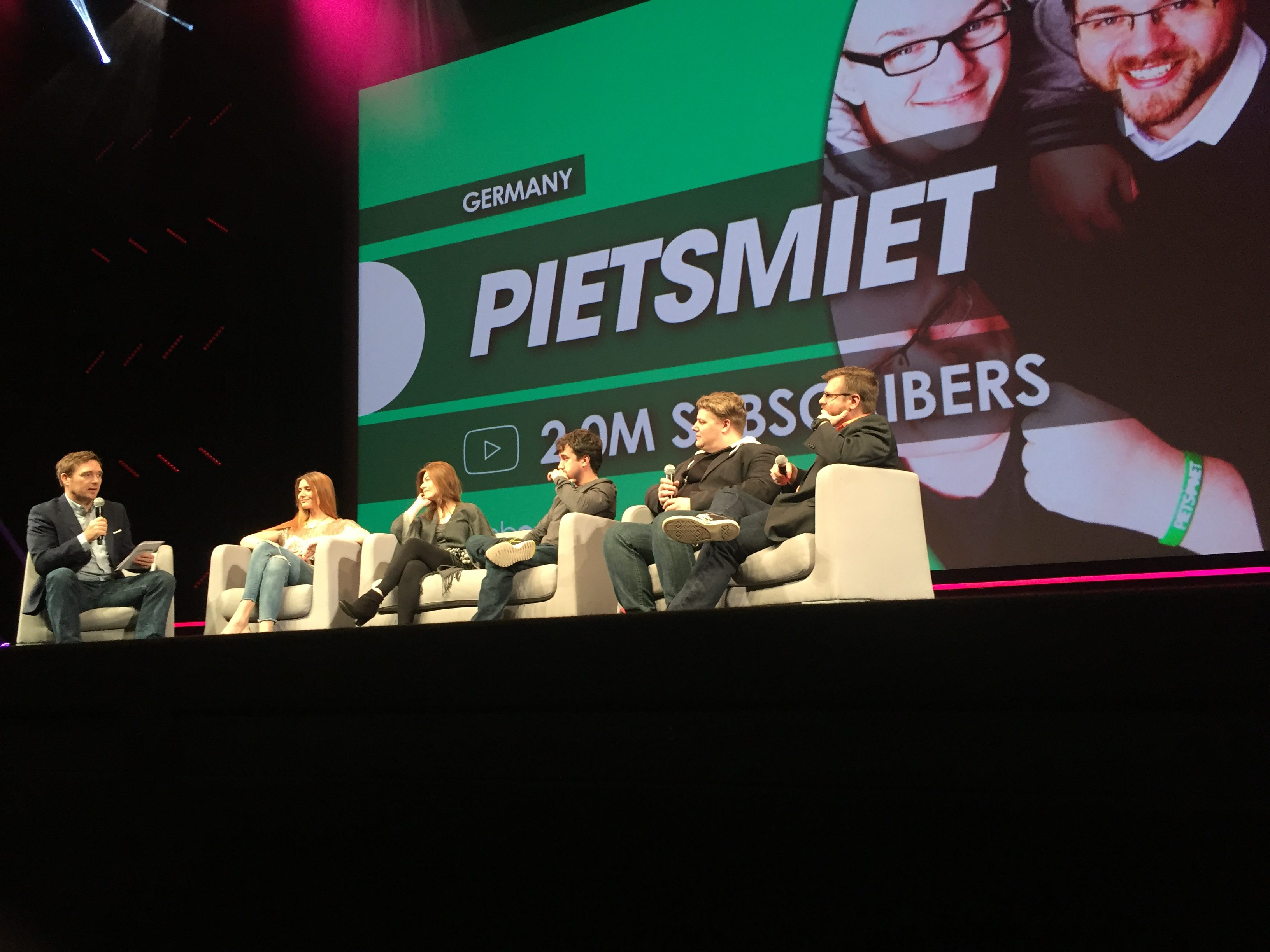 Webedia is billed as the No. 1 French digital publisher worldwide, with 90m unique visitors per month and 60m social media fans. It supports 50 leading entertainment and leisure media brands, which have generated 1bn views.
Its three separate influencer networks include Mixicom, with 30m subscriptions; Digitalstars, with 58m; and Allyance, with 18m. 
Andy of Andy Raconte appeared first to talk about her two million fans and upcoming projects.
"It's hard to keep in touch with 2m fans," she admitted. "I try to talk to them on social media, like their photos on Instagram, reply to their tweets."
Per Nock, an Omnicom survey revealed that the French are expecting Andy to make her TV debut, and the data hasn't lied: She's currently working on a sitcom "about a super-rich girl who wants to get rich by doing nothing," Andy revealed. Every episode is about a new attempt; "it will always fail. Always," she added. The teaser will launch on her channel, with episodes going live on TV. "Hopefully all my audience will follow."
She also emphasised the importance of working closely with the creators. "I want my community to always recognise my style. And I think I can learn a lot from TV professionals," she said, adding that she is not interested in abandoning Youtube for the big(ger) screen: "YouTube is where I come from, it's where I'm gonna stay. The sitcom is a big project so I'm focusing on it, but I don't know … I'm going on, having fun and that's it."
After that, Nilse and Leon of Coisa de Nerd talked about their own work, whose core audience ages from 24-35, though a recent Google report revealed they were also the most influential online personalities among Brazilian teenagers.
"We try to improvise because we need the real reaction; you cannot fake it," said Leon. "When you are surprised and they are surprised as well, they can relate to what's happening onscreen. So we do most stuff without any planning."
The real planning happens in editing: "That's where we remove stuff we don't want and get the timing we need to make a scene look good."
Currently, Coisa de Nerd is working on something near and dear to their nerdy hearts: "One thing we noticed is, for the Portugese speaking audience, there's a deep lack of content related to science and technology," said Leon. "So our next adventure will be to create a channel about science in Portugese." They already have a book deal secured for the show, which begins April 17.
Last but not least, PietSmiet appeared. Their target audience is aged 15-24. The pair said they are working on building their own esports team, for which they're currently touring Germany.
"We're also making something analog, which we can't talk about," they said. In addition, they're working on the second edition of their Gamescom charity stream, and hope to earn over 100.000€ for it.
Asked whether they've got their eyes on television, they laughed amiably. "Gaming and TV is tough in Germany. We're more online dudes," they said.