If you didn't make it through Leo Tolstoy's War and Peace in book form, here's some good news: the BBC is preparing to air its epic TV adaptation of the famous novel late this year, before the six-part series rolls out worldwide in 2016.
At MIPCOM today, a keynote panel saw screenwriter Andrew Davies; The Weinstein Company's Negan Yazadi; Ben Donald, Bethan Jones and Faith Penhale from the BBC; cast members Stephen Rea and Tuppence Middleton; and Lookout Point's Simon Vaughan discuss the process of taking War and Peace from page to screen. The moderator was MIPCOM News editor-in-chief Julian Newby.
The first section of the session included Davies, Penhale, Jones, Middleton and Rea to give their creative viewpoints. "I'd never read War and Peace! I'm saving it up for my old age," said Davies. "Somebody told me I was getting old and it was about time I read it. So I was very pleased when Faith invited me to read it with a view to adapting it. So I took it on holiday and read it on the beach in Antigua, and came back very enthusiastic about the book."
Davies admitted that the original book can be hard going for first-time readers, and joked: "Nobody need bother reading it now! I've got all the best bits out of it…"
Penhale said that Davies had a sharp eye for finding the essence of the story, and said she was glad that he agreed to read the book and consider the project. "He looked like he needed a beach read…" Davies added that he found the book "fresh, modern and funny" with much more comedy than its reputation might suggest.
"It's a chance in a lifetime. You don't do it that often," said Jones, of the chance to televise War and Peace. "Everybody wanted to be their very best and be their most ambitious," added Penhale.
Middleton talked about finding out about the project a year before auditions. "As soon as I heard about it, I had to be in there. I was a huge fan of Russian literature and of Tolstoy," she said. "In my life it will only be done a couple of times. But this time I was young, and they had those amazing characters my age…" She admitted she'd started reading the book three years before, gotten a third of the way through it and then given up – but managed to catch up by the time shooting began.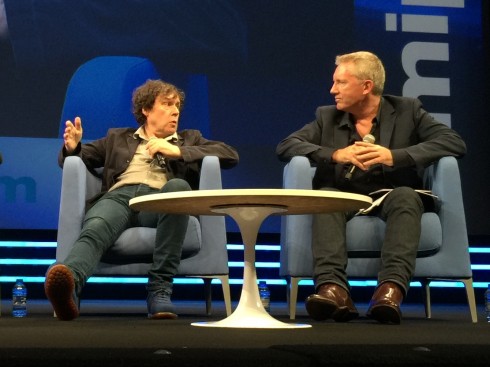 Rea talked about the difficulties of reading War and Peace: some of the translations can be very hard going. But he praised Davies' script for its "light and easy" language. "When you see a script, you just have to imagine yourself saying it. And if you can, you might actually do it."
Penhale said the BBC took the decision very early on to make War and Peace a location-based shoot. "It should feel very authentic. If we were building we would have had to build five Russian palaces. Which, given the budget, was probably not feasible. But it mattered to us that we shot in St Petersburg, and actually went to some of the locations where some of these events would have taken place… It really adds to this sense of truth and naturalism." Jones agreed: "We were very fortunate to get access to a lot of these places."
Middleton said that there is something very specific about Russian literature: its intensity and melancholy that is informed by its environment. "It was important to be there. You can't compare filming in those palaces to anything else in the world," she said. "It's staggering really," agreed Rea. "You had a sense of that society that was dominated by a few very rich people, fighting each other for what money there is."
After an exclusive clip, Middleton, Rea and Davies departed, to be replaced by the BBC's Ben Donald, Lookout Point's Simon Vaughan and Negan Yazadi, president of international production at The Weinstein Company.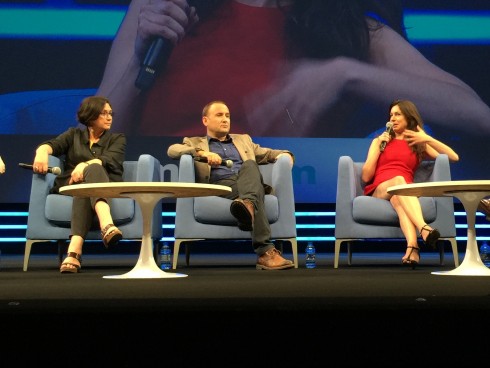 Why War and Peace, and why the BBC? "Primarily it was quite surprisingly a real passion project for Harvey. He claims he read the book when he was 12 years old, which is exactly the kind of precocious behaviour that sounds about right," said Yazadi. "He loved the book." And when news broke that the BBC was preparing to film War and Peace, Penhale said she was fielding hourly calls from Weinstein wanting to work on it with the broadcaster.
"Like any working family relationship, there were disagreements and things, but all in a healthy way," said Yazadi about the production. Penhale agreed that the journey was "one that worked, and the partnership has always felt very strong: where these things can run into trouble is if you're not clear from the outset what you want to do".
"The Weinstein / BBC marriage has been a surprisingly effective and powerful thing, both in terms of attracting talent and cast, but also in terms of making a statement to the global industry: this is a big deal and you better pay attention," said Vaughan.
He added that BBC Wales' history making Doctor Who and Sherlock was key to getting the project off the ground, as was "getting Andrew [Davies] to embrace it so wholeheartedly", and then securing the talent.
Donald returned to the importance of the youthfulness of the characters, and how this helps to reinvent the genre of period drama – including winning round some potential distribution channels who may not have been keen.
"It was a privilege to be involved in it. It comes around every so often, every 10-15 years. And we were going into the marketplace talking to broadcasters who felt that they'd done it quite recently… but we're very confident," he said. It's good to prove the market wrong sometimes. Yes, there is a market… Young people making their way in the world. What could be more international than that?"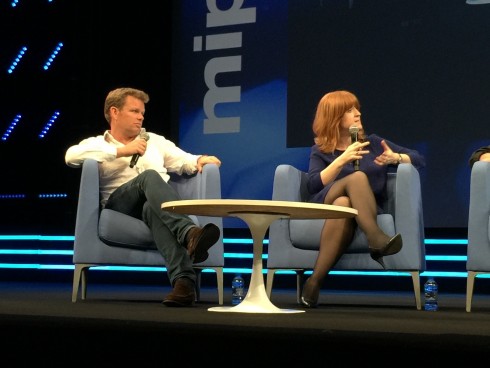 The conversation turned to co-productions, with all involved in War and Peace describing this as a smooth process. "It's about leadership: who's the boss? Faith. And we all worked for Faith," said Vaughan. "Lead, follow, or get out of the way. Somebody has to drive the train, and if you don't have that, run a mile. We've run away from many a show that doesn't have clear leadership."
Penhale said that it was important that "when push came to it, this should feel like a BBC adaptation, and that was something thankfully that the Weinsteins were incredibly supportive of and wanted to buy into… it's about understanding where the creative nucleus really is."
Vaughan denied there were any roadblocks in production, saying that the partnership had many benefits. "There was Harvey weighing in strenuously to help secure certain members of cast who might otherwise have been available, and picking up phones to make things happen," he said. "And asserting his authority very loudly and clearly." But, as Penhale and Jones made clear, always in a collaborative spirit.