What are the key trends in children's TV in 2015 from buyers' points of view? The opening session at MIPJunior today brought together a panel of key influencers from the broadcast world.
They included (left to right): Jules Borkent, SVP Global Programming & International Acquisitions, Nickelodeon; Adina Pitt, VP Content Acquisitions & Co-Productions, Cartoon Network and Boomerang; Karen K. Miller, Vice President, Worldwide Programming Strategy, Acquisitions & Co-Productions, Disney Channels Worldwide; Sebastian Debertin, Head of Fiction, Acquisition & Co-Production, KiKA Kinderkanal of ARD and ZDF and Caroline Cochaux, Programs and Broadcast Director Executive, France & International, Lagardere Active TV Channels.
The moderator was World Screen's group editorial director Anna Carugati, who started with a question about what is missing from the MIPCOM market. "I think we're trying to find that piece of content that makes us pay attention and say 'yes we have to try that'," said Pitt. "We're all looking for something really specific that's missing on our brands, and we're hoping to find that here… I know that there's no shows with goats."
Debertin chimed in. "We are all searching for the big new trend. And there are so many nowadays," he said. Miller said Disney remains mustard-keen to find new stories to engage children, across the full range of platforms. And Cochaux said she's looking for "love at first sight: something that is just smash-hit: when you see it, you want it."
Debertin expanded on the idea of big trends. "There are producers who are brave enough to come up with a series that has a story arc, and is not only relying on self-contained episodes." While Pitt noted that the next big thing may well come from new sources: from social media, and from other kinds of content developers who wouldn't previously have been able to get a commission from a broadcaster.
Examples? Miller talked about the importance of Disney's international hub, sourcing series from countries like Israel and the UK. "Part of the challenge is finding new voices. I would encourage everybody to track us down and share your ideas," she said.
Borkent was asked about declining viewership of children's TV channels, and provided a defence. "There's been a lot of questions about viewership and how many kids are still watching our content," he admitted, while claiming that "the same number of kids are watching our content". How? Because a percentage of their viewing has shifted from Nickelodeon's linear TV channels to its app and websites.
"We know that when content connects to kids, they want more," said Miller. "We are constantly looking at ways we can feed their appetite and sustain something. In the development, in everything we do, we have that conversation about what are we doing to support and engage our audience outside linear. But linear still remains the largest device for us. Knowing, though, that kids want content anywhere and everywhere."
Pitt stressed the importance of listening to the audience. "You can't necessarily create that story because you love that story. You have to think about the audience that you're making that story for. Because once that connection happens, everything falls into place," she said.
The conversation moved on to acquisition strategies. Pitt talked about the "reboot" trend, where broadcasters try to reimagine iconic properties from their past. "Those of us that have deep, rich heritage catalogues and libraries, you're going to see that," said Miller. "And it also supports and defines the brand." But Pitt wondered how much these properties can be reimagined before they deviate too much from the original.
Cochaux talked co-production. "In France especially, because we have quotas, this is an obligation to co-produce," she noted. Debertin addressed the audience in saying that Kika, ARD and ZDF are "hunting for your projects" and agreed that "we intend more and more to co-produce… actually I have just talking for Kika, I have 31 projects we are running, and of those we have 15 that are co-produced." Miller said Disney's Latin American division does plenty of co-production. In the US it has a slate of "four or five" shows that are co-produced, which play a key role in "filling the gaps in our portfolio".
How much do these channels think about informing and educating, as well as getting social issues and values such as tolerance into their shows, rather than purely entertaining, wondered Carugati? "Yes, we do have some funny content, but we are also very open to some educational stuff," said Cochaux, citing a recent show where five children went to Paris to interview the French president.
"It's not only our mission. By law we are asked to not only entertain but also educate. But it's also out of our hearts that we want to do that," said Debertin. "We can contribute a little to their (kids') development. If we do that in the right way, that's good for the next generations. And we don't start late, we start very early."
Borkent said Nickelodeon remains first and foremost an entertainment brand. "We want to be a safe haven for kids," he said, saying that children will mainly get their information about bad news and serious issues in the world elsewhere. But he added Nickelodeon is prepared to consider shows that explore some of these issues too.
Pitt noted that the broadcasters do have initiatives around issues like anti-bullying, healthy eating and playing outside. "We should, we have a responsibility to kids to talk about things that sometimes are difficult to talk about, or they're very relevant, whether it's obesity in America or the bullying that's happening. However, in the shows themselves, what we do most is to show good behaviour… so it's very aspirational."
Pitt went on to talk about how the children's broadcasters respond to children's growing use of YouTube. "It can be a little disturbing what's happening there, but that's where we stick to our knitting. And that's where brands matter," said Pitt. "I worry sometimes. A child can type one letter that's incorrect and it can take you someplace that's completely different. But when you engage in our nonlinear space, it's very protected."
Borkent talked about the challenges of working with YouTube, having put full episodes on the platform. "We find that kids are not coming to that platform to watch full episodes," he said, before denying that Nickelodeon feels the pressure to compete with edgier shortform content online. "We don't feel we have to compete with YouTube on that level. We can't. It's unmonitored, most of it's user generated, and there's a lot of slippery slopes in that."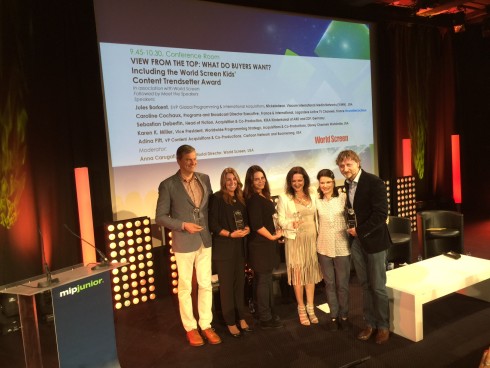 The session ended with the panel being presented with the World Screen Kids' Content Trendsetter Award, which Carugati said was in recognition of the work they have done encouraging children to be "curious" about the world, and ultimately to become better citizens. "Please, do not let us have too many more Donald Trumps in the world!" she joked, on the broadcaster's responsibilities.