What can the global media industry do to engage people–especially younger generations—to help improve the world? This visionary session, about the media's role in cultivating global change, included (left to right) Marlene Edmunds, CEO and founder of Marlene Edmunds Media Consulting, who moderated; Sharmeen Obaid-Chinoy, Academy Award and & Emmy Award-winning documentary filmmaker; Yann Arthus-Bertrand, photographer, film director and president of GoodPlanet; Fabrice Puchault, head of France 2's documentary unit at France Télévisions; and Raphaël Goumain, deputy country marketing manager France and head of cultural institute marketing at Google.
It also included a special screening of Human, Mr. Arthus-Bertrand's latest project with Google and France 2.
This hour-long sit-down began with a conversation between Edmunds and Chinoy, who talked about a bevy of her recent projects.
"My mother always said I was an angry young woman and she wanted me to channel that anger into something constructive. She recommended I start writing," Chinoy said. She began writing an English language newspaper in Pakistan; by 17, she was writing stories that got her "in trouble."
Following 9/11, "suddenly people were being parachuted into Pakistan and Afghanistan. I wondered if they understood the nuances of the worlds they were entering," said Chinoy. After completing her political science degree, she decided to become a filmmaker.
"It's important to make a difference in some way. I like being a thorn in peoples' sides. One thing I've realised is that film can make a difference; it gets people to ask difficult questions, and it does change policy," said Chinoy, many of whose films did just that. One example is a film she did in the Philippines about providing access to contraceptives, to combat the number of women suffering from illegal abortions. The film helped them lobby, and the government in Manila ultimately provided contraceptives.
"I'd like to leave a better country for my daughters, and that's why I do what I do," said Chinoy.
Other projects they discussed included Pakistan's first Oscar-winning film, Chinoy's Saving Face. When it aired, acid crime wasn't illegal in Pakistan; and among other change-makers, it follows a doctor who offers affected women reconstructive surgery, and a lawyer who tries to change legislation to save them.
"You had men who threw acid, a corrosive substance, on women's faces to control them: A woman turns down a marriage proposal, a man gets slighted, decides to throw acid on her face. This can also happen for property disputes or divorce," Chinoy said.
"I wanted to show two different sides: What happens when a woman decides to fight via the judicial system, and what happens when she does not fight?"
Next came Transgenders, which follows the thriving transgender community in Pakistan.
"You see them at weddings, on the streets, men dressed as women, allowed to express that side of them," said Chinoy. "Pakistan recognised Transgenders as a third gender… which is a big deal when you imagine the world that I come from."
The film seeks to showcase their lives, as well as their challenges.
"Every time I show this film, it shatters people's stereotypes. I quite enjoy shattering that stereotype," said Chinoy.
Next was Song of Lahore, which follows men who play traditional Pakistani instruments, a dying art, as they attempt to save their music by globalising it.
"These men played traditional Pakistani instruments. Pop music is thriving in Pakistan so these people struggle." The men were brought together into what became known as the Sachal Jazz Ensemble to create an iTunes hit, a cover of Dave Brubeck's Take Five—which the artist called "the most interesting version" of his work he ever heard.
Their story takes them from Pakistan to New York, where they play two sold-out concerts.
"In Pakistan, traditionally, this music is passed from father to son," Chinoy explained. "Because of a lack of patronage, these instruments are dying with that generation, and they haven't been able to pass it to the next one." Among other efforts, the musicians used their traditional instruments to play jazz and experiment with old sounds. They're currently on a world tour with their own album. Song of Lahore opens in US theatres on November 13th.
"We have a number of American artists that will be collaborating with these musicians. That's the power of film; all we did was send it to a number of very important people in the music world, and they responded," Chinoy said.
"How are the musicians reacting?" Edmunds asked.
"I think they're shell-shocked," Chinoy laughed.
In this clip from the TriBeCa film festival, the Sachal Jazz Ensemble plays a short piece after the film premiere:
This year will also see the launch of 3 Bahadur, Pakistan's first feature-length animated film. In Pakistan, the majority of the population is under 65, and the movie is packed with strong positive messages for young people:
"People said no one's ever gonna release this film or see it," Chinoy confessed. "I was fortunate to find partners who invested in it, released it, really put their full weight behind it. There are people receptive to this—it has very powerful messaging about what girls can achieve, fighting corruption, nepotism—all hidden in the subtext of animation."
"You can get away with putting things into animation that you can't get away with in an adult programme," Edmunds said.
"I got away with saying a lot!" Chinoy laughed.
"With the 24-hour news cycle, we're all fatigued about what problems there are. What I want to do with my filmmaking is find the people who fight, stand up, risk their lives, shine through in their local communities. That's the work I've been doing around the world: Finding those voices."
In the last several years, and to fulfil this mission, Chinoy released numerous short films under the label I Heart Karachi, tightly focused on one Pakistani individual set on changing society.
One film follows Abid Farooq, part of the bomb disposal squad; another follows Syeda Fatima, who "fights against servitude and slavery" for the men, women and children who work in brick kiln factories, said Chinoy.
"I always say Pakistan's biggest assets are its kickass women and the work they do. Syeda's just one: She's been shot, her brother has been paralysed because of the work they do, yet they continue to fight on."
It's because of people like this that "so many families have been freed from this kind of slavery," Chinoy said.
"It's kind of an indentured servitude," said Edmunds, and Chinoy agreed.
"They can't pay for medicine for their kids, so they take a loan from the owner of the brick kiln. The interest accumulates, it gets passed from one generation to another. From the time that child grows up, he has an enormous loan to pay back. Because these people are illiterate, the numbers get fudged. So she educates people about their rights and how to get freed."
About I Heart Karachi in general, Chinoy emphasised, "It's important to tell these stories, even where I come from, because we don't know these people. They inspire others to walk in their footsteps."
After that, Yann Arthus-Bertrand, photographer, film director and president of GoodPlanet; Fabrice Puchault, head of France 2's documentary unit at France Télévisions; and Raphaël Goumain, deputy country marketing manager France and head of cultural institute marketing at Google, joined them onstage to discuss Human, Arthus-Bertrand's latest project.
"Human is a massive outreach to the planet. The work done here is positive proof that media companies can work together across multiple platforms in a spirit of collaboration to reach billions and effect change," said Edmunds.
Human is a sprawling multi-platform documentary with 11 different variations. It tackles big existential questions, like "What does it mean to be a human today? Are our differences so huge? Do we not share more values than we think?"
"In Human, there is no commentary. I've left their voices pure and direct," said Arthus-Bertrand.
"Did you get answers to your questions?" Edmunds asked.
"This movie is more question than answer. It's about me, about you, what it is to put our humanity above our fear," said Arthus-Bertrand.
"We've done 2,000 interviews around the planet, and I saw that the whole team changed completely. You cannot work on a project like that without changing yourself. Then you hope the spectator will change too."
"How did you come up with the questions?" Edmunds asked.
"Because of the questions I aks everyday: What is happiness, what do I want to change in my life, how can I be better, what does it mean to be a man, do I believe in God? We don't ask these questions enough," Arthus-Bertrand replied.
"We made a 3.5 hour movie for the cinema, a 2 hour film for TV, and another for the internet. On Google there has to be, like, 30 hours or something," he added.
"The internet today is an amazing platform for sharing messages. We have to use it."
"TV always wants to come first," Puchault said. "But we decided to mix everything: First it was internet, then theatres, then more films on YouTube—200 shorts—then it was TV. And now it's back on the internet because it's catch-up, it's free. You can see the project everywhere in the world, free—all 15 films in the end."
Puchault joked, "We were a part of this organisational nightmare. We exchanged emails not on a daily basis but on a minutes basis. But it was fun."
But it was worth it, he believes: "I don't think we can change the world. But I would love to change the world, so we try all the time… Good TV enlightens and enriches people."
As an example of just one way Human is transformative, Puchault pointed out, "If you saw Human, you would not see immigration the same way. And that's key for Europe right now: To see refugees in a different way."
"The project resonated a lot with us [at Google]; we deeply understood what they were trying to achieve," Goumain jumped in. "We thought of showing it internally with Googlers, and 50 Googlers across the globe said 'How can I help?'"
Today, all the content from Human is accessible for free on Google Play.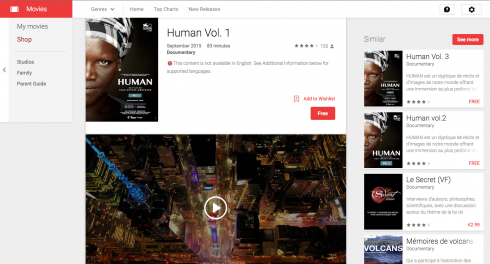 "There's lots of content that comes on top of the movie—interviews, portraits, exhibitions, so we also use the Cultural Institute tool. Go on that site to access behind the scenes, exhibits, how the music was created, how the project came to life."
"The film covers broad topics, some quite serious," so Google created snackable content that they call "emotional sparks," Goumain added.
"There are millions of people not only watching the movie but also talking about it. And this is only the beginning. That's what's great about new technology; it gives access to knowledge and can create conversation at a global scale. Yann is setting a precedent of something unique at this scale."