Factual was the focus for MIPCOM's opening keynote session today: an "aspirational megasession" no less, as three of the most influential commissioners and producers in the world of documentaries talked about how the genre is evolving. Each was interviewed by Mayhart Media's Ali May.
The session began with Liz Dolan, chief marketing officer at Fox International Channels and National Geographic Channels International.
"We're just so excited about our future," she said, by way of introduction about the National Geographic channel. "We want the content to be bigger, better, more epic… What you'll see today and in the future is more A-list talent both in front of the camera and behind, more epic attempts at storytelling."
She said that Nat Geo at is heart is a "scientific, mission-oriented organisation: they believe in the power of science and storytelling to change the world… It's an important time for big science to be heard, for facts to get out about things, for people to understand the world and their lives."
Dolan talked about a new series called Breakthrough, produced with GE and featuring a range of Hollywood stars directing episodes about different scientific breakthroughs, from Angela Bassett and Ron Howard to Brett Ratner.
"It is not a sponsorship deal: they really came to us as part of the production," Dolan said of GE. "They also have a goal to just get science information out into the world… They want people to hear and see this show because it's about amazing things that scientists are doing right now." The show will get a global day-and-date launch: 171 countries around the world.
Another new show is The Story of God, which sees Morgan Freeman travelling around the world exploring "what is the divine? Is there such a thing as God?" in Dolan's words. "This is his personal journey to some of the most iconic religious sites in the world… It's science and anthropology."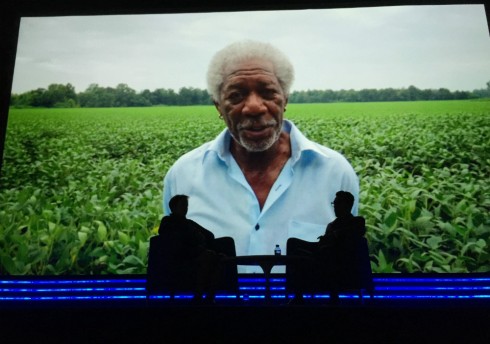 "When you say things are epic, it doesn't mean everything has to be this giant scale, that is has to be loud. It can be this personal journey," she continued. The show will debut in spring 2016, again as a global day-and-date launch.
National Geographic is also working on He Named Me Malala, a portrait of 17-year-old Indian girl Malala Yousafzai, who was shot by the Taliban while returning from school on a bus, and has since become one of the world's most respected campaigners for girls' education globally.
"We are so incredibly proud to partner with our sister company Fox Searchlight, which is doing the theatrical distribution, and then we will have it for television," said Dolan. She admitted that Malala's story has been "very well told", but promised that the film will deliver new insight into her life both before and after the attack.
"Malala's number one goal in agreeing to do the film was that we had to get it to the widest possible audience of girls and their parents around the world," said Dolan.
Finally, she showed Red Planet, executive produced by Brian Grazer, Ron Howard and Michael Rosenberg, which will tell the story of "how we got to Mars". "It is genre-busting, truly, because you will have a scripted series taking place in the future: people living on Mars… supported in this series with interviews with the scientists who are working on all that technology now. If we want to be on Mars within 30 years, someone has to be working on that now."
Would Dolan live on Mars? "No. It's the getting there that would be hard for me. Once I got there, I'd be okay. Living in a capsule for four years? It's not my thing!"
The second speaker was Anthony Geffen, CEO and executive producer at Atlantic Productions, which has a storied archive of documentaries, and a grasp of technology, from 3D and 4K to virtual reality.
"You've got to push the boundaries. It's all about storytelling… but you've got to use the latest technology and the cleverest ways of engaging big global audiences in important matters and issues," he said.
Geffen also defended 3D TV, saying that it has been a valuable learning experience for Atlantic. "3D was incredibly exciting, and has been for the last five years… because we've really been able to almost change the way people see stories… We find different stories lend themselves to go on different platforms."
Geffen talked about Atlantic's new film where President Barack Obama interviews David Attenborough. 'He wanted to put away in a way his presidential hat, and he wanted to interview one of the people he most admired in the world," he said. "It's the only time I've seen David – and I've worked with him a long time – slightly nervous, as we sat outside the Oval Office!"
He talked about the push in social media for the show. "I'm told it reached an audience who watched part or all of it, of something like 100m people in a week, which is staggering. Someone at Google told me that on the search engine, all the key words used in the interview – Great Barrier Reef, climate change – went shooting up," said Geffen.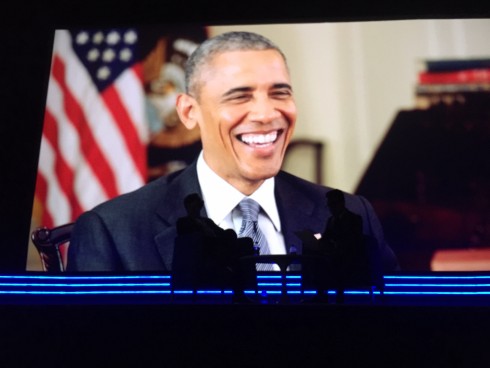 Atlantic has also been working on a show with Attenborough about the Great Barrier Reef: another epic landmark television production, but also a multi-platform experience. "There is obviously the three-part series for the BBC, and a four-part with the 'Making of'. But the other elements are we have got a digital pod which allows you to literally interact with things that are going on, on the Reef. You can skim the ocean and see the Reef, and interact with the weather patterns."
There is also a virtual reality experience: "You can dive with the crew and the team when we are filming. And the whole thing in the future is coming to 3D iMax. So lots of multi-levels, which is great," he said. "This is a big one." Geffen remembered asking Attenborough what the one single place he wanted to go to next was, and said David didn't miss a beat before saying the Great Barrier Reef.
The project elicited a real passion from the 89 year-old filmmaker. "David gets transformed on location. David is about 35 when you're filming with him. I shared a cabin with him, I can tell you!" joked Geffen.
So what about virtual reality? Atlantic has a standalone VR business called Alchemy VR, which has deals with Samsung and Google already for content like David Attenborough's First Life VR. "We wanted to tell full-scale stories. I didn't just want to sit down on a street corner and see people in virtual reality," said Geffen.
How does Atlantic make money from virtual reality? "There are so many different devices at the moment, so many different ways of doing it, and it's expensive and complicated," he admitted. "But it's going to be a big thing. It's not going to replace television or cinema. It's going to be its own thing… and there will be ways to make money."
Finally, we heard from Natalie Humphreys, controller, factual and daytime production at BBC Television.
"I love working in television! Isn't it brilliant?" she said, before talking about how her division produces 1,000 hours of factual television a year in-house. "We're always looking for things that will surprise. Frankly, surprise ourselves as filmmakers… The other thing is that the truth is everything for us, and that's the joy of factual storytelling: you're dealing with facts, with the truth."
May wondered whether the BBC is inspired by the drama coming out of companies like Netflix and Amazon when it's making new documentaries. "Drama is the biggest market in terms of revenue. That's just a fact. But there's other things going on. House of Cards, the first season – 22 hours – cost $100m. For the same money we made probably 80 to 100 hours of TV which reached three quarters of the population of the UK," she said.
"We have these conversations about value, but you have to be very textured and very specific about it… a big piece of factual can reach half a billion people around the world now… I would worry about us rushing to steal the clothes of drama."
Is this the golden age of television? "It's definitely the golden age of storytelling. I look at how my two sons consume stuff now. There's no doubt about it: they still love big experiences, cinematic experiences or at home," she said.
"But there's something else going on I think, which is where factual can be really powerful. It's about the stuff that we live with: the information that can help you with your life, the information that I can share… It's how you tell the stories. For us, what we're always trying to do is show people something they haven't seen before."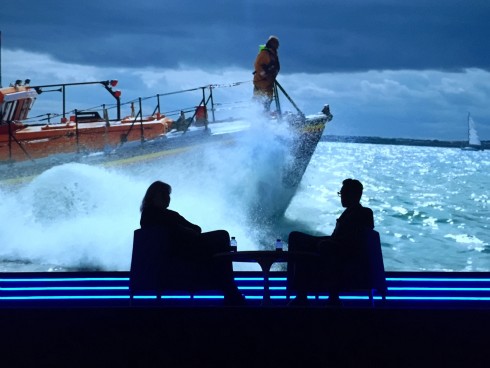 Is "big" enough now? "Big helps, it can get a lot of people to your screen, and people are still craving those 'wow' moments," said Humphreys. "So of course big helps, but big isn't enough any more. Weirdly, as the [TV] world is becoming more global, we're becoming more personal as well… and TV has got to speak to that. We're thinking about how we tell stories at an ever more personal level, more intimate."
The conversation moved on to the BBC's natural history landmarks, and upcoming series One Planet. "We can't quite say there's only one planet that supports life, but we can say there's only one planet that supports the abundance and uniqueness of life that we have," said Humphreys, who said the BBC's use of drone cameras has been a big step forward.
"We've tried to get off the tripod, get off the long lens… we are absolutely there in real-time with the animals when extraordinary things are happening. We can genuinely say that we are seeing things that humans haven't seen before because technology is taking us in."
She also talked about using military-grade thermal cameras capable of filming without any light at all – enabling it to track (for example) a leopard hunting in a city under cover of darkness, for the first time.
One final question: what inspires Humphreys? "I remember as a young child lying on my belly in the front room watching telly: things like The Ascent of Man and Life on Earth. Big, big BBC factual," she said.
"It gave me a sense of purpose in my life, and I thought 'I want to be part of that'… If one child watches anything we do and has that same feeling I had, that would be brilliant."