By now, many broadcasters and content distributors have realised that their viewers' behaviour has changed. Viewers today are more interactive and are engaged with multiple screens at once, even while watching TV.
Many content owners have begun to develop second screen digital extensions (or apps) in order to empower their shows and to capture their viewers' attention on the second screen by enriching their experience and keeping them engaged during the broadcast and far beyond.
But nowadays, simply publishing an app for a show just doesn't cut it, you must also know how to promote it well. Below I'll share 10 guidelines and best practices for promoting a show's second screen app:
1. App 101
Excite your viewers by creating a captivating promotional video showcasing the different elements and features that make your app so wonderful. Explain why they must download it and tune-in to the show.
2. Early Bird Special
Start promoting the app for users to download at least one week before the season's kick off. Encouraging early downloads will help prevent losing viewers attention to  downloading the app during the first broadcast. This could also provide you with insight and important information about the reach and interest of the app and the show, as well as user registration demographics to better know your audience.
3. Add Glitter
Use a star or a known talent from the show to talk about your, hopefully, innovative app and all of its great features. Allow them to convince the viewers why they must have it.
4. Method Acting
Present the app to the star talent and get them excited by introducing them with all the great cool benefits and advantages it has, both for the users and for the show. If possible, set up a demonstration for them to experience the app and how it will work during the show. Even if your talent is a great actor, getting them onboard with the concept and letting them experience the app first hand will make their message more believable and engaging.
5. Repeat. Repeat
Once is not enough. Spread out the call to action throughout the show. Keep in mind the viewers will be tuning in during the first few minutes of the broadcast. At the end of the broadcast remind all those viewers who have yet to download the app to do so now and in time for the next broadcast.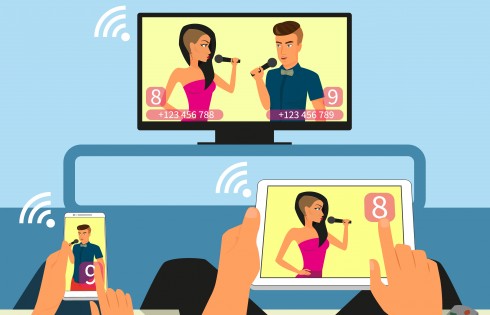 6. Mix it up
Use a variety of expressions for the call to action: As part of the show's promos, embedded into the script to be read by the host, as part of the show's credit roller, a graphic call-to-action on the screen, product promo etc. Be creative.
7. When? Now!
Add an element of urgency to your call-to-action to motivate your viewers: Download now, don't miss out, don't be left out of the game, do it, do it now!
8. Go beyond TV
Promote the app in other media outlets within your reach: By using the show's and the broadcaster's social networks such as Twitter and Facebook pages or by promoting the app on the show's webpage or from other apps from within your network.
9. What's in it for me?
Your future users need to be incentivised and to know why they should be downloading and using the app. Some great incentives could be: Having their profile picture featured in prime time television, influencing the results or the agenda of the show, win prizes, learn something, be a contestant or get access to special content.
Promise them something you can deliver: Be part of the family, Be a trendsetter, have an impact on the outcome, be a judge.
10. Word of mouth
Most users discover new apps from their social network of friends, family and colleagues. One of the most effective means of reaching out to new audiences is adding social capabilities such as sharing and tweeting from within the app. There are endless options of creative ideas for sharing content. Let your users share their vote choice, their game result, badges earned, comments on the show, short clips and images from the show etc.
If you have more tips and best practices, please share them in the comments section below.
Daniel Joseph is VP Products for Screenz Cross Media, previously Head of Mobile for Keshet broadcasting TV.
Image via Shutterstock – Julia Tim