Above: co-founder and CEO Reza Izad and co-founder and chairman Michael Green of Collective Digital Studio (CDS).
This series of MIP Digital Screenings were hosted by co-founder Shira Lazar of What's Trending. In this article, we'll focus on Collective Digital Studio and New Form Digital.
First up, Collective Digital Studio previewed its new online series Maximum Ride (which we can't show you, but we'll tell you about).
Maximum Ride is targeted to young women and will be a two-hour format. It follows a group of six people who, genetically engineered to be physically and mentally superior, escape their lab.
Based on the popular Young Adult fantasy franchise from James Patterson, a bestselling author, Maximum Ride is touted as the first epic book franchise to embrace the digital world—well-known YouTubers will be counted among its talent. The fan base can be compared to fans of Divergent, The Hunger Games and The Fault in Our Stars, and is the Collective's big stake in growing demand for premium online entertainment.
"We really understand how to make premium content and entertainment. Just like the fella that preceded me, we're platform-agnostic," said chairman Michael Green. "If Seth Macfarlane, Trey Parker or Matt Stone were 20 years old today, you'd find them in our network."
CEO Reza Izad jumped in to explain the business model. "It's to do three things really well: Aggregate content creators, help them monetise that content, and the other side is the IP side"—taking care of the IP for content creators as they jump onto new platforms, he said.
From a marketing perspective, there's a big opportunity to talk to the audiences of huge talent and bring them into your fold, Izad added.
"The opportunity is, buying not just a piece of content or IP, but remarketing that audience and make them move into your platforms," he said.
Other CDS content properties that we can show you include:
Cyanide + Happiness. Based on the comic strip, this is the No. 1 animated comedy show on YouTube. The anthology series enjoys 530 million cumulative YouTube views, and 3,7 million subscribers.
Natural Born Pranksters, which follows two well-known pranksters as they prank on a bigger scale than you ever imagined in the old days of watching Jackass on VHS. It's racked up 20 million subscriptions and two billion cumulative views … as well as 12 arrests.
"Partnering with us, you get strong talent relationships, deep understanding of the IP being created across these platforms, and we can be a very strong marketing partner with you guys," said Izad.
"60% of our audience is outside the US, it's global. We can retarget consumers and help bring them to your platforms. As you can see, this is just the tip of the iceberg."
Next up was New Form Digital, which calls itself the only data-driven digital studio focused on scripted mobile-friendly content targeted to the social media generation. Below: chief creative officer Kathleen Grace and Joe Penna, a New Form Digital actor.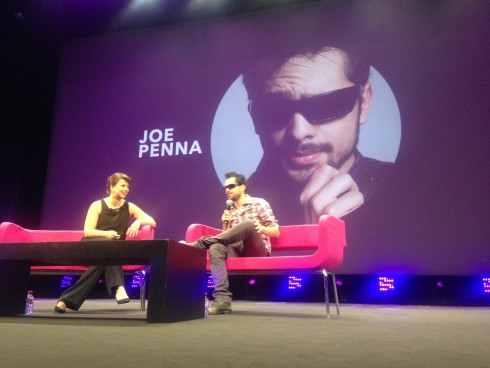 "Our mission is to produce scripted series for fans rabidly consuming content across all platforms all day. We develop, produce, distribute all under one roof," said Grace.
"In one year we've produced and sold 14 original series to a variety of platforms, including MCNs, digital destinations, brands and media."
The company focuses solely on "scripted genres audiences love: Comedy, horror, sci-fi, and drama." Series are built to go where the audience lives and are totally mobile-friendly.
New Form's development process also incorporates data early on to maximise the success of a scripted series: "We mine data to see what works in the marketplace. Then we identify and develop digital native talent" with the right combination of audience size and other creative assets, Grace explained.
She was later joined by actor Joe Penna, who directed, wrote and starred in short film Instant Getaway (shown below). Penna said New Form provided useful notes that helped him advance his craft as a creator.
He was later followed by actress Arden Rose, who worked with New Form on the film Occupy Alice (whose trailer we screened, but which isn't yet available).
"I hadn't been on a set that was so professional for a digital company," said Arden about the shoot (later revealed to have taken place at Grace's house). "It didn't feel like a weird mix of people; everything was presented seamlessly and the director was fantastic. Even traditional actors were like, 'this is like a real film set'."
Lastly, actors Jack & Dean also jumped aboard to show us the trailer for GFC, or Ghost Fighting Corporation, which is about two young British guys who fight ghosts (also not yet released online). Watch for those soon!
Check out MIPTV, MIP Digital Fronts, MIPDoc & MIPFormats 2015 full live coverage