Did the past few weeks give us a glimpse of what TV's ecosystem may look like in the very near future? They gave us, at least, a confirmation that tomorrow's studios will have strong digital roots – indeed, BuzzFeed is gaining ground at a very fast pace in this race. The LA Times just revealed that the media company's video division – whose president Ze Frank and producer Michael Shamberg will speak at MIP Digital Fronts this April – reached 1 billion monthly views. Buzzfeed Motion Pictures develops all kinds of moving images, including « medium-form content and serialised formats with developed characters and story lines. » Shamberg insists that their job is about « re-engineering the way content is developed, promoted and shared. » A threat to the traditional US TV studio model?
The question is all the more pressing as some new entrants in the current TV ecosystem are already clearly identified – Snapchat, to name but one. As Business Insider UK notes, the mobile platform has managed to impose itself as a major content provider through its Snapchat Stories, which disappear after 24 hours and are not automatically displayed – you need to hold your finger on the screen. In other words, to be physically engaged from start to finish! This is especially relevant for live events:
« Snapchat's mega-stories are not boring or bad. In fact, they are an exciting new entertainment format. They give viewers live, intimate access to events they would never be able to attend on their own, like the Vanity Fair post-Oscars party. While the biggest of live events covered by TV are captured by maybe a dozen cameras at most, Snapchat's mega-stories can be stitched together using video from thousands of cameras. »
Don't say goodbye to linear TV too soon, though! Digital TV Europe points out that it is still dominant among millennials – according to a new research by Viacom International Media Networks (VIMN). Did you know, for instance, that 69% of adults and 76% of kids are « still starting their viewing journey via TV channels? »
Of course, this doesn't mean we're not experiencing a major shift: broadcasters are now constantly adapting their content to this ever-evolving context, with various strategies. The first – and most obvious one – is to attract online talent: « some of the biggest names on YouTube are developing pilots, shooting sitcoms, and prepping to host talk shows » on network TV, New Media Rockstars notes.
Content is king: if the video creators themselves can't be hired, then it is in broadcasters' interest to focus on one of the past years' most successful IPs worldwide – the BBC itself is working on a drama based on video game Grand Theft Auto, The Independent reports. The third option? Buying out creative production companies: ITV just acquired The Voice creator Talpa for up to $1.17 Billion, according to Variety. Not to mention the possibility of exporting formats: Sohu will soon launch its own version of Saturday Night Live, Variety further writes (this specifically will be a hot topic at MIPFormats this April!)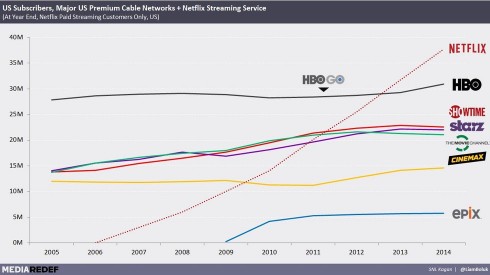 Subscribers to major US cable networks… and Netflix. Source: Media Redefined
Last but not least, digital broadcasting is getting attention from all sides, and notably from major content providers now ready to launch their offers for cord-cutters. Will HBO – which just partnered with Apple for this new phase in its business model – be successful in this economically perilous transition? Its cable-free streaming has at least a name and a price; HBO Now will cost $15 a month and be launched « in time for the fifth-season premiere of Game of Thrones, » according to Quartz. To find out more about HBO's struggle with Netflix, read Media Redefined's thorough analysis.
Again, if distribution is queen, content remains king. The next step in content promotion? Blurred lines between fiction and reality, as HBO's programmation itself seems to suggest. Realscreen explains that one of the channel's latest docuseries, Jinx – about a real estate heir accused of murder – was aired a few days ago, and the murderer arrested in real life… right before the finale! MIPTV will feature a special session with the series' director and producer Andrew Jarecki – don't miss it!
Discover more TV industry knowledge on our TV Biz News page, where the hottest business developments are curated by the MIP Markets team, via scoop.it… And see you at the MIP Digital Fronts in April to witness the latest innovations in the digital content marketplace!
Top photo: YouTube star Grace Helbig, who now has her own show on E!