This afternoon a collection of great minds from Twitter joined to hit us with stats, dazzle us with case studies and demonstrate why Twitter may well be one of the better things to happen to TV since the captive living-room audience.
Twitter was recently awarded an Emmy for "for fundamentally changing the way we watched TV". And according to Fred Graver, Twitter TV's creative lead (photo), "That Emmy we got is going to be shared with all of you."
He elaborated on our need for this promise by reflecting, "I remember when TV was special. Now we're in a world where everything we do appears on hundreds of channels and our work is called 'content'."
There's one key to clearing that clutter away and cutting straight to your fans. "Twitter is the heartbeat, the nervous system, the pulse of the audience," Graver said.
That's all to your benefit. "We make better TV now than we ever have before," Graver said. "Of course, the audience will react without Twitter. But with Twitter, you get twice the emotional connection than without. It's the answer to your question about how to seal a deeper bond with the audience."
There are four reasons for this:
1. Twitter is live. There's no distance between when a tweet is created and consumed.
2. It's public. "There's no algorithm, no Edgerank, nothing to keep your tweet from reaching everyone" right away, Graver said.
3. It's conversational. Twitter is a kind of global town square: "The audience takes your show and they make it their own," said Graver.
4. It's distributed. Twitter can live anywhere, spreading conversation about you to other media, permeating the entire culture. When you turn on the TV and a couple of hosts are talking about a show, "they don't just talk about the show, they talk about the conversation on Twitter!" Graver pointed out.
These claims can be backed with plenty of data, which Graver and the team came packing. Twitter.com processes 500m tweets a day, or 60K tweets a second. 95% of the public TV conversation online takes place there, and — great news for broadcasters — 70% of tweets created and consumed happen during the broadcast window.
"Getting content out in this window is your business, and our business," Graver said.
Twitter UK's head of broadcast partnerships Dan Biddle took the stage next, reiterating a point we've heard made several times: That Twitter "is the water cooler conversation that won't wait until tomorrow."
The question is, how do you make the second screen as important to your brand as the first screen? According to Biddle, the trick is to "get an asset, a video, a picture, a clip, just a great line — and tweet it out." Score that moment people wish they'd captured.
And Twitter actually has tools to help you do this with great ease. Marie Sornin, who leads the international Twitter Amplify team, explained how Amplify works in helping capture these zeitgeist moments.
WATCH: New Twitter Amplify product video – what it is and how it works in less than 90 seconds. https://t.co/A34qmDGAaa

— Twitter Amplify (@TwitterAmplify) September 30, 2014
How it works: You've got a show on. A big moment happens (think the Red Wedding from Game of Thrones) and people on Twitter go bananas—a measurable conversational spike that Twitter can easily keep track of.
With Amplify, you can too!
During these moments of great uproar, you—the content owner—can take that piece of content in any form (a video clip, GIF, Vine or image) and push it to audiences most receptive to that message.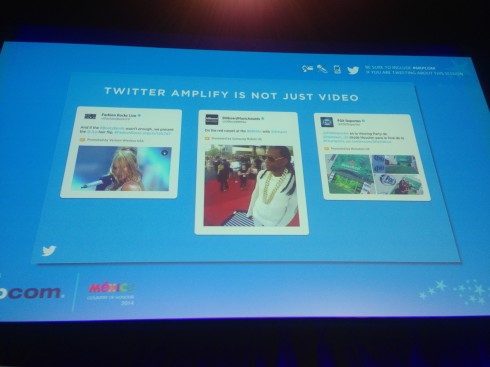 To amplify it, a related sponsor can jump on-board. In one example we were shown, a piece of content from reality show Top Chef Canada was "amplified" by Hellmann's, a mayonnaise company.
The benefit of this is that people get closer to moments they love, and you can take advantage of big moments before they're gone forever, enabling you to strengthen your audience bonds through the episode, or even the season.
The Twitter Amplify dashboard even lets you capture live content via Satellite feed, IP feed and livestreams in real-time.
In short, Amplify represents "a true partnership between Twitter, content owners and advertisers," said Sornin. You create content; Twitter enables you to extend its distribution and make money.
Amplify is now in 10 different countries. "We collaborate with over 100 different content partners, and over 95 different brand sponsors."
She wrapped with a quote from Ariel Elazar, the SVP-digital distribution and brand licensing at Dick Clark Productions, who memorably said that before Amplify, "there wasn't an orchestrated way to cover content creation, production, media and distribution."
"Work with us so in the coming years, the best examples we see from Twitter Amplify actually come from TV content," Sornin said.
Another great upcoming tool is Twitter TV ratings. First announced at MIP by Twitter's former head of media, Chloe Sladden, in 2012, and developed in partnership with Nielsen, TV Ratings will expand internationally, beginning with Italy this year. The project is no small feat, since analytics reflect that Twitter drives live ratings but also keeps viewers tuned-in longer:
According to Twitter researcher Anjali Midha, US viewers watching only TV will tune out 17% of the time. Add mobile activity to that TV-watching, and they'll tune out 13% of the time. But people using Twitter while watching TV only tune out 8% of the time.
Live moments especially benefit from Twitter. During the World Cup, Brazil witnessed a 37% decrease in traditional digital ad impressions. At the same time, there was a +33% uplift in tweets, and an +85% increase in impressions. In total, 672 million Tweets were sent in relation to the World Cup, the highest figure Twitter has ever been able to associate with an event as it happened.
Shows like Scandal also use Twitter to keep people engaged during cliff-hangers or unexpected moments, using hashtags like #WhattheHuck and #WhoShotFitz to keep the drama going online. The actors also join in the livetweeting, to the benefit of the show as a whole: 61% of people prefer show-related tweets coming from an actor or cast member, versus 46% who prefer their friends and family, 35% who prefer the official show handle, and 24% who like reading tweets from the judges or host.
Overall, 66% of people prefer seeing TV tweets from official show accounts.
Overall, celebrities and cast members are the most influential ambassadors of your content and converation. "Variety published an article saying actors tweeting are TV's greatest asset," Graver observed.
Crucially, "earned TV impressions drive action at scale," Midha went on. 90% of users have taken action after seeing TV mentions in tweets:
– 78% take action on Twitter
– 77% take action to watch the show
– 46% engage with the brand offline (ex. in a purchase)
"Twitter was not invented as a second-streen app," Graver said. "Yet every night people open it up to look for you.
Twitter and TV gives you a unique way for you to find your audience," and to increase engagement around shows. That bond lasts during the episode, between episodes, or for whole seasons. "And if you're talent, it can last your entire career," he added.
Biddle, perhaps, made Twitter's point the most succinctly when he looked out into a captive audience of content creators and broadcasters and said, "The first screen—the television—is only the first screen for one hour a week. Twitter is the channel you are always on."
In keeping with the real-time spirit that's made Twitter what it is today, Graver wrapped up by taking a selfie onstage… while audience members waved, engaging in live-action TV history.
Packed house and more waiting outside. Thanks to #MIPCOM2014 and the #TwitterGlobalTV team. #TVxTwitter pic.twitter.com/7ljvd3VgPT

— Twitter TV (@twittertv) October 13, 2014