Are we really living in a « golden age of television »? As MIPCOM 2014 showed, there's never been as much TV content out there; a strong sign of vitality for an industry now constantly disrupted by tech giants and new viewing habits. Including this edition's Country of Honour, Mexico, where « the content industry is the most value-added industry, » as Grupo Televisa's Emilio Azcarraga Jean put it in Cannes.
But what can producers, distributors and broadcasters learn from this fast-changing landscape where everyone wants to be part of the next « big thing »? Or is the very concept of a « big thing » something that now belongs to the past?
One of The WIT's MIPCOM Fresh TV sessions, presented by Virginia Mouseler, highlighted the current trends in fiction. It seems that most hot shows now revolve around mystery themes, such as supernatural events — as in BBC Worldwide's The Refugees — or characters lost in strange communities, as in Fox International Channels' Wayward Pines, for instance. The latter, directed by M. Night Shyamalan, illustrates a key trend: TV as never been closer to film, in terms of talent. The reason? « The type of storytelling that you can do on television has changed: it's fundamentally the reason why we've all migrated, » Shyamalan told our News Feed crew. His opinion was shared by many of MIPCOM' biggest names – watch them here:
But what about factual and game shows? In her biggest MIPCOM session, The WIT's Mouseler revealed what some of the hottest TV formats currently on the international market are; and it looks like the limits of what's allowed on TV have been pushed again. Would you watch 12 celebrities competing to be elected the best pole dancer? That's exactly what Celebrity Pole Dancing (below) is about. Another buzzy format presented at MIPCOM was Man vs. Fly, an online show for UK newspaper The Sun, which sees a man and a fly placed in a padded cell, with the former being given one minute to kill the latter. Not to mention Keep Your Dog Alive, a game show that will allow its winners to clone their dogs!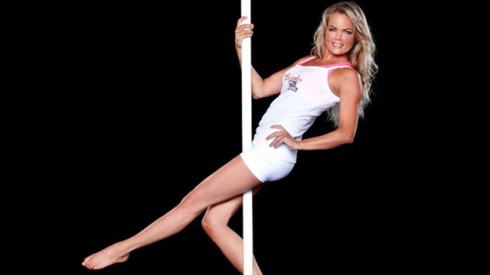 No more boundaries: is this the price to pay to give birth to the next big thing? According to MIPCOM's Personality of the Year Simon Cowell, competitive shows are now all fighting to catch viewers' attention, regardless of their « genre » (singing, talent, cooking, survival, etc.). During his keynote, he pointed out that this overabundance of game shows can actually become a threat: "Too many shows will kill the market, » Cowell said, further deploring that « it's all about gimmicks » at the moment.
21 Century Fox' co-COO James Murdoch, too, warned TV execs about this ever-increasing competition: « If you make a TV show today, you're competing with every single TV show that's ever been made before," he said. Indeed, access to content has never been easier, which means that « everything is available that was ever made, to everyone everywhere. » Alluding to the SVOD battles that are already shaking the whole TV business, he noted that « we see an explosion in competition of the over-the-top business, whether they be a Sky Go or an Amazon or Netflix. » Interestingly enough, in his opinion, « it's not going to be about everything being totally atomised, à la carte, » just because « customers generally like bundling. »
More quality content, more ways than ever to access it: but is it still possible to draw big audiences to this content? Absolutely, affirmed Netflix's chief content officer Ted Sarandos (watch his keynote above): "(Netflix is) a destination for your ability to choose, and for your ability to enjoy it on your own timetable. We're not a narrow-demographic programmer… we are programming for the world."
This rule applies to local productions as well: Netflix, freshly arrived in France, has just commissioned a local show, Marseille. The platform has also already found large audiences for existing French content around the world.
As such, it's now likely that in the near future, shows without a strong international potential simply won't get produced. In his keynote, Lionsgate TV's chairman Kevin Beggs explained that "certain shows we can't really get behind, because the international won't be there, » quoting Orange Is the New Black as a counter-example.
According to most key players present at MIPCOM this year, two issues are still to be tackled though, and they're closely connected: windowing and piracy. Sony Pictures Television's president Steve Mosko made his point quite clear: digital is making TV business better, as it increases the number of platforms and buyers TV studios can have all around the world. But it's also making it a dangerous one: "If we don't do anything about piracy, our business won't be worth less: it will be worthless, » he warned.
The solution, he said, is both simple in theory and challenging in reality: "The sooner you make it available in markets as close to the US airing as possible, the more you'll deter the pirates. » In James Murdoch's slightly different opinion, the way windowing works will undoubtedly evolve, but it « will survive ultimately. » In any case, making it more flexible and delivering shows to people more quickly seems to be the key… except in China, where the piracy issue « is solved, » according to content platform Sohu.com's founder Charles Zhang, thanks to a major public awareness campaign and government action!
Any advice for producers lost in this tumultuous ocean of content, platforms, and copyrights? Morgan Spurlock had a few, inspired by his career in non-fictional storytelling. But M Night Shyamalan was perhaps even more direct, warning everyone against « the collision of art and commerce » that encourages producers to adapt pre-existing IPs into shows for strictly financial reasons. « That's commerce leading art to make that. That's when things start to become soulless, and we're either going to be unsuccessful in a creative way, or in a creative and a financial way. »
Now that you know what to do to stay ahead of the curve, see you at MIPTV next April!
Top photo: Orange is the New Black (© Netflix)