For the third consecutive year, MIPCOM 2014 hosted today's Women in Global Entertainment Power Lunch, in partnership with Lifetime Networks.
Reed MIDEM TV division director Laurine Garaude started the session with a few words, stressing her pride at bringing together the most influential women in TV. On this, MIPCOM's 30th anniversary, she noted "lots of progress has been made" in three decades, but also that there is still "lots to be done" in terms of female media industry representation.
Disney/ABC Television Group's Anne Sweeney also said a few words, pointing out that todayn more women than ever before have the privilege to work in TV. She notably cited Shonda Rhimes (the showrunner behind Grey's Anatomy and, more recently, How to Get Away With Murder) as an example. "This is how I want women to be judged," she further explained: "not by our gender, but by our ability to create memorable moments for our audiences."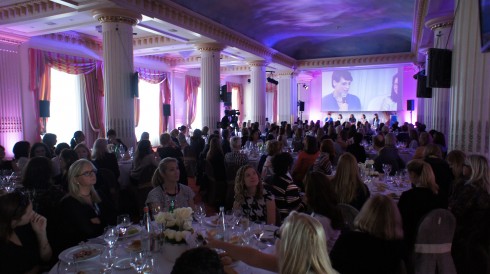 There then followed a panel moderated by The Hollywood Reporter's Stacey Wilson and featuring Mo Abudu (EbonyLife TV), Jana Bennett (A+E Networks), Erin McPherson (Maker Studios) and Kelli Lee (ABC).
The panel started with A+E's Jana Bennett, who took a look back on her experience: "I started off wanting to be a journalist, inspired by Watergate, then realised entertainment is another way of cutting through." Furthermore, she said, "at MIP, you realise you can match your passions with those of someone else."
Mo Abudu had a quite different story: everything she did was, for a large part, dictated by the need to "tell the African woman's story that has always been deep down" inside her. She once asked Hillary Clinton how she could change stereotypes about Africa, and African women inparticular. Clinton answered that Abudu needed to create a platform, she explained. "So I just went in there blindly, guided by passion. We've created amazing content; often people can't believe it's made in Africa!" Abudu is now working on Desperate Housewives Africa: she's taken the original show and given it an African twist. It's expected to launch in February next year. At EbonyLife TV, "all our various heads — of scripted, for example — are women," she insisted. "All, except the head of accounting!"
Maker Studios' Erin McPherson agreed on the importance of passion: "I'm a poster child for following your bliss," she said. "I love being on this side of the business, sourcing stories from the vast creator community. 70% of audience are millennials. Our network is an opportunity for everyone to get their voice heard, including women," she said, citing Maker Studios founder Lisa Donovan, and the fact that the network has seen women impose themselves "even in male-dominated domains like gaming."
For Disney/ABC's Keli Lee, as career paths go, "entertainment is not an option for immigrant families" like hers; "it's either doctor or lawyer," she said. "But I made friends with comedians like Louie CK working as a hostess at (New York comedy club) Carolines. I was 13. Then ended up filming and reading with actors!" Now, after 22 years at Disney/ABC, Lee's priority has become redressing the balance on TV. "Once you're an adult, you discover lack of diverse talent on air. How do we fix this?" By obtaining starring roles for artists such as Sandra Oh (Grey's Anatomy) or Naveen Andrews (Lost). "Today, we're really proud of our success," said Lee.