Above: Viacom's Maslow-style hierarchy of needs, showing the prevalence of TV as the primary screen in the home, followed by mobile options, then laptops or desktops.
Christian Kurz, VP, research & insights, Viacom International Media Networks, kicked off this morning's session, beginning with a few stats on millennials, the « disruptor generation« , with an annual update Viacom's update on Millennials which covers global audiences.
Viacom's brands reach across 200+ channels, 170+ countries, and 37 languages.
« Research drives reinvention for us, » said Kurz, calling Viacom a « glocal business » — a mix of local and global. The project scope comprised 14 countries and 10.500 respondents, aged 6-34.
Two big insights to start with:
– TV is stronger than ever, and is increasingly seen as more « legitimate, innovative and prolific, » Kurz beamed.
– 63% of viewers believe TV has never been this good. And 54% say TV today plays a bigger role in their lives.
« It's come to represent a friend, a parent, » said Kurz. « It's family time, it's a companion, a window to engage with the world. »
But a layer of engagement really makes the difference, and Viacom is frequently among the top 10 tweeted-about TV shows in the US, Kurz said.
Viacom's shows are « really social to begin with, » he added. The MTV Video Music Awards, for example, was the biggest social TV event of the summer, with 12.6m tweets and 259 trending topics.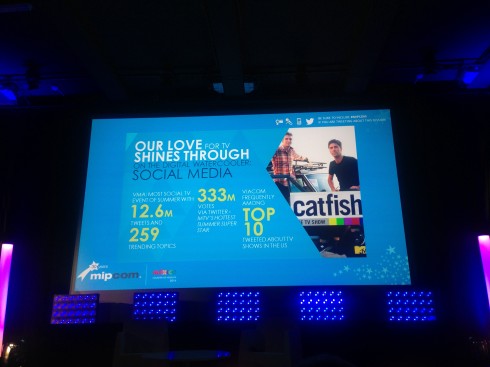 Another key observation: « The television set remains king ». Per Viacom, TV remains the preferred screen at home, followed by tablets or smartphones if they are available. Only after comes laptop or desktop use.
Which means non-linear TV is complementing, not replacing, TV viewing. 74% of all people watch linear TV daily. Of those who have « connected » TVs, the number jumps to 81%.
Indeed, far from destroying the dominance of linear TV, what viewers are actually doing is « better defining » its role in their « viewing portfolios, » said Kurz.
In short, linear TV is more « we », and non-linear TV is more « me »: Linear is about building relationships around the content you're watching together. Non-linear is more personal, flexible, portable and immersive—it's the difference between watching Dora the Explorer on TV with your mum versus playing the Dora game on an app by yourself.
Final observation: Millennials were born to adapt. In 2 years, online use of tablets  increased by 74%. Connected TVs rose to 94% and weekly use of online video services to consumer TV shows rose to 83%.
This means they use technology, bending and shaping it to their will, to extract the most from the content they've always loved. Per Viacom, 72% « don't care what screen or source » they're using as long as they can watch their shows, and 66% « have a different go-to device/source for different programmes ».
« It's about adapting. Not everything is equal, » Kurz concluded.