For a pair of 65 year-olds, Charlie Brown and Snoopy are certainly ageing well. The pair are celebrating Peanuts' latest anniversary with a brand new TV series, which was the focus for this morning's MIPJunior keynote.
It saw Julien Borde (second from left below), executive director at France Télévisions; Kim Towner, SVP – Media at Peanuts Worldwide and Alexis Lavillat, producer at Normaal Animation (right) discussing the project, and the enduring love for the Peanuts characters. The session was moderated by author and consultant Christopher Erbes (far left).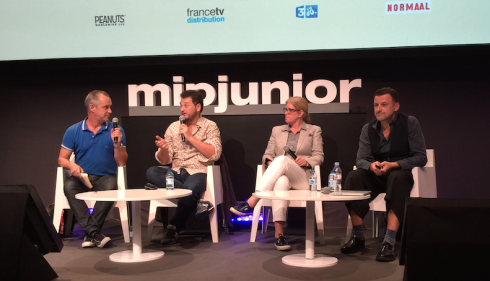 Borde talked about the background to the new show, which the broadcaster has been pursuing for several years. Why? "It's family, and I think family-oriented programming today is very important for television," he said, before highlighting Peanuts' flexibility, taking in shortform videos to other kinds of content.
The first episode of new Peanuts is being shown at MIPJunior, before a rollout of content over the coming weeks, including an official YouTube channel, to prepare fans for the big debut. The new show has already been sold in 10 territories, added Erbes.
"This is a big year for us. This series is kicking off a really important year," said Towner, talking about the A Charlie Brown Christmas show, which is also celebrating its 50th anniversary. "It continues to be really iconic," she said. Peanuts has also restored its entire library to 4K quality for modern viewers, airing in the first time on ABC in the US this December.
2015 will also see the premiere of Peanuts: The Movie, a CGI animation film with a development budget of $100m, and plans for a further $100m of marketing around the world. "The texture of Snoopy's fur is just really… you just wanna hug him!" she said.
Digital will also play a role: the company is signing a deal with an as-yet undisclosed games company, to build on the 15m downloads of Peanuts' existing apps. Towner talked more stats: Peanuts does "one billion social media impressions each year" adding 100,000 new fans and followers on social networks each week.
Lavillat talked about the TV show, which his studio is developing, showing clips of the new show, noting that "the whole world knows Snoopy, and the whole world loves Snoopy… the that's why lots of people just say 'Snoopy' when they talk about Peanuts". But he stressed that Peanuts is very much about its entire cast of characters, from Charlie Brown and Lucy to Woodstock and Pig-Pen.
"We are having the time of our lives producing this programme," he added. "We are overjoyed to be able to add our little brick to the monument, and to share our joy in doing this with you." And it's a global phenomenon: Towner talked about its popularity in Japan, China, Germany and other countries, as well as its homeland of the US, and France, where the new series is being produced.
What is Peanuts' strategy regarding apps as the new show and film make their debuts? "At the moment most of the apps are games for kids, but we do have a very diverse audience," she said. "We have a lot of niche demographics that we have to super-serve, like comics fans, so we have a lot of online digital comic books. But we're going to do an aggressive push in the lead-up to the film, so it'll be very diverse."
Catch this and more full conference videos on our YouTube channel, now!
Top photo via Sarah Hemar