Above: Karla Geci, head of media partnerships, EMEA, Facebook; below, the whole team: Geci; Will Guyatt, EMEA head of communications, Instagram; Vanessa Bakewell, head of entertainment, EMEA, Facebook; and Glenn Miller, head of sports and entertainment partnerships, EMEA, Facebook.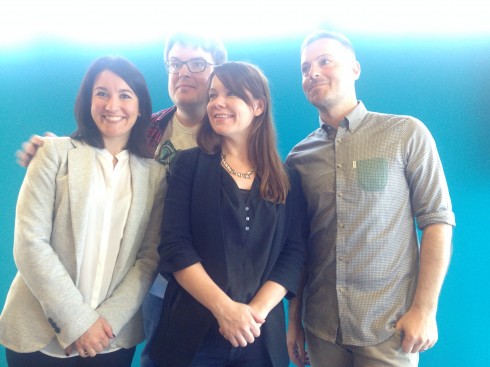 If the prospect of optimising your social TV presence on Facebook both intrigues and terrifies you, you're in luck: This morning a bevy of experts in both Facebook and Instagram spent two and a half full hours, sprinkling secrets to success.
Optimising Facebook content
"We started our life on the desktop, and had to pivot just like you had to pivot," began Karla Geci, who led this portion of the presentation.
Mobile grew faster than even Facebook anticipated; today, 50% of its daily activity is on mobile, Geci said.
An eMarketer report finds that people "spend 3 hours and 41 minutes with digital devices, specifically mobile"—the average person checks her phone 14 times a day. Indeed, 79% of people have their phone near them for all but 2 hours of their waking day.
To highlight this, she directed us to read a recent study Facebook helped conduct, where teenagers wore GoPros and the frequency with which they checked their phones was checked throughout a 24-hour period.
Smartphone use is consistent throughout the day, "compared with the peaks you see with TV," said Geci, meaning "primetime is all the time on mobile." Broadcasters have a bigger opportunity to produce consistent, relevant experiences that carry over from airtime.
"Use FB to create a more even experience" between showtimes, she advised.
Here are a few handy tools to help you make the most of your Facebook experience:
New APIs.
There are six, which include Trends—providing real-time access to local trends; Topic Insights; a Topic Feed; the Hashtag Counter; Topic Search; and Public Feed.
Graph Search
Facebook's search functionality is good for finding not just people but things. A search for the hashtag #Xfactor will yield all recent posts that mention it.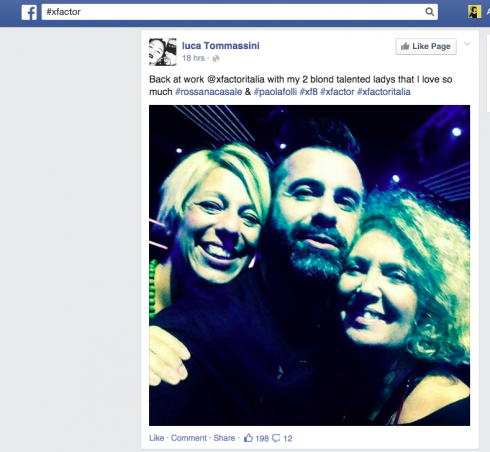 Page Q& As
"Things like Q& A are an incredibly powerful tactic" for building buzz. "You create a groundswell of activity on your page, and future posts recognise that groundswell."
Geci cited this as a good way for pages just starting out to boost engagement organically so that Facebook's algorithm takes that into account for future posts.
When Enrique Iglesias goes on tour, he commits to a Q& A, she added. "Whether it's five minutes, 15 minutes, an hour, it's kind of addictive."
The Question tool
This provides the ability to run a poll on your page. "This used to exist on Facebook, but went away," said Geci. "We're working on it more. On your phone, this is going to be killer."
Here are a few more rules to live by when creating relevant content:
1. Reward your audience with exclusive content. These can be behind-the-scenes images, or Q& A's with actors. Geci also recommends uploading content directly to Facebook. The soft auto-play feature on Facebook videos drives up your click-through rate.
2. Use large, clear images. On social, an image can be everything. But content "doesn't have to be high-quality; we often see backstage-type photos," said Geci, using the example of Strictly Come Dancing's behind-the-scenes imagery on Instagram. "It feels exclusive to me, because unless you were backstage, you're not going to have those experiences."
3. Be conversational. "You're competing with friend and family content in the newsfeed, so be colloquial in how you speak," said Geci.
4. Start conversations by asking questions. "Are they second-screening about your programme, or are they grocery-shopping?" asked Geci. "You have to give people something to do, a call to action."
5. Target posts to get your message to the right people. Facebook's packed with handy data you can use to ensure your post gets to the relevant audience, like lovers of your TV show, and its key actors, who are also of a certain age, and live in a certain area. "Facebook's full and rich with this. We're a platform with real identity, real people," said Geci, who added that their inclusion of anonymised aggregation of chatter can be great for live events like voting panels or even elections. "All of that data helps with the storytelling process."
Geci added, "The measure of success on Facebook is based on levels of engagement," Geci said. "You can have beautiful content, but if it doesn't encourage me to like, share or comment, it's not going to be measured as successful. We have to change the way we think about creating content on this platform."
If you need more details, Facebook's created a special platform for the television industry. Find it on media.fb.com.
Glenn Miller followed Geci to talk about how to bring more entertainment to Facebook pages.
"At the centre of your show is the the cast," he began, saying that "talent becomes part of the fan's family." Because of this, "talent can be a show's greatest asset." With this in mind, you shouldn't be afraid of asking talent for help; they're trying to grow their brand, too, and want your show to succeed.
One great way of doing this is through the Mentions app, now available on iOS devices and tailored exclusively to talent and influencers. Features of the app include the ability to see all public mentions, trending topics, highlighted content, and Q&As.
"It's everyone from YouTubes, to teen heartthrobs, to legends like Mariah Carey. Reality TV has been a big supporter of this; they realised this is their window to grow, and they want to maximise the small window they have while the show's on air," said Miller.
One fun use of Mentions is comment-bombing, which is when a star finds people talking about them, usually not-so-nicely, then randomly jumps into the conversation. Whoopi Goldberg and Ricky Gervais have done this, and it helps both humanise them and endear them to people who don't necessarily think of them as accessible.
Q& As are also great tools: "One of the great things about them is you don't have to reply from your page account to answer. Simon Cowell can be logged into his Facebook page but answer the questions in-line on the actual show's page," Miller said.
There are also ways to bring the press junket to Facebook—personalising promotions in a way that feels more real without forcing stars to dress up and trot down a red carpet:
First looks are what Facebook calls teasers, which can be videos or images. (You can have a first look at a star's costume for an upcoming film, for example, in a context that feels friendly and personal.)
#Dayinthelife is also a popular hashtag with talent. It's when they post photos that depict their everyday, tagged #dayinthelife.
Page takeovers are a way of making your page voice more dynamic. "Talent can come in, take it over from an editorial standbpoint, give it a new voice and get their fans to come over," said Miller, pointing to how Kermit took over the Muppets Facebook page in one instance.
Many of these trends, like #Dayinthelife or takeovers, can also carry over into Instagram. For example, magazines invite stars to spend a day in an interesting location, then post Instagram photos on the brands' accounts, but using their own perspective and their own voice.
"Let them take your fans on a journey," Miller concluded.
Vanessa Bakewell followed to elaborate more on the importance of optimising for mobile when producing content for Facebook.
"Mobile will soon become the biggest media there is," she said. "The last time this happened was 65 years ago, when TV overtook radio."
She encouraged people to think about how content will look from a mobile perspective: Text must be concise and images properly-sized. Video is also a great way to optimise for mobile: "You're gonna see more impact," Bakewell said, "it takes up the whole screen."
Video also attracts more reach. "There's never been a better time to invest in video from an organic and paid perspective," she said, adding that 65% of video views happen on mobile.
Personal relevant marketing is also a trend she briefly discussed. Facebook "is the only place on the internet where you log in as your real self, so you should always bring your authenticity with you," Bakewell advised.
It's crucial to define your brand voice before leaping in. "Have a personality, understand what you stand for," said Bakewell. "What are the five things you are when you post on the page? You can't just be erratic; you're competing with friends and family. Your real life is there on your personal newspaper so fans expect the same authenticity" from your entertainment.
She advised people to imagine whether their posts would still be recognised if the logo were removed. In general, it's always a good idea to think like the user, which is why she also promoted the importance of thinking about the Newsfeed.
"1 in 5 of every Facebook minute is spent on Newsfeed," Bakewell said. "That's why we don't necessarily love apps—because people don't go to the page, it's not a natural behaviour. We go to our pages because we want to see what we look like to the world"—but others don't.
Finally she addressed the topic of declining organic reach, which has become a point of contention in the last year as brands see less and less visibility if they're not sponsoring posts.
"Each user has over 1500 pieces of content eligible for their newsfeed when they sign on, but only about 300 are shown," said Bakewell. "4.5 billion pieces of content are shared daily, and it'll double next year."
Comparing generic content to the inexplicable popularity of The Love Boat in the 1970s, she said, "You can't just do what's good enough for everybody anymore."
"In this sea of content, what differentiates you? Is it beautiful images, short-form content? Complete understanding of audience? If you took away the logo could you still be recognised?" she said.
She encouraged attendees to post less if it means more quality. And if a piece of content has high engagement with fans, "to not put an investment behind that is like building a great ad but not buying TV spots." To help you maximise your investment, she also mentioned Custom Audiences, a tool that lets you upload your email database to Facebook and target the people listed there.
Will Guyatt spoke last to give us the breakdown on Instagram. His European team is six people strong, but generates 30% of overall Instagram traffic in terms of monthly unique users. A few facts on Instagram:
1. Its most popular demographic is 18-34-year-olds.
2. There are 200m monthly active users, of which 65% are international.
3. Instagram publishes 60m average posts per day, and processes 1.6b likes per day.
4. People spend an average of 6 hours per month on Instagram (nestled nicely between Pinterest's 4.5 hours per month and Facebook's whopping 18.5).
His helpful tips and facts follow below:
WHEN PUBLISHING
1. Find your voice; have a content strategy. "Orange is the New Black have pioneered a fantastic account," said Guyatt. "You see the stars in everyday life, behind the scenes content, and other stuff they do, like charity events." In general, all brands that do well, from @espn to the @todayshow tend to reflect a sense of humour and a strong personality.
Wear Orange and upload a photo with #OnWednesdaysWeWearOrange tomorrow. Wearing Orange never felt so good.
2. Tap into existing movements, like #TBT (throwback Thursday) or #FromwhereIstand. Stars also take part; it's unifying and shows that a brand, like a human being, can take a side or have a nostalgic past.
3. Be part of the community. "Don't just broadcast," Guyatt advised. "Comment, interact, and like."
4. Consider using 15-second videos and hyperlapse.
WHEN SOURCING CONTENT — a few things to remember.
1. Users keep copyright and ownership of content, so get expert legal advice if you plan to use content of theirs.
2. Always credit the user by their @[USERNAME] when citing them, using their content or using content inspired by them.
3. Do not alter anyone's images—republish as posted. And always ask for permission first.
THREE BIG TIPS FOR THE ROAD.
1. Community first. To succeed on Instagram, or anywhere on social, this is important to remember—so important that it's part of the company's DNA. "The first hire made was a community manager," said Guyatt.
2. Inspire creativity. "With our tools, anybody can produce a good picture on Instagram," Guyatt said.
3. Focus on everyday people, not just stars. "Behind the celebrities and other things, there are really interesting stories about people and their lives," said Guyatt, who pointed to a few international accounts whose images tell rich stories about their lands and about themselves:
Снял серию фотографий специально для @spaseebo_ru и JPlus. В течение недели они будут публиковать то, что у меня вышло, не пропустите.☝
"There are so many interesting people you can tap into," Guyatt went on. "They're always really keen to capture moments, and tell stories in their local areas."
Before signing off, he said Instagram would work harder to improve its discovery platform and make it easier for marketers to work on it, to the relieved sighs of the crowd. "The discovery platform has to improve greatly," he admitted. "We were developed for mobile use, but I know everyone in this room wouldn't want to sit at the office trying to use it as a platform. We're looking at how to bridge that gap."