What words could better sum up the latest evolutions in the TV industry than impressive « conquests » and massive « acquisitions »? Over time, it becomes clear that media empires are increasingly built in dangerous ways, via risky mergers and extensions to new territories, geographical or digital. The problem remains the same, though: is the target — be it a company or a country — ready for the tremendous cultural changes they imply? Is there any other alternative but to buy, or be bought, when it comes to expanding one's TV business?
The case of Netflix is worth analysing as the SVOD company just launched in several European countries, including France and Germany, as Gigaom and The Next Web respectively report. The company may already have over 50 million subscribers in more than 40 countries, this impressive expansion proves that it needs this subscriber growth more than ever before, according to The Hollywood Reporter: « industry watchers say further international market launches will be a key growth driver for the company in the years ahead. » However, « many predict the investment in international expansion will mean continued losses for Netflix's international business. » Expect more insight from MIPCOM keynote, CCO Ted Sarandos…
On a broader scale, the continued expansion of SVOD companies such as Netflix and Amazon – who just launched its Fire TV video streaming box in the UK and Germany, as Gigaom reports – should be seen as the sign of their new, pivotal role, in the entertainment industry as a whole. Indeed, as « streaming catches up with linear TV consumption while viewers seek more ad-free environments » – according to The Drum – accessing content digitally becomes key for consumers. Even major cable players HBO and Showtime, who were not supposed to compete with streaming services just a few months ago, may now launch their own online services, says Deadline Hollywood! Is linear, traditional TV « increasingly for the old », and internet definitely « for the young », as new research by media analyst Michael Nathanson, quoted by The Washington Post, shows?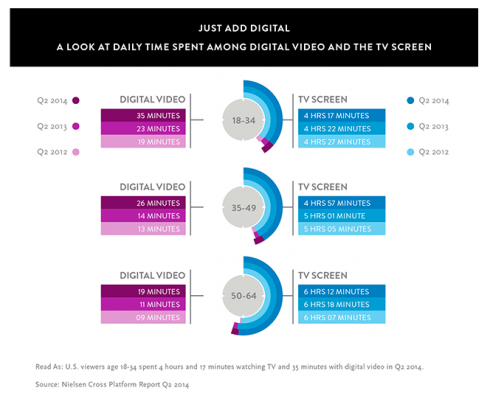 The shift seems unstoppable: youth are deserting TV in the UK as well, says industry analyst Claire Enders in Campaign. Nielsen analysts are driven to the same conclusion, VideoInk notes: « while viewers are watching more video content every day, their method of viewing has shifted considerably », as « daily viewing of video on digital devices has doubled for both 35- to 49-year-olds and 50- to 64-year-olds in the last two years » (see their chart above). And distribution is just the beginning of these digital revolutions: in the end, for online players, it's all about « investing heavily in original programming » and become major Hollywood studios. For instance, the LA Times points out that, with 14 television pilots greenlighted last year, « Amazon is a rising star in Hollywood », and it's just the tip of the iceberg:
« Web-based TV production in Los Angeles has surged 353% from 2008 to 2013, according to a report by FilmL.A. Inc., which tracks film permits for the city and county. Web-based shows now account for as many production days in L.A. as sitcoms. »
As we analysed in a previous Web Review, the already existing media empires are buying many of these digital invaders out, little by little. In 2014, the safest way to not be abruptly disrupted remains acquiring your competitors. This was proven true once again in the past few weeks, as Amazon bought Twitch – a platform for broadcasting videogame sessions – for more than $1 billion, Re/code reports; and Microsoft purchased videogaming platform Minecraft for $2.5 billion, writes Forbes (watch GameSpot's video analysis below). As long as large media groups try to reach younger audiences and position themselves on non-traditional programming, more massive acquisitions are to be expected in the near future.
From a financial point of view, focusing on online video makes total sense: views for the top 100 YouTube channels have grown 80% in a year, The Guardian reveals, confirming the Google-owned platform's role as a « Hit Factory » (Bloomberg). Not to mention Twitter's video platform Vine, where Britain's social media stars now make £2,000/€2,500 a second, according to The Telegraph!
These evolutions reflect the ever-increasing importance of social media in a TV landscape where audiences have – more than ever – a major role to play, be it by live-tweeting a show, sharing extracts on YouTube or commenting on Facebook. Interestingly enough — and contrary to some misconceptions — « social media makes people more likely to watch linear TV, with a third commenting on Facebook and Twitter », The Drum notes.
So, what's next? As short videos and video sharing become pivotal, the space now occupied by players like YouTube and Vimeo could soon see the arrival of Netflix – who could « allow users to watch a variety of short-form clips of film and TV titles in its catalogue », according to VideoInk – and Facebook, where users « will have the YouTube-like benefit of seeing how many times people have viewed a video, » the same source reports.
Buy or be bought: what if the very lack of other alternative was dictated by the fast-evolving media landscape, where empires can easily collapse at the second they stop paying attention to their disruptors? Don't get us wrong though: this doesn't mean we won't witness the emergence of TV giants anymore. Have a look at Vice Media, whose value is now $2.5 billion after selling a 10-percent stake to Disney and Hearst (Gigaom); or at Apple's top-secret TV products that could soon change the game for everyone (The Drum)!
See you at MIPCOM (13-16 October) to live the latest evolutions of the TV industry from the inside! And be sure to check out our industry news page, curated year-round by the MIP Markets team.
Top photo via Zoomin.TV Games