IHS Technology has analysed emerging video markets in several regions such as Central and Eastern Europe, Middle East and North Africa, and Latin America – not to mention China. They cover 80% of the world population, have growing economies, developing broadband infrastructure, and now represent an opportunity for online video services.
IHS notes that major international services (iTunes, Google Play, and Netflix to some extant, see chart below) have started to establish themselves in these emerging regions. But they also see the launch of local SVOD services, such as Voyo in Central and Eastern Europe, Tivibu in Turkey, and YoukuTudou in China).
Ad-funded services, both international and local, remain strong, but paid-for services in emerging markets are taking hold, with Russia, China, Brazil, Mexico, and Turkey being among the fastest growing emerging markets for paid-for video.
Best practices behind the growth of these successful paid-for services include: attention to local content and regional genre preferences; focus on appropriate connected devices; and experimentation with windowing after theatrical release.
The white paper includes focuses on key territories (Central and Eastern Europe, Russia, Middle East and North Africa, Latin America, China).
To access this exclusive white paper from IHS Screen Digest, click here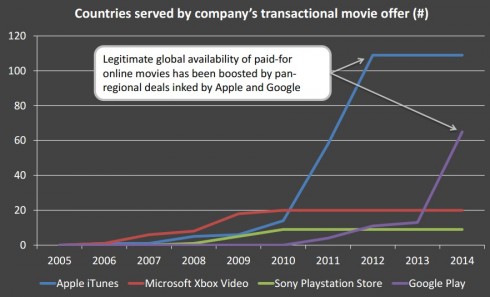 IHS Screen Digest is the largest media-focused research firm in the world with more than 50 analysts covering over 65 global territories.