Do you remember the time when you could only browse between less than a dozen channels on your TV set? Probably not, and there's nothing wrong with that. The TV landscape has been so radically transformed recently that the very idea of limited content belongs to the past. But just how far will this fragmentation go? Are we really bound to see that landscape change again and again? Is change a constant in TV, or an overrated expression to describe evolutions that take place over decades?
TV advertising shows us how paradoxical the situation is. It may indeed be "growing at a diminishing but still unhindered rate", as PandoDaily points out, the current growth in the number of channels has a direct consequence: the fragmentation of TV audiences and of the TV ads market. "Last year there were 189 possible channels at our disposal. In 2008, there were only 129. Despite this, the amount of channels the average person tunes into has remained static at 17", PandoDaily notes, quoting a Nielsen report. Did the internet change anything here?
Covering the 2014 NewFronts – an annual series of events "where new media companies attempt to woo advertisers and producers with their platforms and shows" – The Verge notes that producers, broadcasters and advertisers have no choice but to pay more and more attention to online viewers and organise showcasing events like these. Yet at the same time, innovation isn't necessarily guaranteed: "Video catalogues like these are all about grabbing ad dollars in ways that companies have been doing for years and years and years on TV," notes The Verge. "On occasion, a breakthrough series comes along — House of Cards, for instance — but for the most part, TV on the web is as good as TV on TV."
The Huffington Post goes even further and stresses the ever-increasing number of similarities between the TV ecosystem and the internet one: fragmentation is underway online as well. In other words, "different channels have for years competed for your time in front of the couch each night. Now, different apps — along with even more of those channels — are fighting for precious screen time." The similarity and interdependency between existing networks and "new" players has been confirmed recently by deals such as Amazon's agreement with HBO for its Prime service, or AT&T's $500 million investment with partner The Chernin Group to create a Netflix-like video service. Is the internet doomed to become an online version of cable TV? That wouldn't be much of a transformation…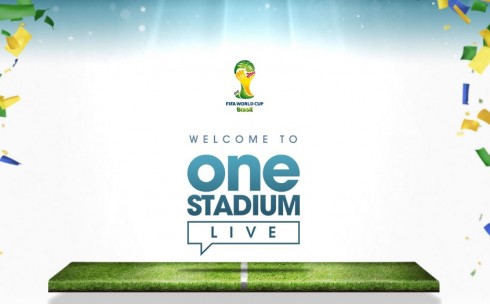 Sony's new social media broadcast channel for the 2014 World Cup
There are still reasons to remain optimistic though: if innovation doesn't come from content producers and distributors, then the audience – and the way it interacts with shows – may be the key change factor in the upcoming years. As Twitter's chief media scientist Deb Roy explained on stage at MIPTV last month, social media platforms like his can already be considered as "the social soundtrack of TV". That said, Twitter has yet to meet its objective of grabbing "a chunk of the massive multi-billion dollar TV advertising budget by making its social network more appealing to TV networks", VentureBeat points out. We may have to wait until after the World Cup — during which initiatives such as Sony's new social media broadcast channel (see photo above) will be in full swing, AdAge reports — to judge Twitter's relevance…
When it comes to ad spending, the expected "change" has yet to come too: online video is still "an untested medium", The Economist writes, pointing out that "television still attracts a broader audience than online video, and advertisers feel they understand it better." In an in-depth article entitled "The Great Unwatched", The New York Times explains that "by many estimates, more than half of online video ads are not seen, either because they are buried low on web pages or run in tiny, easily ignored video players on those pages, or run simultaneously with other ads." That no doubt explains why so many advertisers are still reluctant to spend their resources online – although recent moves, such as AOL's partnership with Nielsen to provide audience ratings for its original online shows, may mark the beginning of a new era, as VentureBeat writes.
The only TV domain already thoroughly transformed by the internet is content distribution: new online platforms keep springing up or going on their own, slowly emancipating themselves from giants distributors. Variety reports that Maker Studios just launched Maker.tv in order to "monetise video off (i.e. without) YouTube", where their shows were previously available.
The very access to content may become an issue in years to come, just because our bandwidth capacities will need some serious improvements. Variety again writes that Netflix "accounted for 34.2% of all downstream usage during primetime hours" in North America in March 2014, with its competitors far behind (see chart below, via Re/code). Variety also noted a new entrant to the bandwidth-consumption rankings: Twitch, the online video game broadcasting platform. Just a few days later, reports emerged the platform was to be bought out by  YouTube, for €1bn, no less. Talk about change…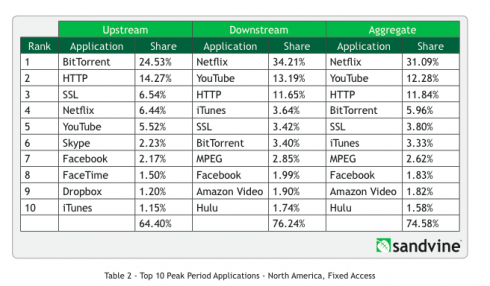 Top 10 Peak Period Applications in North America – Source: Re/code
As content distribution becomes something of a challenge, there is little doubt as to why internet/telecoms giant AT&T is spending $48.5 billion to buy satellite television operator DirecTV: after the Comcast-Warner deal in February, AT&T has now become "the latest telecommunications giant seeking to establish an even greater reach", The New York Times writes.
With so much ongoing change among broadband and cable providers, and so little evolution in the way content is financed and produced, there is at least one thing that will undoubtedly be transformed very soon, according to Businessweek: the price of your pay-TV subscription!
Photo Credit: scyther5 via iStock