In all the discussions about digital disruption at MIPTV this week, one company has loomed large: YouTube. It's creating brand new stars and entertainment networks, yet is also becoming an important platform for established TV producers and broadcasters. Today, a full Grand Auditorium heard from YouTube's global head of entertainment Alex Carloss, in a keynote speech titled "The Power of Choice".
He began by talking about the diverse range of YouTube partners across genres including music, comedy, lifestyle, gaming, sports, news, kids and learning. "Our partners have discovered the value of building a fanbase to supercharge their businesses," he said, striking a distinction between a fanbase and an audience. "An audience tunes in when they're told to, a fanbase chooses when and what to watch," he said. "An audience changes the channel when their show is over. A fanbase shares, it comments, it curates, it creates…"
Carloss talked about some examples, citing the battlefield for US late-night talk shows. Jimmy Fallon, Jimmy Kimmel and Conan O'Brien have "all realised that the size of their audience had peaked," he said. "They've realised they're going to succeed they need to find new audiences, younger audiences who don't necessarily spend their nights watching TV. So they've turned to YouTube."
In mid-February, when Jimmy Fallon took over from Jay Leno as host of the Late Show. 10m tuned in, but the views on YouTube doubled that: 20m views. "In the first two weeks of his show, his channel generated 90m views on YouTube," he explained, showing a clip of Kimmel and Justin Timberlake doing their history of rap sketch. Meanwhile, Conan O'Brien has just reached 500m lifetime views on his YouTube channel.
And Kimmel launched #Kimmel YouTube Film – post-Oscar uploads that mix Hollywood classics with YouTube themes. "Kimmel now has a tribe of over 4m on a channel with over 1bn views," said Carloss. "As a show's views go up on YouTube, so do its TV ratings. YouTube is complementary."
Carloss talked about how Ellen DeGeneres uses YouTube. "Her 8.9 million fans are a huge source of inspiration for the show," he said, before segueing into a video of music/TV mogul Simon Cowell talking about how he sees YouTube's role in the global success of One Direction, Susan Boyle and other artists – including the sage advice to "never disrespect a cat-lover" about Boyle.
He talked about Cowell's You Generation brand, which lives on YouTube, posing monthly challenges for people to submit their videos in a global competition. "Through You Generation Simon Cowell has made the choice to tap into the second way media is being reshaped: fans become talent," said Carloss, before moving on to talk about Disney's movie Frozen, which topped the box-office charts several times in its run.
"One factor was Disney's decision to let fans express their passion on YouTube," he said, referring to covers of the movie's song Let It Go. He cited one video which has generated more than 30m views. "The studio could have very easily issued copyright claims against this video and any others and taken them down, but they made a different choice: a fan-friendly choice. They chose to let those videos stay… Fans pay tribute to your content, and creators everywhere can make the choice Disney did. Allow fans to pay tribute, and you will see the incredible benefits of their passion."
Carloss noted that on average, 60% of views for YouTube creators' channels come from outside their home countries – and for some popular channels, the percentage is much higher than that. He talked about Psy with the nearly-2bn views of his Gangnam Style video. "I believe Gangnam Style's legacy is even more impressive," he said, noting that before its success, the number of views that Korean pop generated was just over 2bn, but now it's 7bn.
"Today, the lion's share of people watching K-Pop videos live outside of Asia – 91% of them outside Korea," he said. "For so long language has served as a barrier between cultural exchange… but thanks to the power of video and the internet, those barriers are breaking down entirely… Fans blur borders. And through YouTube, creators can make the choice to share their content with fans all over the world."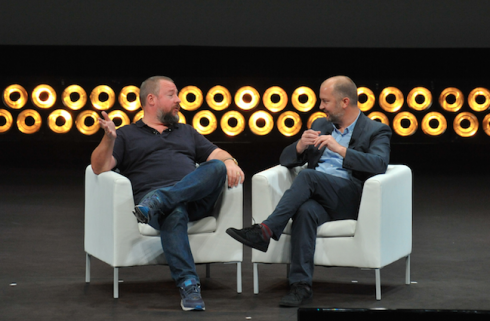 Carloss was joined on-stage at this point by Shane Smith, CEO and co-founder of Vice Media (left), for a sit-down chat about that company's YouTube-fuelled growth. They started by talking about news, and the conception in the US that "young people aren't interested in news" according to Smith. "What we found on YouTube, which is the most democratic video-sharing platform in the world, our audience was telling us 'no, we want news, we want longform, we want documentaries'," said Smith.
"When we started News, we actually asked the audience 'what do you want?'," explained Smith, showing a clip of a segment called The People Speak, where young people talked to camera about how they get and want news, and the impact they think the media has. "In three weeks we've had 300,000 subscribers and over 20m video views, and we haven't even started pushing it yet because we didn't know if it would work. But hey, it's the power of YouTube," said Smith, of Vice News.
Vice now has 4,000 contributors around the world, including a growing number who live-stream video of events happening in their countries. "It's a revolution because young people can just livestream with no commentary, and say 'this is what it is'… I think that's a big change. I also think it's not a monologue, now it's a dialogue."
Smith talked about Vice as a combination of CNN, ESPN and MTV. "If you look at what you can do online internationally and how you can reach people, I'm not going to be the next CNN, I'm not going to be the next ESPN, I'm not going to be the next MTV. I'm going to be 10x CNN, I'm going to be 10x ESPN and 10x MTV. Because the number of video views are now in the billions. That's the disruption. That's the revolution."
Carloss asked Smith about Vice's decision to sell a stake to 21st Century Fox, which he suggested was a surprise to the industry. "We wanted to stay independent. What happens in media is they wanna buy you. So Fox gave us the entree into India with Star, the entree into music with Sky, film with 20th Century Fox. They helped us get into all these territories, yet at the same time it's a sub-5% investment… It's a way of staying independent, but a way of becoming that fifth global media brand."
Watch video clips from this and other MIPTV conferences here; full videos on our YouTube channel 2-3 hours after each session ends.
More online video innovation tomorrow, with the inaugural MIP Digital Fronts: YouTube and VICE are both presenting original content, as the event's platform partners. Don't miss it, in Cannes or here on MIPBlog!
Photos © 360 Médias