Moderator Anna Stuart, analyst, TV programming intelligence, IHS Technology; Peter Mercier, senior director, Xbox content acquisitions & strategy team, Microsoft; Shana Eddy, SVP corporate development, Pluto.TV;  Metodi Filipov, co-founder, Flipps Media
Moderator Anna Stuart, an analyst at IHS Technology, began this dive into new distribution services with a few stats about the digital video space.
« Digital video revenues are growing at rates that linear television just isn't seeing, » she began: It grew 58% between 2009-2012. Global digital video revenues will grow 34% from 2008-2017. « We're approaching $20bn this year and will hit $30bn in 2017, » Stuart added.
From a producer's perspective, ProSieben's seen digital and adjacent revenues grow 26% from 2010-2013. However, ad-funded and broadcast video are the most fragmented of the digital video sectors.
Stuart then discussed a few of the obstacles of the platform. The biggest one is that it's confusing. The average UK household has 2.3 people, 2 smartphones, 2.4 pc's, 0.7 tablets and 0.4 gaming consoles.
« How will your content get to them? » Stuart mused. A TV series, for example, must take multiple paths to reach any one of those devices (passing via Netflix, Amazon or Apple to get to a PC, for example).
What's more, services outside the US face a different kind of market. Subscription-based services are strong in the US, but low elsewhere in the world; ad-funded services fill that need.

It turns out that « comedy and factual are natural allies of the ad-supported model » in terms of made-for-online programming; 45% of under-45s are likely to use something other than broadcast TV to consume their news.
Overall though, it's important to remember that digital is still small compared to TV revenues. And not all shows work on every platform. In terms of what works best, « ad supported is completely different from subscription, » said Stuart.
Peter Mercier of XBOX then took the time to explain XBOX's technology. On November 22nd Microsoft launched the newest iteration of XBOX, The Xbox One, which includes Kinect, the technology that enables your console to recognise your movements and voice.
« We had a vision of bringing entertainment and the social experience to life. XBOX is the realisation of that in this new generation of console, » said Mercier.
He also pointed out that companies like Netflix and the BBC iPlayer are applications. « XBOX is a platform: you can publish your app on the service, » said Mercier. « But we have unique features; we differentiate around our core technology, particularly around Kinect. »
Where Kinect is concerned, « The killer app for us wasn't just the camera; it was actually voice. Being able to talk to the console, talk to the TV. It powers platform search, for example. It's another way to bring a simplicity of choice to people. »
Overall, XBOX's focus is simple: Usage. « We want people to enjoy their time on the console, » Mercier concluded.
Shanna Eddy then presented Pluto.tv, which launched last Monday.
« Over 90% of people are still watching linear TV, » said Eddy, « about 150 hours per week. And they're only watching 5-6 hours on laptops, mobile, tablets. »
So what Pluto.tv does is take the linear experience of cable TV and puts it online.
« Pluto.tv takes the hundreds of thousands of hours of video downloaded to YouTube and curates the best of the best, » she said. « We launched on Monday with almost 100 channels, including 14 dedicated music channels. » Those channels also include news, home and garden, sports, and four channels dedicated to gaming. Partners include Funny or Die, which has a full-time, 24-hour channel.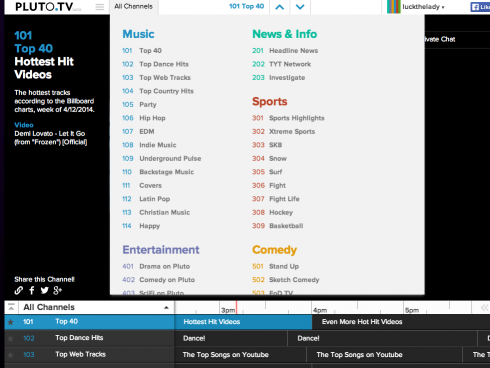 « The advantage here is you can have spectacular organisation around each vertical, » said Eddy.
Metodi Filipov took the microphone last to present flipps, « a mobile app for entertainment lovers ». flipps lets you transmit entertainment from your mobile to TV, converting your phone into a universal remote.
The philosophy behind flipps is to connect the multiple entertainment supports — and their strengths — that people have at their disposal. « TV is an unparalleled entertainment experience, it's not like a phone or a tablet. But phones and mobile have exceptional UX, » Filipov said.
By combining both, flipps « provides the lean-back experience that you're used to, versus trying to figure out how to type Game of Thrones S3 in your one-click remote control. »
The app supports 9000 different brands, models, and entertainment devices. Just recently, it hit 10 million registered users.
« We don't see ourselves as a replacement of existing cable systems; we see ourselves as an add-on, » Filipov said. « All digital systems are an add-on to traditional systems. » After a moment's thought, he added, « People want to enjoy their content where it belongs. » At home, that's still TV.
These short demonstrations were concluded with a short Q&A, led by Stuart.
Asked whether Pluto.tv has any plans for content creation in the near future, Eddy replied, « We're gonna leave the content creation to the people who are really good at it. »
Filipov agreed. « I second that. We cannot replace content. We can allow access to the consumer, a better user experience, but we are not content creators. »
« People do something I call Hobo watching, where you dip into TED, or dip into BBC, » said Eddy. « Pluto.tv enables them to do that from a central place. »
Mercier nodded in assent: « The goal is to try to have a common experience » across the board. « But more important for [XBOX] is personalisation. You know this from your phones. »
He observed the audience then, and went on, « You want to 'pin' your favourite apps, content, etc. to the home screen. Kinect does that: it recognises you. It serves up your pins when you enter the room, not a generic menu. That drives a personal experience, one that's relevant for you. »
Stuart then asked about ad models. Pluto.tv hasn't put much thought into advertising yet, so Filipov took the question.
« The ads you'll see [on flipps]depends on the content. If you want to watch a two-minute news clip, we're not going to put a one-minute ad in front. But if you're watching a movie, it's okay to show ads in chunks. That won't bother the user. »
Mercier also addressed the issue of hosting competitors on the XBOX platform. « For media and entertainment partners, we've started with the curated model, but we have no philosophical opposition to competitors like blinkbox. We want people to have a breadth of content offerings to them. We think it's better for us to have competitors on the platform. »
Be sure to read our exclusive white paper "Building the new digital content market"! Download here (email required)