For Morgan Bouchet, VP at Orange's Transmedia Lab (below), the France-based telecom decided to invest in this multi-platform, multi-lingual project because "we want to show how technology can help creators to write new kinds of stories." As the above trailer shows, ALT-MINDS is very much a new kind of story. Part game, part web series, it launched across Europe yesterday, for a ten-week run. Orange has not set specific targets to see if this transmedia extravaganza is a success: that will depend, of course, on the level of engagement it raises. We caught up with Bouchet at MIPCOM last month.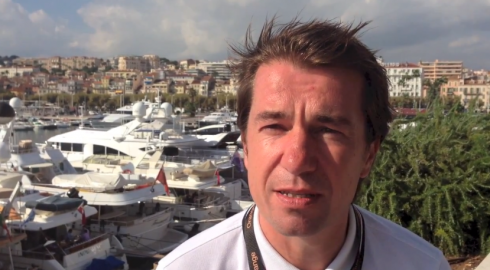 MIPBlog: What is ALT-MINDS?
Morgan Bouchet: It's a mix between a web series and a game. You follow characters and story on ipad, tablets & iphone, in order to find clues in real life.

> What genre is it?
It's a paranormal thriller. You can follow the story from November 12, all across Europe (UK, France, Spain…).

> So it's multi-lingual and multi-platform. Sounds complicated!
It's very complicated, yes! We're working with game developer Lexis Nexis and Orange itself to develop a lot of new technical tools to develop new kinds of engagements with the story in the game.

> Why is a telco like Orange investing in such a project?
We want to show how technology can help creators to write new kinds of stories. The network is very intelligent, and you can explore new ways to engage with creativity. A telecom's tools can do that.

> What are the different ways peole can engage with ALT-MINDS?
There are a lot of different ways. You can be a hardcore gamer, and play the game across all possible screens, and complete all of the levels; or, if you are more passive, yo can just watch the webseries and watch the gamers, as they play.

> So you can start with the game or the web series: it's up to you? Is it limited in time?
You can enter the universe of ALT-MINDS however you want. The live stream lasts for ten weeks, but you can enjoy a number of catch-up modes if you want. We'll be rolling out some "previously on ALT-MINDS" modes in December.

What's the most challenging part of making a project like this?

Merging the technological, real-time and story aspects. We're fortunate though to have Lexis Numerique, because it's very easy for the game industry to develop this kind of project. They can mix community, interactivity… they know how to do that. As such, the meeting of real life and fiction is very well done.

What's ALT-MINDS' business model?

It's a gaming business model. So you can pay for one chapter per week (€3), or for the full game over ten weeks (€15).
Join the adventure at alt-minds.com!