Image: The 2012 social TV ecosystem according to Trendrr. Click for full size
In a new age of media consumption words like 'fragmentation' and 'disruption' loom ominously over the TV industry. However, to look at it from another lens, it's not necessarily fragmentation or disruption. Consumers are looking to lead the conversation rather than just be a part of it, moving from passive to active television consumption. The evolution of social TV captures audiences who are using devices across multiple platforms. This can by done by tracing the consumers' TV footprint across a complex landscape though social media engagement.
For example, take Trendrr's 24/7 tracking capabilities. Through 24/7 tracking, networks can monitor fan engagement whether the show is on air or not, ensuring the full story will be told.
Taken from a random day in July, the chart below shows the 9 o'clock timeslot where new episodes of ABC's Wipeout and Fox's The Choice outperform the CW's rerun of The Vampire Diaries.


A 24-hour perspective (below) of those same programmes reveals another important story. CW's The Vampire Diaries maintains a much higher level of chatter throughout the day than the other shows.


The Vampire Diaries team makes an effort to keep engagement high even in off-air months. With the power of social TV analytics they can measure their audience connectedness and the success of fan engagement effectively.
Most recently, the series flexed its engagement savvy during this summer's Olympic Games, when the cast recorded a special video congratulating gymnast Gabby Douglas.
Social TV is critical to understanding an evolving television environment and social empowerment that allows consumers to feel directly connected with programming, putting the consumer back in control of the "anytime, anywhere" conversation. Social TV provides a 24/7 analytical perspective that is essential to measuring programme resonance and audience retention as consumers clearly engage, even when their shows aren't on.
During this summer's Olympic Games, NBCUniversal had sports coverage spanning several television properties including NBC, NBCSN, CNBC, MSNBC, Bravo and Telemundo. Collectively, the Olympic telecasts brought in an impressive 99 million social interactions on their respective days of air. However, a 24/7 view, encompassing how each telecast event performed during the period from July 27 to August 12, reveals there were in fact a much larger number of social interactions, namely 389 million.
In the examples below, you can see how much social activity telecasts on NBC and NBCSN brought in on their days of airing, vs. how much social activity those same telecasts brought in over the course of the entire Olympic games.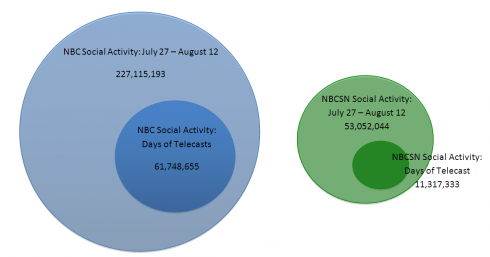 Trendrr's 24/7 perspective provides additional granularity into Social TV analytics, which confirms the impressive scale of conversation that can happen at any moment.
It's no secret that NBC was widely criticised for its decision to tape-delay the Games. But when all was said and done Alan Wurtzel, NBCU's President of Research, declared the availability of the games online had in fact driven live primetime viewing.
Using 24/7 social TV data, you can see that consumers are back in control of the "anytime, anywhere" conversation and are staying connected. More than ever, they are looking to their devices for content and supplementary entertainment to their TVs, that is more accessible, integrated and shareable.
Mark Ghuneim will speak at the Digital Minds Summit, an invitation-only gathering which convenes more than 50 top-level executives from the highest ranks of digital entertainment for three hours of structured brainstorming and debate, MIPCOM's first day.