The Carlton was packed to the nines with the biggest, most influential players in Russian television this lunchtime.
Reed MIDEM's Paul Zilk (photo) kicked off the meal by offering context on the Russian market today: « The Russian market offers extraordinary opportunities, » he said.
Paul Zilk Kicks Off Focus on Russia Lunch (MIPCOM)
So, what makes Russian television unique? Dmitry Troitsky of CTC Media elaborated.
« Russian television is special because it's television for a very special country. First of all, it's quite big: it's eight time zones, and for some territories […] you can't broadcast live shows. »
Dmitry Troitsky of CTC Media: Why you can't broadcast live in Russia (MIPCOM)
Varlam Chogovadze of the Russian State Archives of Television and Radio Programs (Gosteleradiofond) elaborated more on Russians themselves.
« Russian character is very special, » he said, with a smile. « In the future the people in the whole world will better know the Russian character and they will enjoy all the movies, anything from Russia. Because we are one culture, we are the world, and you must enjoy the culture of each separate people. »
Varlam Chogovadze, Gosteleradiofond – Insight on the Russian character (MIPCOM)
But what are all those special characters watching? Mark Lolo of Central Partnerships – elaborated on that: feature film serials, which he called the « premium segment of the market. »
« Films by Martin Scorsese, JJ Abrams … feature film composers now make film series for TV, and Central Partnership is absolutely there in this part of market, » he added.
Marc Lolo of Central Partnership: Importance of Feature Film Serials in Russian Market (MIPCOM)
There is one thing upon which everyone agreed: that the Russian market will be a challenge for international producers because of its size and the high entertainment standards of the culture.
« Sometimes I view colleagues from Scandinavia, how they discuss about their viewership ratings … they're very relaxed, » Troitsky observed. « If we take European producers and put them to Russia, it would be like — from one format I've seen here — taking 'It' girls and bringing it to jungles. »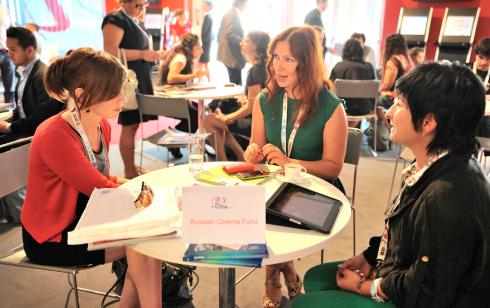 Nonetheless, producers the world over are flocking. Earlier today we visited the Russia House — opposite the Palais, in the Azur tent — and spoke with a few.
Henrik Dahnsjö of Sweden's Playontv is seeking co-production for a show about Swedes living and working in Moscow. But part of his mission is about changing the world's impression about this cosmopolitan city. « Moscow has been lower reputation – 'oh, it's Russia and stuff' […] But it's like Paris, it's like New York! »
Henrik Dahnsjo on how Moscow has changed (MIPCOM) at Russian House At MIPCOM
Meanwhile, Zee Entertainment's Sharmeen D'souza feels hopeful the Russian community will be receptive to Bollywood content. « Obviously Bollywood is the main content, followed by all our dramas, » she said. But she's also interested in the Russian market's offerings. « In the second half, I think when the content is going to be there, I'll be coming in for that also. »
Zee Ent's Sharmeen D'souza: selling Bollywood to Russia (MIPCOM) at Russian House At MIPCOM
And President Walter Rolfo of Italy's Masters of Magic (represented by Showlab) observed, « This week we met a lot of people and it was fine. »
Walter Rolfo of Showlab at Russia House MIPCOM at Russian House At MIPCOM