Saturday April 2, MIPDoc and MIPFormats get underway; you can watch selected conference videos right here on MIPBlog from mid-afternoon. Sunday, our liveblogging and tweeting (by the highly capable Stuart Dredge and Angela Natividad) gets started from both events, ensuring you don't miss a beat from MIPDoc and MIPFormats' key conference sessions.
From Monday April 4, MIPTV kicks off in the Palais and our live coverage shifts up a gear. Production, transmedia, formats, digital distribution, apps, branded entertainment and more will be high on the conference agenda, for liveblogging and nearly-live videos (online around 2 hours after earch session ends); not to mention our high-level keynotes (think Zodiak, Canal+ and Ogilvy…)
Tuesday April 5 to Thursday April 7, we step into the future with coverage of the brand new Connected Creativity Forum, live from the Majestic. Key sessions will be liveblogged, tweeted and filmed, and we'll be tweeting about startup compo CC Ventures, plus fun evening events the Pub Quiz (Experience Hub, April 5) and Connected Party, where CC Ventures & Content 360 winners will be announced (April 6).
Star-wise we'll be filming the very finest – namely the cast of Camelot and Torchwood, plus the one and only Arnold – and Monday night's red carpet entrance to the MIPTV Opening Cocktail. Unmissable indeed!
Last but by no means least, we want you to play with us at MIPTV. Here's how:
– The Foursquare Mayor of the Connected Creativity Experience Hub – MIPTV's brand new zone, on the Palais' parvis, for discovering the future of entertainment – will win this fabulous iPad 2, no less! All you have to do is be the mayor at 18.00 Wednesday April 6. You can also check into the Palais and the Connected Creativity Forum at the Majestic
– The most active user of the official MIP Markets mobile app – i.e. whoever watches the most videos, likes the most content and leaves the most comments in the app by 18.00 Wednesday April 6 – wins a special goodie bag of DVDs from our partners AETN International…
– And the most active tweeter at Connected Creativity, namely the person who does the most tweets with the #MIPCC hashtag by 18.00 Wednesday April 6, wins all four seasons of Mad Men, thanks to our partner Lionsgate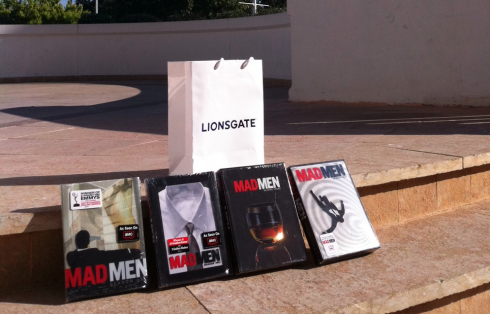 – A prize draw to win a pass for MIPCOM 2011 will be accessible via miptv.com & MIPBlog…
– Selected MIPTV (digital & branded entertainment) and most Connected Creativity Forum (CCF) sessions will feature Balloon, our new onscreen partner for conference interaction. Besides displaying #MIPTV or #MIPCC tweets, it also shows that session's keywords, plus the best audience questions selected from said tweets. At CCF, speakers will also be able to use it to do quick audience polls. Be sure to join in!
– Sounds from Cannes: Fancy sharing your MIP experience with the rest of the world? Why not record a sound from anywhere in Cannes and upload it to our map, via our partner Soundcloud's iPhone app? Just include "MIPTV" in the sound's title and it will appear on a soundmap, here on MIPBlog (online from April 4)!
So many different ways to say: see you in Cannes!
And if not, see you right here on MIPBlog 🙂
Please note that all prize-offering competitions are not open to Reed MIDEM employees or service providers. Sorry!