At this evening's Connected Party, six pioneering startups and connected creatives were rewarded for their innovation and ideas.
CamUp (US), a platform whose vocation is to turn passive media consumers into active users, took Connected Creativity's CC Ventures prize in the "early stage" category. The company, based in New York and London, has been in business for two years. The award was accepted by Joseph D'Anna (left) and Nik Miskov (2nd left).
"We need funding to secure top talent," said D'Anna, who added that "we have in our hands the future of the online space."
Futurecode (Finland), whose AR system creates 3D 'Dibidogs' that pop out of the pages of a book, won CC Ventures' "growth stage" category: Jim (second right) & Pia Solatie (right) accepted the prize. "It's the first big award we've won. We have Nokia and Rovio in Finlan, but our country's not so strong in animation; so this is a big thing for animation in Finland," said the duo.

As for digital creativity festival Content 360, the Interactive and Cross Media Digital Entertainment Formats prize – €10,000 in development funds – went to The Connected Set (UK)'s "Go to the Answer" project. "It's amazing," exclaimed the company's Jason Mitchell (right), accepting the prize from sponsor FremantleMedia's Clare Tavernier. "It's amazing. It was a big decision to set up on my own about six months ago, so it was a big validation of that decision. Hopefully after a year we'll be internatonal!"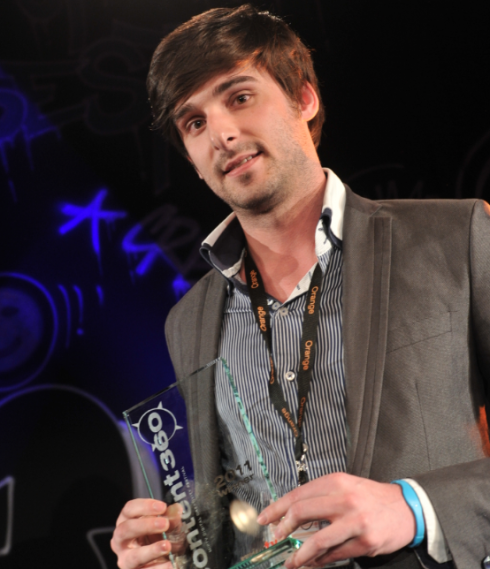 The Online and Social Games category was won by "Reehborn", by France's 3Dduo. "We're searching for VCs so it's very important to have this award, it will be a plus to convince them," said Max Devoghelaere.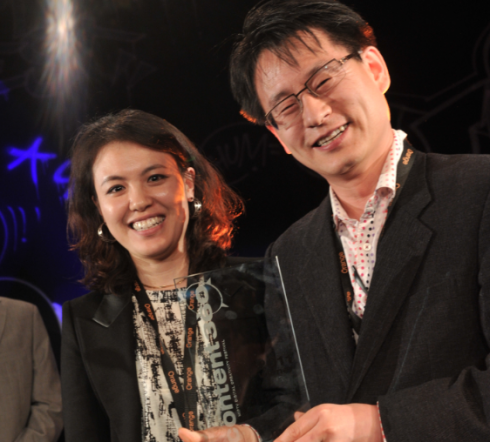 The Rich Media Tablet and Social TV Apps prize went to Telston (South Korea), for their "Bring it Home" project. Hyeon-Jeong (left) gave a demure "Thank you"; Harry D. Lee called her the creative direction behind the project and exclaimed, "All I can say is today I gave the presentation and I could see nobody. Today I can see everybody! Thanks very much!"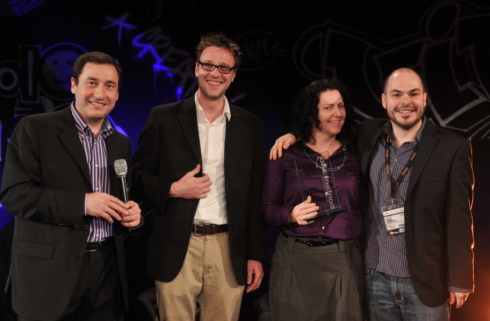 Finally, PinkPom Digital (Canada) won the Smartphone App for Youth Engagement prize: Christina Adams (2nd right) and Greg Merner (right) accepted the prize of €12,000 in development funds, from sponsor NFB (represented by Joel Pomerleau, 2nd left) and Reed MIDEM's Ted Baracos. "We're just a startup, so this was a big app for us to do. We're absolutely thrilled to be working with the NFB, as we're Canadian," said Adams… (clearly on a winning streak, as they also won the Experience Hub Pub Quiz yesterday!)
Congratulations to all the winners!