At MIPTV 2010, a handful of US attendees arrived clutching iPads, since Apple's tablet had only recently gone on sale there. By MIPCOM, just six months later, it was the device to be seen with whatever your nationality, and not just because it's a sexy gadget.
As the popularity of the conference's iPad apps session showed, digital creatives were eager for ideas on how iPad might fit into the marketing and social media campaigns for TV shows. At the same time, it was clear that TV execs were also still mulling the opportunities offered by Facebook and other social sites.
An announcement this week by Starz provides food for thought on both those questions. The network announced its promotional plans for the upcoming Spartacus: Gods of the Arena series, with a heavy focus on social media and apps.
The former involves a social game on Facebook for fans to run their own virtual gladiator schools (photo). Starz is working with social games firm 6waves on the title – a smart move, since the Hong Kong-based company claims to have more than 75 million monthly active users, who the Spartacus game can be promoted to.
Starz is one of the first TV networks to launch a social game for an individual show in this way.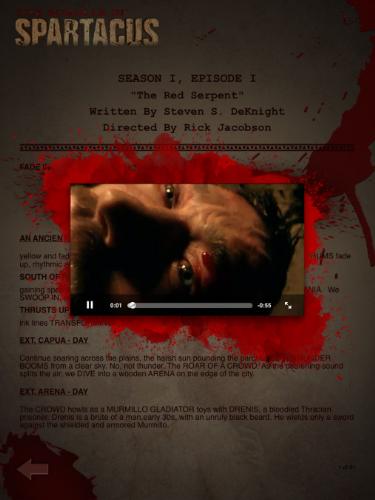 And iPad? An iPad 'multimedia script' app (photo) is also on the way, offering a screenplay, exclusive video footage, director notes and photos of the cast. made by Click3X and due to launch on 17 January, it will be a free download, including the first episode's script.
Future episodes will have their scripts made available as in-app purchases the day after airing on TV, costing $0.99 each. The app follows Starz' partnership with Penguin Group on an iPad app for its The Pillars of the Earth series last July.
Neither of these applications is guaranteed success. There is ferocious competition on Facebook and on the App Store from unbranded apps and games. However, what Starz is counting on is that the Spartacus brand will draw in fans ahead of the new series airing on TV.
It certainly won't be the last network pursuing this kind of cross-platform strategy in 2011: expect to hear many more examples at this year's MIPTV and Connected Creativity…
Stuart Dredge is a regular contributor to Mobile Entertainment, Recombu, Music Ally and The Sunday Times. Read his previous MIPBlog posts here.